DOLE to assist thousands of workers out of jobs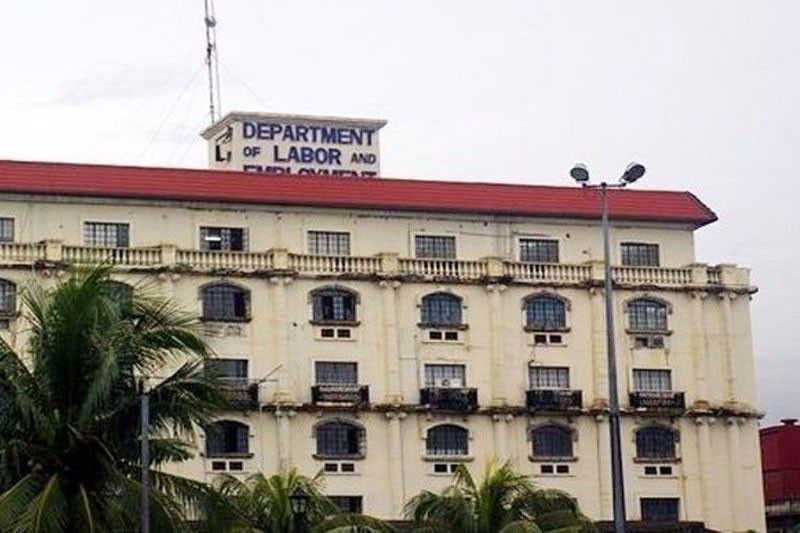 MANILA, Philippines — At least 6,000 workers in Metro Manila are out of work and without income for a month due to the imposition of community quarantine in the region, according to the Trade Union Congress of the Philippines (TUCP).
"Based on monitoring, 6,000 workers are now under work suspension and the figure could still go up," TUCP spokesman Alan Tanjusay said, as he noted that more companies are shutting down not only because of the community quarantine, but also to curb financial losses as a result of the coronavirus disease 2019 (COVID-19) pandemic.
According to initial data reaching TUCP, Tanjusay said 68 commercial establishments have temporarily closed down because of the community quarantine, while 21 have permanently folded.
Labor Undersecretary Benjo Benavidez said the Department of Labor and Employment (DOLE) is set to implement a P2-billion program providing financial assistance to workers affected by COVID-19.
"We have already earmarked a P2 billion budget and soon we will come out with the guidelines who are covered by the financial assistance," Benavidez said during the Laging Handa public briefing.
Benavidez said to protect themselves from COVID-19, workers may not report for work and choose to use their leave credits.
"Those without… leave credits but must undergo quarantine will be provided financial assistance by DOLE," Benavidez noted.
Benavidez said under the DOLE program, qualified workers will be provided a monthly subsidy.
He further gave assurance that the financial assistance will be provided to all workers, regardless of their employment status.
"Whether they are 'no work, no pay,' contractual, or regular workers, all will be covered by our financial assistance program," Benavidez said.
Tanjusay said there are about are about five million "no work no pay" workers in Metro Manila.
TUCP, he said, is set to meet with DOLE and the Employers Confederation of the Philippines (ECOP) to address impact of COVID on workers.
"We are meeting with DOLE and ECOP separately to bring a solution to these problems. Government and employers have to share the burden," Tanjusay said.
TUCP further asked the government to provide discount caravans in communities, so low-paid workers could buy cheaper-priced food.
Mass testing
The Sentro ng mga Nagkakaisa at Progresibong Manggagawa (SENTRO) said the government should prioritize mass testing in efforts to protect healthy people, including workers, and enable them to continue earning income for their families.
Likewise, the Pagkakaisa ng Uring Manggagawa (PAGGAWA) urged workers nationwide to undertake the necessary protection against COVID-19 in their workplaces and homes.
PAGGAWA urged trade unions to establish emergency action committees at the workplace which can disseminate information and ensure sufficient supply of face masks for the protection of workers.
Meanwhile, Sen. Joel Villanueva said the government has been pulling all stops to cover the needs of its workers, from regular, plantilla employees down to contractual workers whom the lawmaker described as the most vulnerable in the crisis because of the "no work, no pay" policy.
"Our government is doing everything in its power to cushion the impact of the quarantine to all its workers. We hope our private sector partners do the same, especially for their daily paid workers who are the most vulnerable in this crisis because of the 'no work, no pay' policy," said Villanueva.
On Monday, Villanueva wrote to Labor Secretary Silvestre Bello III to call for accessing the Adjustment Measures Program (AMP) and implementing a modified Tulong Panghanapbuhay sa Ating Disadvantaged/Displaced Workers Program (TUPAD), two safety net programs for workers in the private sector.
AMP was tapped by the labor department to help workers in Boracay affected by its rehabilitation in 2018.
TUPAD is an emergency employment program implemented in communities for displaced workers, seasonal workers, and even the underemployed. Beneficiaries work for a minimum 10 days but not exceeding 30 days, depending on the nature of the work to be performed. – With Cecille Suerte Felipe