Cruise ship allowed to dock; crew barred from disembarking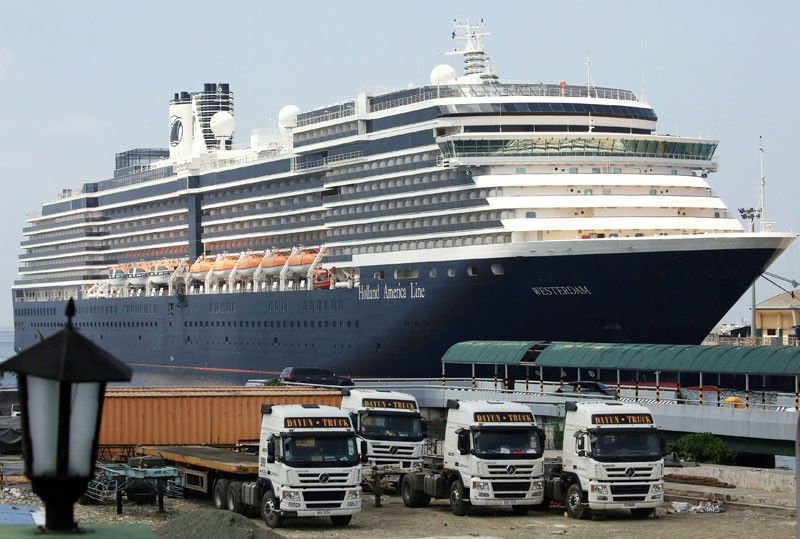 MANILA, Philippines — The Philippine Coast Guard (PCG) allowed the cruise ship Westerdam to dock at the South Harbor for re-provisioning last Sunday.
The ship came from Cambodia and previously had a passenger suspected to be infected with coronavirus disease 2019 (COVID-19). The passenger has since tested negative for the virus.
"The cruise ship M/S Westerdam was allowed to dock until 8 p.m. of March 2, but they may already leave hours early once they finish with their re-provisioning and possibly refueling," said PCG spokesman Commodore Armand Balilo.
The spokesman said the only people on the Westerdam when it docked at Pier 15 of South Harbor were its 747 crew. There were no passengers on board.
"Out of the 747, more than 200 of them were Filipinos. But the Filipino crewmen were disappointed because none of the crew were given shore leave or clearance to disembark from the vessel," Commodore Balilo said.
"The ship's agent also said there were no Chinese nationals, whether passengers or crew, on board the vessel. Most likely the Bureau of Quarantine conducted its inspection otherwise the vessel would not have been allowed to reach the port," he added.
The Netherlands-flag vessel, owned by cruise line Holland America, arrived from Cambodia on March 1 after being rejected by several ports in other countries with a report that one of the ship's passengers was allegedly infected with COVID-19.
However, a Centers for Disease Control and Prevention official told USA Today that all passengers were tested, including the person who initially tested positive, and were found negative for the coronavirus. The official added that the person may have only suffered a respiratory illness unrelated to COVID-19.
The Westerdam then continued to Manila for re-provisioning and refueling before it resumes its voyage to Hawaii.
Balilo said that while there were still cruise ships that visit the country, their frequency has lessened since the COVID-19 outbreak.