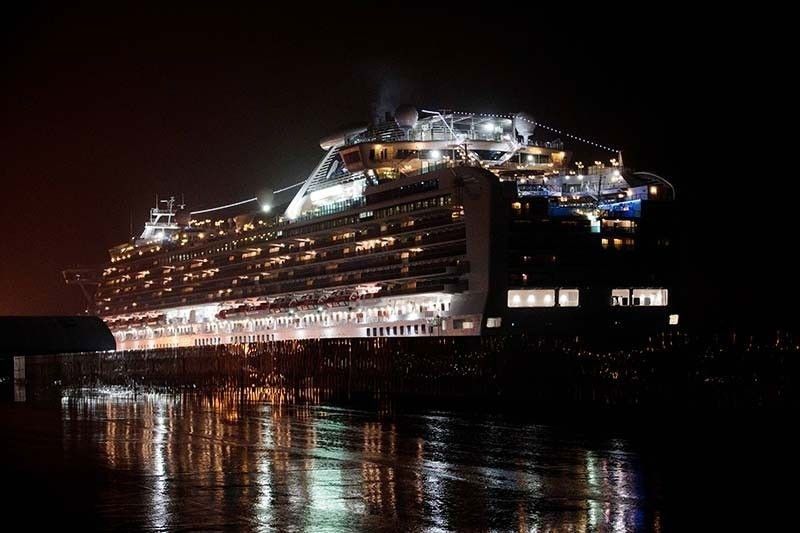 "The Department of Foreign Affairs, through the Philippine embassy in Tokyo, reports that as of Feb. 16, the number of Filipinos onboard who have tested positive for COVID-19 is at 27. This includes 16 new cases confirmed on Saturday, Feb. 15," the DFA said in a statement.
AFP/Behrouz Mehri/File
16 more Pinoys on ship in Japan get COVID-19
Helen Flores
(The Philippine Star) - February 18, 2020 - 12:00am
MANILA, Philippines — Sixteen more Filipinos onboard a quarantined cruise ship in Japan tested positive for coronavirus disease 2019 (COVID-19), the Department of Foreign Affairs reported yesterday.
"The Department of Foreign Affairs, through the Philippine embassy in Tokyo, reports that as of Feb. 16, the number of Filipinos onboard who have tested positive for COVID-19 is at 27. This includes 16 new cases confirmed on Saturday, Feb. 15," the DFA said in a statement.
Data from the Philippine embassy in Tokyo showed that the 27 persons who tested positive for COVID-19 are all crewmembers of the cruise ship Diamond Princess.
All 27 are in hospital and doing well, Labor Undersecretary Ana Dione said, adding, "They are being taken care of by the Japanese government."
Dione said Japanese health authorities are regularly conducting tests to ensure that those positive for the virus are diagnosed and treated.
The ship was quarantined off Yokohoma after 10 of its crew, including a Filipino, tested positive for COVID-19.
The DFA said the embassy is in close coordination with Philippine and Japanese government agencies as well as representatives of the World Health Organization (WHO) and Princess Cruises to ensure that the needs of the Filipino crew and passengers are met, and to facilitate their return to the Philippines.
Dione stressed that the Filipino crew will undergo the required health procedures of the Japanese government before they can be repatriated.
"We will repatriate all of the crewmembers, but we have to observe the protocols of the Japanese government," she added.
The Japanese health ministry announced that all crew and passengers onboard were scheduled to undergo testing beginning yesterday. As such, test results will be available by the time the ship's quarantine period ends, it said.
The Yokohama-bound cruise ship Diamond Princess was subjected to quarantine earlier this month after one of the guests who disembarked and joined a bus tour tested positive for COVID-19.
There are 538 Filipinos aboard that ship, of whom 531 are crewmembers and seven are passengers, according to the DFA.
Health Secretary Francisco Duque III said yesterday the government is already looking for a quarantine facility for the 538 Filipinos, with department Assistant Secretary Ma. Rosario Vergeire revealing at a press conference that the Inter-Agency Task Force on Emerging Infectious Diseases (IATF) is planning to bring all Filipinos on board the Diamond Princess home.
Vergeire, however, claimed that since the quarantine period is "already forthcoming," the Japan embassy and the cruise ship management have requested that the repatriation be done "once the quarantine is over" on Wednesday, Feb. 19.
"We already have plans for repatriation. Currently, we are on the planning and discussion stage," she added.
Although the actual date of repatriation has yet to be finalized, Dione mentioned the Filipino crew will fly home in batches.
Duque said authorities are also assessing if the Athletes' Village in New Clark City, which is currently being used as a quarantine facility for Filipinos repatriated from China, could still accommodate the affected seafarers and travelers from Japan.
According to Vergiere, protocols are being followed on the regular medical assessments of those onboard the ship.
She said the Filipinos will be tested before disembarking the ship but the IATF is considering subjecting them to another round of quarantine upon their return to the Philippines.
"We are considering that all of these people would be considered for quarantine once they come back. The IATF is looking for a facility for them," she maintained.
Dione said the Department of Labor and Employment will provide the necessary assistance to the crewmembers after their health concerns have been attended to.
The virus has so far killed 1,765 people, most of them in China's Hubei province, where it is believed to have originated.
Lifting of HK ban urged
Stranded overseas Filipino workers (OFWs) affected by the COVID-19 travel ban on Hong Kong yesterday demanded the Duterte government to lift the ban and grant exemption to returning migrant workers, students and residents.
Eleveneth Baldero, a domestic helper from Hong Kong whose contract expires in March, relayed her fear of losing her job. "We are affected by the travel ban because contractual workers like us are fearful of getting terminated if we are unable to return back to our employers on time… Financially, I am running out of money to sustain my stay here in the Philippines," she said at a press conference held at the Migrante International office in Quezon City.
Meanwhile, another OFW, Rowena Lee, said, "This is a very big problem for us since my 75-year-old mother in Hong Kong still needs medical attention and I really want to return so I can be with her. She is all by herself... Our family needs us… I am pleading to the government to lift the travel ban so we can return to our normal lives."
Tess Aquino, a permanent resident in Hong Kong for 23 years, arrived in the country Jan. 15 for her annual leave and was set to fly back on Feb. 9. She heard about the travel ban and received an email notice from Philippine Airlines informing her about her flight's cancellation.
"I have attempted all possible ways to return back to Hong Kong… For now, my company allowed me to temporarily work as home-based but for how long? I don't think our employers will wait for us forever if this continues," she said.
Aside from the 25,000 stranded OFWs, an additional 1,000 are affected by the travel ban consisting of Filipino residents, students and small business proprietors.
The OFWs also hit the minuscule amount of compensation offered by the Overseas Workers Welfare Administration (OWWA) to qualified OFWs.
"Each stranded OFW was offered P10,000 compensation from the OWWA Fund. An amount that would not even pay for the expenses they had to bear after being stranded at the airport. Moreover, non-OFWs were given no help at all, when many of them don't even have houses in the Philippines and have to pay for food and lodging while waiting for the ban to be lifted. They are also in danger of suffering even more if they lose their jobs, as they pay high rents and other expenses such as school fees for their children in Hong Kong," the joint urgent appeal stated.
OWWA gave out a P10,000 cash assistance to stranded OFWs bound for mainland China, Macau, Hong Kong and Taiwan.
"A total of 556 OFWs have benefited, with a total amount of P5,560,000 as of Feb. 13," OWWA reported.
The OFWs reiterated their urgent appeal to the Philippine government to lift the travel ban.
"We all feel that the travel ban which was imposed without a warning or consultation is unjustified and oppressive. It was decided upon without a comprehensive understanding of how it would affect us, and was not even in line with health protocols set by the World Health Organization," said the workers in a statement signed by 131 Hong Kong-based Filipino organizations.
"Health-wise, we also feel safer in Hong Kong where we are assured of excellent public health care at little or no cost to us. Some of us who have private medical insurance get the added bonus of being treated at private hospitals, also for free," the statement continued. – With Sheila Crisostomo, Rhodina Villanueva, Mayen Jaymalin