First confirmed nCoV patient isolated at San Lazaro Hospital
January 31, 2020 | 9:35am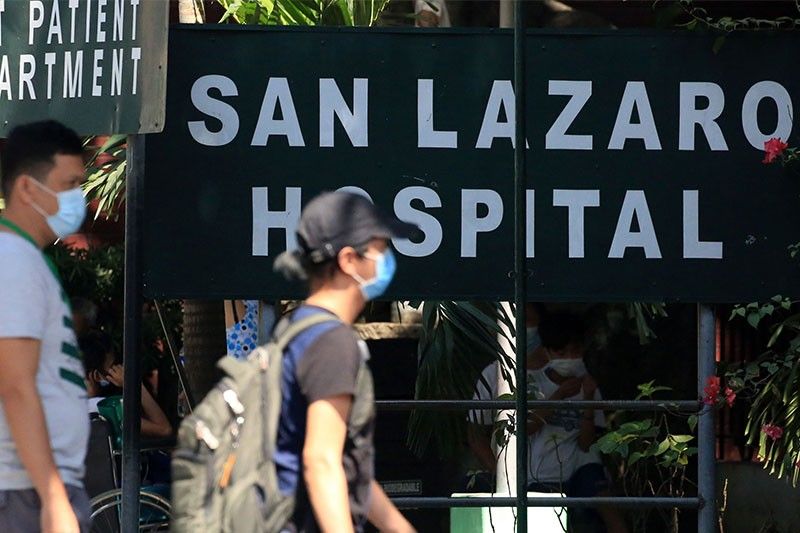 MANILA, Philippines (Updated 11:59 a.m.) — The first confirmed novel coronavirus or 2019-nCoV patient in the Philippines has been isolated at San Lazaro Hospital in Sta. Cruz, Manila.
San Lazaro is a government-funded special tertiary hospital that is a referral facility for infectious and communicable diseases.
The Department of Health earlier confirmed that a 38-year old Chinese woman tested positive for the virus.
The patient arrived from Wuhan City, the epicenter of the outbreak in China, through Hong Kong on January 21. She visited Cebu and Dumaguete before seeking medical help in Manila on January 25.
"We are working closely with the hospital where the patient is admitted and have activated the incident command system of the said hospital for appropriate management, specifically on infection control, case management, and containment," Health Secretary Francisco Duque III said Thursday.
The Health secretary added that the DOH is implementing measures to protect the health staff of the hospital.
San Lazaro hospital is a special national hospital medical center for infectious diseases. According to its website, the hospital delivers health care especially for the poor suffering from infectious diseases.
The DOH said it has a special team in the hospital that handles the novel coronavirus cases so that other patients in the hospital will not be exposed to the virus.
San Lazaro Hospital has since implemented a "No face mask, No entry" policy.
According to Duque, the Chinese woman who tested positive for the novel coronavirus is now asymptomatic, which means she is not showing symptoms or any other signs of illness.
"No cough, no fever, no sore throat. She seems to be well but we aren't letting her go until she tests negative for the virus," Duque told ANC's "Headstart" Friday morning.
The DOH is still monitoring 29 patients under investigation, 23 of which are currently admitted while the remaining five have been discharged under strict monitoring.
Of the 29 patients, 18 are in Metro Manila, four are in Central Visayas, three are in Western Visayas and one each was recorded in the Mimaropa, Eastern Visayas, Northern Mindanao and Davao regions. — Patricia Lourdes Viray
As It Happens
LATEST UPDATE: October 16, 2021 - 6:03pm
Follow this page for updates on a mysterious pneumonia outbreak that has struck dozens of people in China.
October 16, 2021 - 6:03pm
Russia on Saturday tops 1,000 deaths over 24 hours for the first time since the start of the coronavirus pandemic, with the country's jab drive at a standstill and few restrictions in place.
An official government tally showed 1,002 deaths and 33,208 new infections, setting a high for both fatalities and cases for the third day in a row.
The surging outbreak has come with just 31 percent of Russians fully inoculated as of Saturday, according to the Gogov website, which tallies Covid-19 data from the regions. — AFP
October 12, 2021 - 1:53pm
Elated Sydneysiders celebrate the end of almost four months of coronavirus lockdown, putting behind them a period of "blood, sweat and no beers" in Australia's largest city.
Sydney's more than five million residents were subjected to a 106-day lockdown, designed to limit the march of the highly transmissible Delta variant.
With new infections now falling -- New South Wales state recorded 496 cases on Monday -- and more than 70% of over-16s fully vaccinated, the city is dusting off the cobwebs. — AFP
October 11, 2021 - 8:38pm
The Kremlin on Monday described Russia's COVID fatality toll as "high" and the country's vaccination rate as "unacceptably" low, even as it rejected new restrictions so as to protect the economy.
Officials on Monday registered 957 new deaths from Covid-19 over 24 hours, bringing the country's total fatalities to 217,372 -- the highest toll in Europe -- even as authorities are accused of downplaying the severity of Russia's outbreak.
Under a broader definition of deaths linked to the virus, the Rosstat statistics agency said Friday that by the end of August more than 400,000 people in Russia had died with the coronavirus.
The growing toll from the virus comes as Russia's jab drive has stalled. As of Monday, just over 30 percent of Russians had been fully vaccinated, according to the Gogov website, which tallies COVID-19 data from the regions.
"Yes, indeed, the level of vaccinations we have is small, unacceptably small," Kremlin spokesman Dmitry Peskov told reporters, saying that this is the reason for "such a high mortality rate." -- AFP
October 9, 2021 - 10:45am
A major study shows that cases of depression and anxiety surged by more than a quarter globally during the first year of the pandemic, especially among women and young adults.
In the first worldwide estimate of the mental health impact of COVID-19, researchers estimated that 2020 saw an additional 52 million people suffer from major depressive disorder, and an additional 76 million cases of anxiety.
These represent a 28- and 26-percent increase in the two disorders respectively, according to the study, published in The Lancet medical journal. — AFP
October 6, 2021 - 8:44pm
The novel coronavirus has killed at least 4,813,581 people since the outbreak emerged in China in December 2019, according to a tally from official sources compiled by AFP on Wednesday.
At least 235,767,340 cases of coronavirus have been registered.
The vast majority have recovered, though some have continued to experience symptoms weeks or even months later.