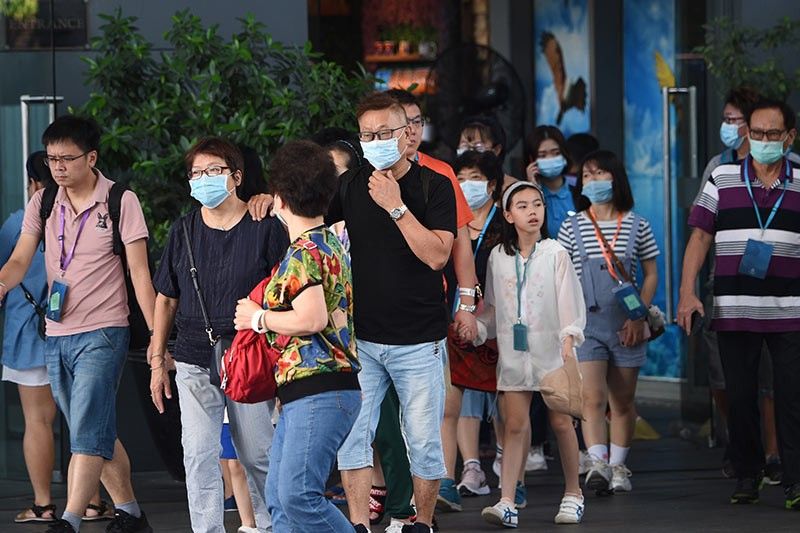 Passengers from the luxury passenger cruise ship World Dream wear facemasks as they visit a theme park in Manila after the luxury cruise ship with more than 700 passengers, mostly from China and Hong Kong, arrived the day before at the port in Manila on Jan. 29, 2020. The ship, which departed from China days ago, arrived in the Philippine capital on January 28 after the ship cancelled a scheduled six-hour visit to Subic Bay, north of Manila, after the city mayor called for the suspension of cruise ship visits and hundreds of residents staged a street protest over concerns its passengers could spread the virus.
Ted Aljibe/AFP
Palace expresses 'serious concern' as suspected novel coronavirus cases soar
MANILA, Philippines — Malacañang Wednesday expressed "serious concern" on the rising number of individuals being investigated for the novel coronavirus, or 2019 nCoV, even as it assured the public that the government is continuously working to keep the Philippines free from the virus.
Presidential spokesperson Salvador Panelo said President Rodrigo Duterte has ordered agencies to study ways to protect Filipinos from the NCoV. He said the public need not panic about the disease but should also undertake measures to protect themselves.
"We're looking at it with serious concern so the President has instructed the DOH (Department of Health) secretary to study and evaluate what better procedure should be taken in order to contain, stop the coming in of this disease in this country," Panelo told reporters in Malacañang.
"I talked with (Health) Secretary (Francisco) Duque (III), he said we don't have to worry but we have to make ourselves conscious of the fact that there may be some virus coming on so we have to protect ourselves by avoiding crowds. If we have to be there we have to wear a mask, we have to wash our hands," he added.
Panelo said agencies are prepared in the event that the Philippines is affected by the virus.
Despite the increasing number of persons under investigation for NCoV, Panelo said it would be difficult to repatriate Filipinos in Wuhan City, the origin and epicenter of the virus.
"Now with respect to the travel restrictions and those who want to be repatriated here, we have already said that it might be difficult to repatriate them because we might even be risking them to contamination. So the best thing, I suppose, is to let them stay there and follow protocols in China, whatever protocols they have," the Palace spokesperson said.
When informed that about 50 Filipinos in Wuhan have signified interest to come home, Panelo replied: "Yes but the problem is we might be opening themselves to contamination because when they leave there they have to go to the airport, they have to ride in whatever. They will do the same here. We might face more problems."
"For now, perhaps we should not (repatriate them)," he added.
Panelo said he has not spoken to Duterte about the repatriation of Filipinos in NCoV-affected areas.
As It Happens
LATEST UPDATE: February 21, 2020 - 11:02am
Follow this page for updates on a mysterious pneumonia outbreak that has struck dozens of people in China.
February 21, 2020 - 11:02am
Health officials say two Australians who have been diagnosed with coronavirus after being evacuated from the Diamond Princess cruise ship had earlier tested negative in Japan.
Department of health officials say that all 164 Australians who were returned home earlier this week "were tested for COVID-19 in Japan and returned negative results".
Officials stress that the development of some positive cases among cleared evacuees was "not unexpected", given the continued spread of the disease onboard after testing began. — AFP
February 21, 2020 - 8:14am
Two Australians evacuated from the Diamond Princess cruise ship have tested positive for coronavirus, authorities says, raising questions about Japan's policy of allowing evacuees from the ship to move freely after testing negative for the disease.
"We have two people who are positive for the COVID-19 virus. Those two people have mild illness," says Dianne Stephens, acting chief health officer for the Northern Territories.
Some 164 Australians aboard the Diamond Princess were cleared for transfer from the ship to quarantine in Australia's remote north. — AFP
February 20, 2020 - 9:53pm
Dozens of people protested Thursday outside a hospital in central Ukraine and some briefly clashed with police over plans to quarantine evacuees from coronavirus-hit China in the facility, officials said.
The protest took place in the central Poltava region as Kiev repatriated dozens of nationals and foreigners from China and President Volodymyr Zelensky urged his compatriots to show solidarity.
Dozens of protesters blocked a road near a hospital in the town of Novi Sanzhary even before authorities confirmed the site would hold evacuees.
A plane carrying 45 Ukrainians and 27 foreign nationals from the Chinese city of Wuhan, the epicentre of the deadly coronavirus outbreak, arrived Thursday in the eastern Ukrainian city of Kharkiv. — AFP
February 20, 2020 - 6:03pm
A cluster of novel coronavirus infections centred on a sect in the South Korean city of Daegu leaps to 39 cases, with its mayor advising residents to stay indoors as the country's total spiked for the second successive day.
Almost half the country's patients are linked to a 61-year-old woman who is a member of the Daegu branch of the Shincheonji Church of Jesus, an entity often accused of being a cult. — AFP
February 20, 2020 - 3:46pm
China's efforts to control the outbreak of the deadly new coronavirus "are working", Foreign Minister Wang Yi insists Thursday, attributing an easing in new cases to his country's "forceful action" against the illness.
"China is not only protecting its own people but also the rest of the world," he tells Southeast Asian counterparts at a summit in Laos. — AFP