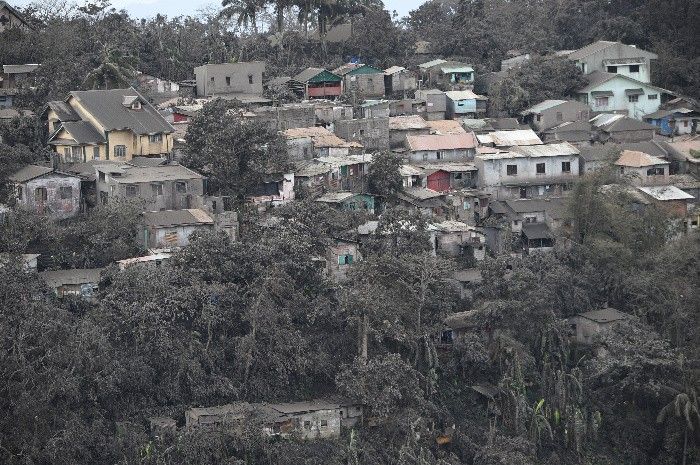 A general view of houses with roofs covered with ash, spewed by Taal volcano in Tagaytay City, south of Manila on Jan. 14, 2020.
AFP/Ted Aljibe
Tagaytay Ridge not a high-risk area in 14-km radius but danger still lurks
(Philstar.com) - January 17, 2020 - 11:48pm
MANILA, Philippines — Sen. Francis Tolentino on Thursday encouraged businesses to reopen on Tagaytay Ridge, an elevated area overlooking Taal Lake, despite a standing Alert Level 4 signaling an imminent violent eruption of the volcano.
Tagaytay Ridge is within the 14-kilometer radius identified as a danger zone where residents were mandated to evacuate following the Taal Volcano's explosion of steam, smoke and ash on Sunday.
The volcano then triggered hundreds of earthquakes and continued to emit gas and magma, indicating a possible violent explosion. The massive evacuation forced the closure of commercial establishments catering mostly to local tourists on holiday.
On Friday, however, the top state seismologist clarified that the commercial and residential area is not in immediate danger and that residents did not have to evacuate.
"If we look at Tagaytay Ridge, where most of the hotels are, they are within the 14-kilometer radius, but they are not part of the areas identified as high-risk," said Renato Solidum, director of the Philippine Institute of Volcanology and Seismology, on CNN Philippines.
Solidum explained that the Ridge is an elevated portion of Tagaytay City which the predicted base surge, or the sideway rush of dangerous volcanic material, is unlikely to reach.
"But of course when there is a strong explosion and the wind would blow to Tagaytay's direction, then there will be ashfall," he said, adding that precautionary measures are taken whenever volcanic activity blasts ash.
Caution is advised
Carlos Arcilla, a geologist from the University of the Philippines, has a slightly different interpretation of PHIVOLCS' statement, maintaining that the state agency did not completely exempt the Ridge from its warnings.
Arcilla said the base surge, which is expected to rage at a speed of 80 kilometers per hour, also emits extremely hot air at 600-800 degrees centigrade that may reach the rim surrounding Taal Lake. The lake is basically a filling for the cavity that is itself a crater of a larger volcano.
"If it's a big base surge, even when you're in the Ridge, of course, you'll be affected by that," Arcilla said in a separate program on CNN Philippines. "What will kill you is the 600-degree air, it will burn your lungs. That's a fast death,"
The geology professor said that until PHIVOLCS sees key signs of a downtrend in volcanic activity, it cannot declare some towns exempted from evacuation.
Villages below Tagaytay Ridge in the city such as Bagong Tubig and Sambogn, however, are still required to flee.
Meanwhile, the Department of Tourism which oversees the operations of hotels in the area advised businesses to "strictly heed the advice of agencies handling this natural disaster."