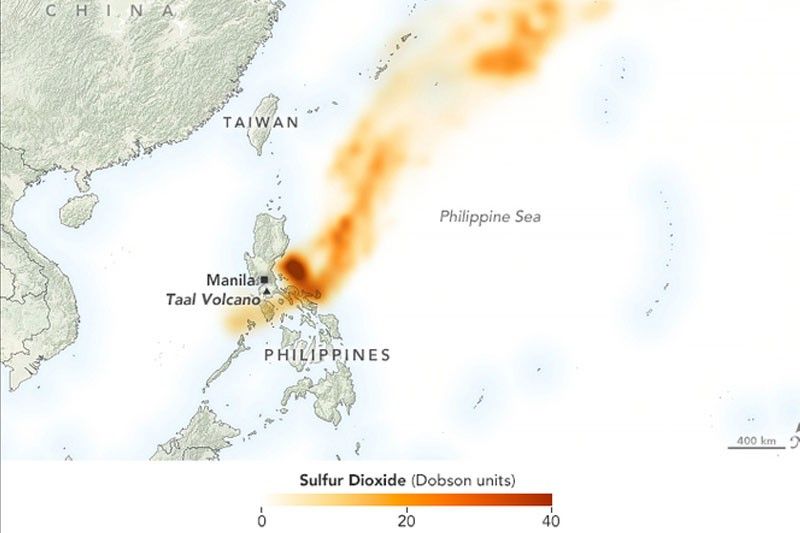 This map shows stratospheric sulfur dioxide concentrations on January 13, as detected by the Ozone Mapping Profiler Suite on the NOAA-NASA Suomi-NPP satellite.
NASA Earth Observatory
Map shows Taal Volcano spewing sulfur into atmosphere
MANILA, Philippines — NASA Earth Observatory has observed the amount of sulfur dioxide that Taal Volcano has released into the air since its phreatic or steam-driven eruption last Sunday.
NASA has posted a map showing stratospheric dioxide concentrations on January 13, which was detected by the NOAA-NASA Suomi-NPP satellite.
While this amount has no measurable impacts on the climate yet, Michigan Technological University volcanologist Simon Carn said this might increase in the next days.
"However, it is possible that the Taal eruption could continue and produce more SO? in the coming days," Carn told NASA Earth Observatory.
In January 2020, the #Taal Volcano awoke from 43 years of quiet and spewed lava and ash, filling streets and skies of the Philippine island of Luzon with fine ash and volcanic gases. https://t.co/LMGf7c37Wl #TaalEruption pic.twitter.com/EXOXjFwCvD

— NASA Earth (@NASAEarth) January 14, 2020
The Philippine Institute of Volcanology and Seismology said the volcano in Batangas province displayed "generally weaker" activity in the past 24 hours.
However, Alert Level 4 remains under effect over Taal Volcano as hazardous explosive eruption is still possible within hours or days.
Phivolcs said sulfur dioxide emission was at an average of 1,686 tonnes/day on Tuesday.
According to the US Geological Survey, SO? emissions can irritate the skin, eyes, nose and throat.
"SO2 emissions can cause acid rain and air pollution downwind of a volcano—at Kilauea volcano in Hawaii, high concentrations of sulfur dioxide produce volcanic smog causing persistent health problems for downwind populations," the USGS said on its website.
As It Happens
LATEST UPDATE: January 21, 2020 - 5:59pm
Get updates as Phivolcs issues warnings over Taal Volcano's unrest. (Main photo by AFP/Bullit Marquez)
January 21, 2020 - 5:59pm
Batangas Gov. Hermilando Mandanas announces that the number of evacuees displaced by Taal Volcano's eruption has reached one million as of today.
He says some 800,000 people are staying with relatives while around 200,000 people are in evacuation centers in Batangas, Cavite, Laguna and Quezon. — with a report from The STAR/Arnell Ozaeta
January 21, 2020 - 12:32pm
The office of Chief Minister Hadji Ahod Ebrahim of the Bangsamoro Autonomous Region in Muslim Mindanao dispatched from Cotabato City in Central Mindanao Tuesday more than 50 tons of relief supplies for evacuees from the surroundings of the alarmingly restive Taal Volcano.
The trucks carrying the provisions departed for the north amid Tuesday's commemoration of the first anniversary of the conduct of the plebiscite for the ratification of BARMM's charter, the Republic Act 11054. — The STAR/John Unson
January 21, 2020 - 9:17am
Alert Level 4 is still in effect over Taal Volcano, which means that hazardous explosive eruption is possible within hours to days.
Phivolcs said the volcano's activity in the past 24 hours is characterized by weak steam emission that generated ash plumes 500 to 600 meters tall and dispersed ash southwest of the main crater.
Sulfur dioxide emission measured at an average of 344 tonnes/day. This decrease is a consequence of weakened steam-plume activity in the main crater, Phivolcs said.
TAAL VOLCANO BULLETIN
21 January 2020
8:00 A.M.#TaalVolcano #TaalEruption2020 https://t.co/GNKrhSZw5B pic.twitter.com/ix4VqsHhPS

— PHIVOLCS-DOST (@phivolcs_dost) January 21, 2020
January 20, 2020 - 9:54pm
The Department of Health issues reminders to prevent the spread of germs and viruses that are transmitted through coughing and sneezing inside cramped evacuation centers.
It released the reminder after announcing that it has so far recorded 1,729 cases of acute respiratory infection due to ashfall from Taal Volcano's eruption.
January 20, 2020 - 9:34pm
Employees of The Philippine STAR loaded trucks with relief packs filled with goods from donors of its "Operation Damayan." The relief goods would be sent to families displaced by the eruption of Taal Volcano.