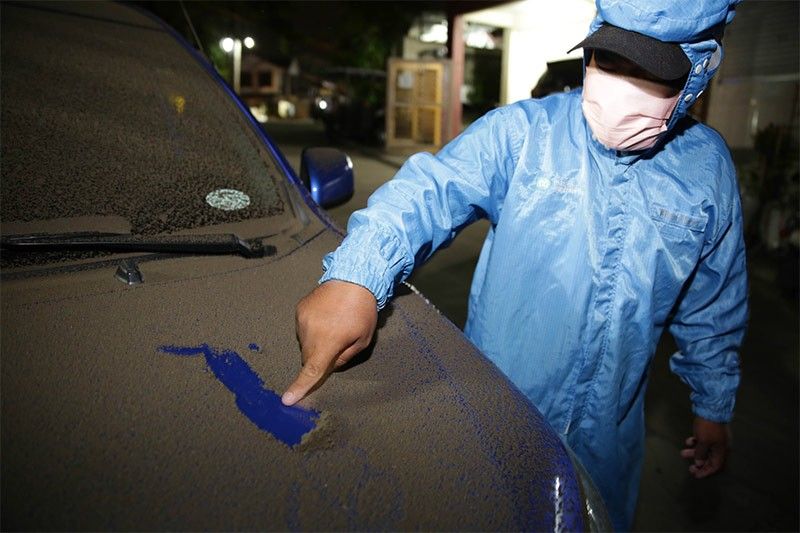 A man points at the ashfall that covered a car in Langgam, San Pedro, Laguna on Sunday, Jan. 12, 2020, as Taal Volcano spewed plumes and rock fragments to nearby areas.
The STAR/Mong Pintolo
DOH cautions public on health effects of Taal ashfall
MANILA, Philippines — The Department of Health cautioned the public of the possible health problems that exposure to volcanic ash may bring after Taal Volcano spewed plumes Sunday.
As of Sunday evening, the Philippine Institute of Volcanology and Seismology has raised the alert status of the volcano to Alert Level 4 indicating "hazardous eruption imminent."
The DOH released an advisory that volcanic ash, which may contain powder-size to sand-size particles, may cause some health problems.
Those who are suffering from bronchitis, emphysema or asthma are advised to avoid exposure to volcanic ash.
Among the effects of volcanic ash are nose and throat irritation, coughing, bronchitis-like illness, discomfort while breathing and eye irritation.
Exposure to volcanic ash may also cause minor skin problems and injuries or death due to roof collapse or vehicular accident due to slippery roads and poor visibility, the Health department said.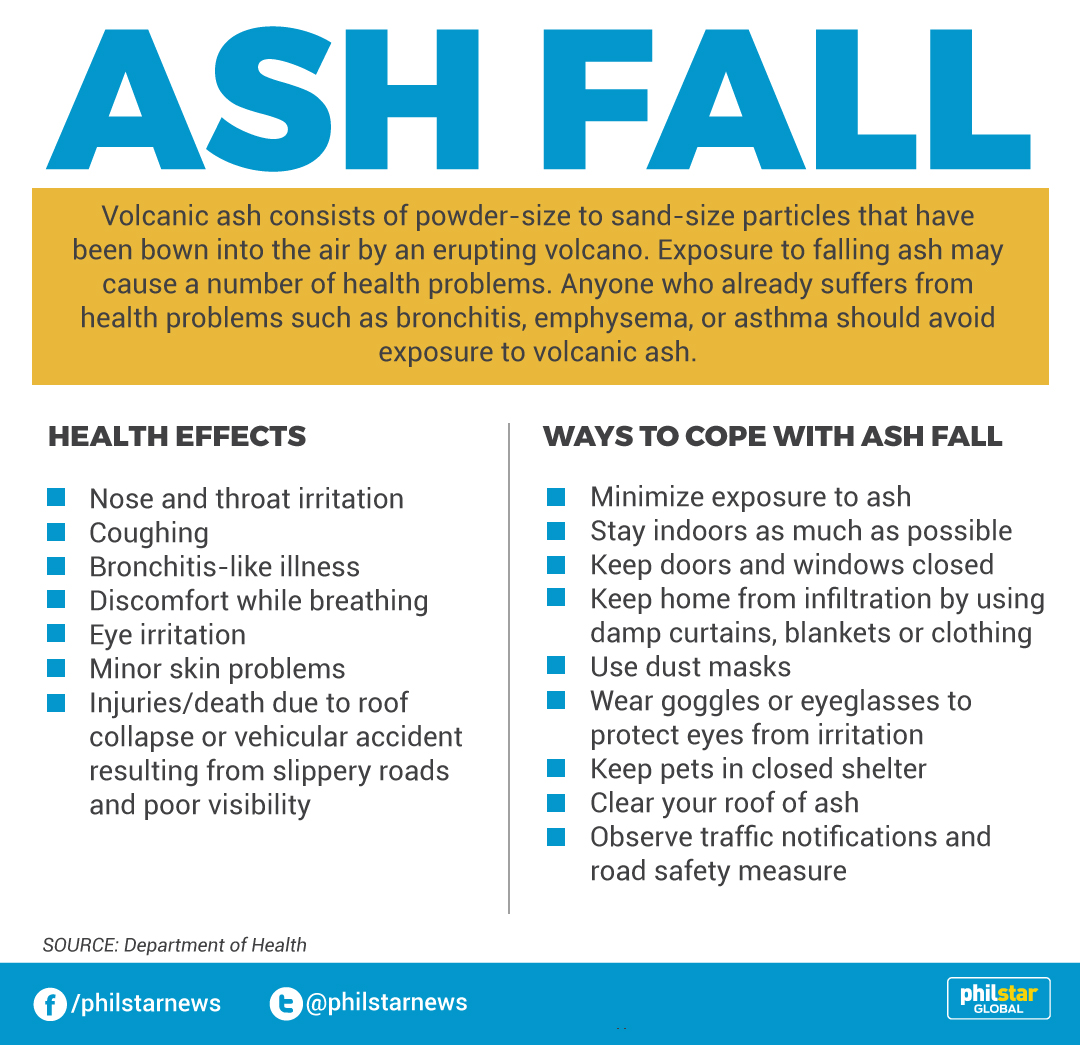 To cope with ashfall, the DOH advised residents in affected areas to minimize exposure to ash by staying indoors as much as possible; keeping doors and windows closed; using damp curtains, blankets or clothing to avoid infiltration at home and using dust masks.
The DOH also recommended wearing goggles or eyeglasses to protect the eyes from irritation and to keep pets in a closed shelter.
The public was also advised to clear their roofs of ash and to observe traffic notifications and road safety measures.
Several areas near Taal volcano have also announced class suspensions for Monday.
As of 5:30 p.m., Taal volcano's main crater has generated a 10 to 15-kilometer steam-laden tephra column with frequent volcanic lightning that brought wet ashfall on the general north as far as Quezon City, Phivolcs said.
"Areas in the general north of Taal Volcano are advised to guard against the effects of heavy and prolonged ashfall," Phivolcs said.
As It Happens
LATEST UPDATE: February 27, 2020 - 9:35am
Get updates as Phivolcs issues warnings over Taal Volcano's unrest. (Main photo by Philstar.com/Rosette Adel)
February 27, 2020 - 9:35am
Philvolcs says in its 8 a.m. bulletin that Taal Volcano's main crater emitted steam-laden plumes that are 300 meters high between 9pm February 26 to 3am of February 27.
Taal Volcano remains at Alert Level 2.
TAAL VOLCANO BULLETIN
27 February 2020
8:00 A.M.#TaalVolcanohttps://t.co/Sf9pQ3NXMj pic.twitter.com/5kh5tMkjaJ

— PHIVOLCS-DOST (@phivolcs_dost) February 27, 2020
February 15, 2020 - 4:32pm
Police say they are still waiting for the Scene of the Crime Operatives for confirmation of the victim's identity, whose body was found dead underneath mud on Taal volcano Island.
February 14, 2020 - 9:29am
Phivolcs downgrades the alert status of Taal Volcano from Alert Level 3 to Alert Level 2.
The state seismic network characterized the activity of the volcano in the last three weeks by "less frequent volcanic earthquake activity, stabilizing ground deformation of the Taal Caldera and Taal Volcano Island edifices and weak steam/gas emissions" at the main crater.
Under Alert Level 2, Phivolcs warned that sudden steam-driven or phreatic explosions, volcanic earthquakes, ashfall and lethal accumulations or expulsions of volcanic gas can occur and threaten areas within the volcano island.
"People are also advised to observe precautions due to ground displacement across fissures, frequent ashfall, and minor earthquakes," Phivolcs said.
February 8, 2020 - 10:15am
Alert Level 3 is still up over Taal Volcano, state volcanologists say.
According to the 8 a.m. bulletin Saturday, the volcano emitted white to dirty white steam-laden plumes rising 200 to 300m high before drifting southwest in the past 24 hours.
"Weak steaming from fissure vents along the Daang Kastila trail is currently ongoing. Sulfur dioxide (SO2) emission was measured at an average of 54 tonnes/day on February 7, 2020," Phivolcs says.
"The Taal Volcano Network recorded one hundred fifteen (115) volcanic earthquakes including three (3) low-frequency events. These earthquakes signify magmatic activity beneath the Taal edifice that could lead to eruptive activity at the Main Crater," it adds.
February 7, 2020 - 8:36am
Alert Level 3 is still raised over Taal Volcano as its latest activity signify possible eruptive activity at the main crater.
In the last 24 hours, Phivolcs observed moderate emission of white to dirty white steam-laden plumes rising 200 to 300 meters high before drifting southwest.
The state seismic network also observed weak steamong from fissure vents along the Daang Kastila trail.
At least 118 volcanic earthquakes, including five low-frequency events and one harmonic tremor that lasted three minutes were recorded.
"DOST-PHIVOLCS reminds the public that sudden steam-driven and even weak phreatomagmatic explosions, volcanic earthquakes, ashfall, and lethal volcanic gas expulsions can still occur and threaten areas within Taal Volcano Island and nearby lakeshores," Phivolcs said in its 8 a.m. bulletin for February 7.