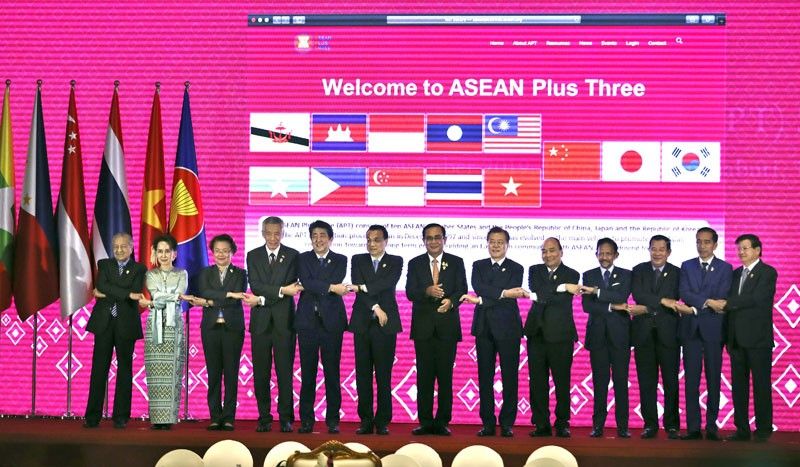 From left, Malaysian Prime Minister Mahathir Mohamad, Myanmar leader Aung San Suu Kyi, Philippine Foreign Affairs Assistant Secretary for ASEAN Affairs Junever Mahilum-West, Singapore Prime Minister Lee Hsien Loong, Japanese Prime Minister Shinzo Abe, Chinese Premier Li Keqiang, Thailand Prime Minister Prayuth Chan-ocha, South Korean President Moon Jae-in, Vietnam Prime Minister Nguyen Xuan Phuc, Brunei Sultan Hassanal Bolkiah, Cambodia, Prime Minister Hun Sen, Indonesian President Joko Widodo and Laos Prime Minister Thongloun Sisoulith pose for a photo at the Asean Plus Three summit in Nonthaburi, Thailand yesterday.
Leaders skip Trump-less Asean-US meeting
BANGKOK – Leaders of the Association of Southeast Asian Nations (ASEAN) Leaders' Summit here, including President Duterte, skipped a meeting with United States officials yesterday after US President Donald Trump decided not to attend the regional gathering.
Just three leaders from the 10-member ASEAN showed up at the US session, along with a host of foreign ministers.
Trump has been accused of turning his back on Asian allies for pulling out of a major trade pact, as fellow superpower China pursues its own deals and investment projects in the region.
Washington did not send top officials to the weekend ASEAN summit, instead dispatching Commerce Secretary Wilbur Ross and national security adviser Robert O'Brien. O'Brien is not a member of the Trump Cabinet.
Monday's sparsely attended session addressed by O'Brien stood in contrast to earlier ASEAN meetings, which had been attended by most heads of state.
The ASEAN leaders reportedly felt insulted that Trump skipped the summit and instead sent low-ranking officials.
The partial boycott of the US representatives took place after all the ASEAN leaders were in attendance at the earlier ASEAN +3 Summit with Japan, China and Korea.
Only Vietnamese Prime Minister Nguyen Xuan Phuc, Lao Prime Minister Thongloun Sisoulith and Thai Prime Minister Prayut Chan-o-Cha faced O'Brien and Ross during the ASEAN-US Summit yesterday morning.
Foreign Affairs Secretary Teodoro Locsin Jr. represented Duterte at the meeting with US officials, as the President also opted to boycott the ASEAN-US talks.
Other leaders who skipped the meeting were Singapore Prime Minister Lee Hseien Loong, Malaysian Prime Minister Mohammad Mahathir, Sultan Hassanal Bolkiah of Brunei, Cambodia Prime Minister Hun Sen, Indonesian President Joko Widodo and Myanmar leader Aung San Suu Kyi.
The US considered the partial boycott of the ASEAN leaders as an attempt to "embarrass Trump" who is facing impeachment proceedings in their country.
Presidential spokesman Salvador Panelo, however, said Trump must have decided to skip the leaders' summit as he has to deal with his own problems back in the US.
Finance Secretary Carlos Dominguez III, meanwhile, said it was inappropriate for ASEAN leaders to meet with a lower level official not even a member of the Trump Cabinet.
A diplomat, however, said it was not a boycott on the part of ASEAN leaders and it was "just that other leaders have other meetings to attend to."
In lieu of Trump's physical presence, O'Brien read a letter from the president inviting "the leaders of ASEAN to join me in the United States for a special summit" in the first three months of next year.
In attendance were the prime minister of Thailand, which is hosting the summit, along with the leaders of Laos and Vietnam, next year's ASEAN chair.
At other events during the summit, members rallied against protectionism amid fears of dragging global growth made worse by the US-China trade war.
Trump, who attended the 2017 ASEAN meeting in Manila – Vice President Mike Pence went to the one in Singapore last year – could not come this year because he was busy with campaign events back home, a senior White House official said.
China's premier and the leaders of India, South Korea and Japan all made an appearance over the weekend, although none of them were expected at Monday's US-ASEAN meeting.
All 10 ASEAN leaders, meanwhile, attended the ASEAN-China dialogue meeting last Sunday afternoon as part of the summit.
The ASEAN leaders discussed issues including the code of conduct for the South China Sea, with Chinese Premier Li Keqiang who attended the ASEAN summit on behalf of President Xi Jinping.
Rody late in hand-shaking rites
President Duterte, meanwhile, was a few minutes late for the ASEAN+3 Summit at 8:30 a.m. yesterday morning and missed the ceremonial handshaking before the meeting at the Impact Exhibit and Convention Center in Nonthaburi.
Foreign Affairs Assistant Secretary Junever Mahilum-West represented the President in the hand-shaking ceremony while Secretary Locsin sat in place of Duterte a few minutes before the start of the ASEAN+3.
Duterte, however, was on time for the actual meeting itself between ASEAN leaders and dialogue partners China, Japan, Korea.
Presidential spokesman Salvador Panelo said the President had to go to the rest room on the way to the summit venue, which caused him to miss the handshaking ceremony, but was on time for the discussion with the 10 ASEAN leaders.
ASEAN comprises the economies of the Philippines, Indonesia, Brunei, Malaysia, Singapore, Thailand, Cambodia, Laos, Myanmar and Vietnam.
Panelo said the President would be attending all the other meetings last night. - With AFP