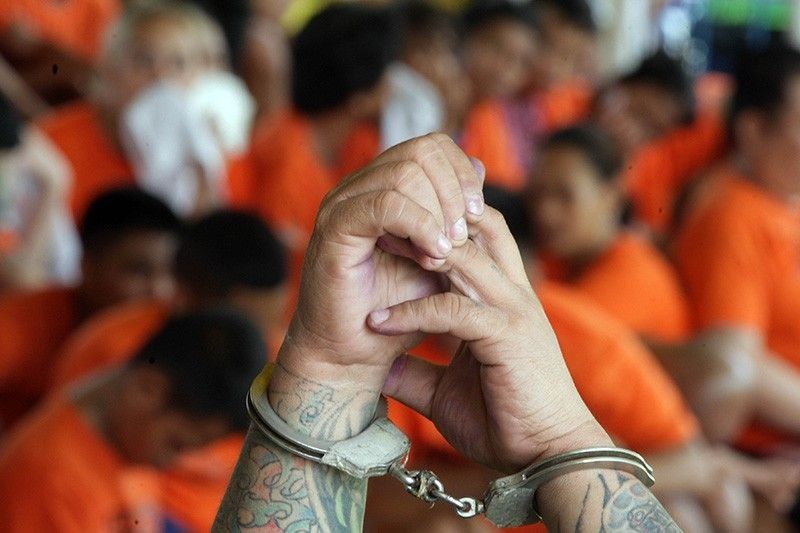 President Rodrigo Duterte ordered the freed convicts of heinous crimes released through Good Conduct Time Allowance law to surrender themselves to authorities until September 19, or they will be considered fugitives.
The STAR/Krizjohn Rosales
DOJ set to release 300 inmates whose releases were legal, but surrendered following Duterte's order
MANILA, Philippines — The government is set to re-release 300 ex-inmates who surrendered to authorities following President Rodrigo Duterte's order for freed convicts of heinous crime through a controversial law.
"These are non-GCTA related cases for immediate release," Justice Undersecretary Markk Perete told reporters Wednesday.
Perete, who is also the Justice department's spokesperson, explained that the ex-prisoners were allowed to leave detention as their release were "presumably" based on court orders such as acquittal, commutation of sentence, pardon, and parole.
But the DOJ is still "cleaning up" the list of the 300 persons set to be released from detention at the Bureau of Corrections.
"We are checking if: 1) They are surrenderers whose cases as non-[Good Conduct and Time Allowance] related. 2) If not surrenderers, they have been acquitted, on parole," Perete explained.
Perete said they are placing priority on cases that are not related to the controversial law.
"It's a tedious process but called for under the circumstances. Considering the number of PDLs involved, we plan to release in tranches, the first of which will hopefully happen today," he added.
Last week, Perete said that those who were freed with no legal obstacle or not through the GCTA law refused to leave BuCor premises.
"They refused to do so because they are asking for a certification from the BuCor that they will no longer be the subject of re-arrest," he said in a press conference.
The Justice spokesperson said they are preparing a document that could protect them for their immediate release. "The certification should be legal protection against re-arrest," he added.
As of morning of September 23, some 2,221 ex-inmates have turned themselves in: 1,985 are in the custody of BuCor while 236 were with the Philippine National Police.
Interior and Local Government Secretary Eduardo Año for his part ordered the PNP to suspend operations to arrest convicts freed under GCTA.
Año gave the directive as they were still waiting for the clean list of convicts freed due to the GCTA.