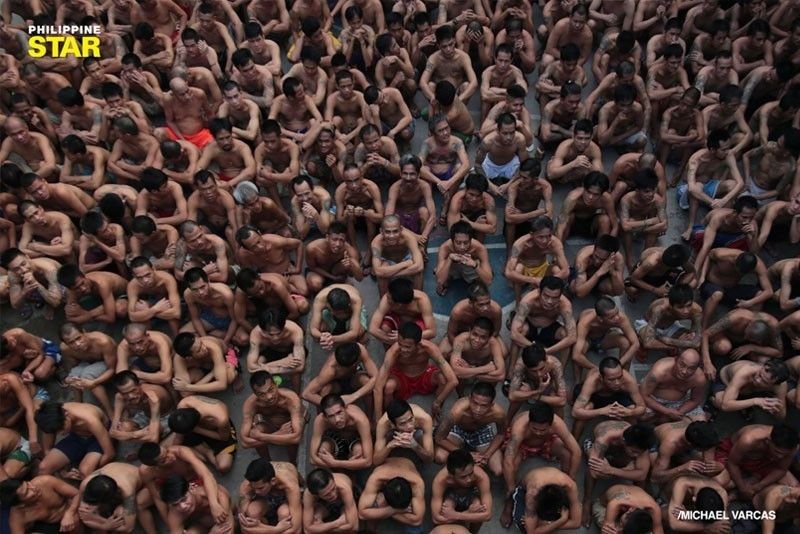 When Duterte first ordered the released inmates through GCTA law to surrender, he warned they should turn themselves in or they would be treated as criminals. "Well, you know, things can go wrong," he said on September 4.
The STAR/Michael Varcas, File
BuCor list had 1,914 names, but 2,009 surrendered. What happens now?
MANILA, Philippines — Over 2,000 people have voluntarily surrendered to the government since President Rodrigo Duterte announced that freed heinous crimes convicts released under a controversial law should turn themselves in or else, "things can go wrong."
Duterte's imposed deadline expired midnight of September 20, and the government now has 2,009 ex-inmates in their custody.
Justice Undersecretary Markk Perete explained that 1,773 are staying at the Bureau of Corrections while 236 are with the Philippine National Police.
The number is 95 higher than the BuCor's original and erroneous data that listed 1,914 individuals convicted of heinous crime that should heed Duterte's surrender order.
READ: Duterte wants 1,914 heinous crimes convicts to surrender
Fear made them yield their liberty
On Thursday morning, Father Eli Lumbo, executive director of the Philippine Jesuit Prison Service Foundation, told ANC's Early Edition that some of the inmates he talked to said they are enveloped with fear and a sense of uncertainty.
He said that at least 20 ex-inmates who surrendered to the BuCor told him that they were not freed under the Good Conduct and Time Allowance law. Some were released on parole and at least two were already acquitted.
Still, they chose to turn themselves in following Duterte's order.
"We don't really know because the current situation, [the] feeling or thought of people now is sense of fear given the president's directive that they should surrender before the 19th, which is today, so many if not all are afraid including their own families," the priest added.
"They'd rather be on the safe side, surrender even though they are not under the heinous crime category," Lumbo also said.
What happens now?
Out of the more than 2,000 now under government custody, Perete said that at least 41 of them were freed with no legal obstacle or not through the controversial law.
"These are the individuals who have been pardoned or paroled," Perete said in a press conference.
There were some who surrendered to the BuCor on Thursday night but were not included in the original list.
They could have left the BuCor, Perete said, but "they refused to do so because they are asking for a certification from the BuCor that they will no longer be the subject of re-arrest."
The Justice spokesperson said they are preparing a document that could protect them for their immediate release. "The certification should be legal protection against re-arrest," he added.
Meanwhile, the surrenderers at the BuCor are to be detained at the minimum security area.
PNP to conduct arrest peacefully
Last Tuesday, two days before his imposed deadline, Duterte gave an even graver warning. He placed a P1 million bounty for their capture, "dead or alive but maybe dead would be a better option."
National Union of Peoples' Lawyers President Edre Olalia told Philstar.com that Duterte's directive is "dangerous and may be illegal." Justice Secretary Menardo Guevarra came to the president's defense and claimed that the order should not be taken literally.
The deadline has since expired and the DOJ is expediting "cleaning up" the list that would guide law enforcement agencies in enacting Duterte's directive.
Perete said that from the list they received from the BuCor, they will "subtract those who actually surrendered and those on pardon or parole and the only way you can do this process is after you take account for those who have surrendered."
But even without the "cleaned up" list, the police have started hunting down the freed heinous crimes convicts.
Police Major General Guillermo Eleazar, National Capital Region Police Office Director, told Philstar.com in a text message that they started re-arresting 2:30 in the afternoon.
The DOJ spokesperson also noted the PNP have earlier said they "will apply all reasonable means" to ensure that the operation would be peaceful and orderly.
READ: PNP has no 'cleaned up' list of heinous crimes convicts yet, but re-arrest to continue