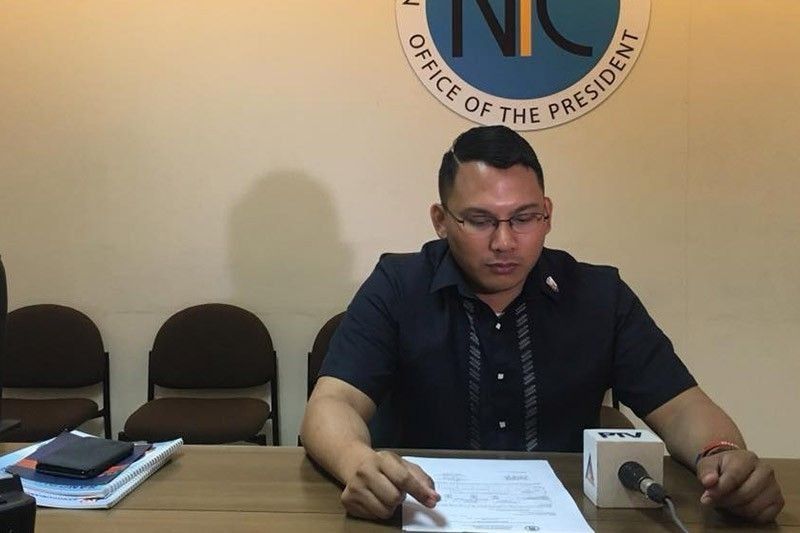 Duterte Youth initially listed Ronald Cardema's wife Ducielle Marie and another relative among its nominees.
National Youth Commission/Facebook, Released
Cardema 'sacrifices' bid for Duterte Youth seat amid Guanzon's 'non-stop attacks'
MANILA, Philippines— Former National Youth Chair Commission chair Ronald Gian Carlo Cardema has formally withdrawn his nomination as the first nominee of Duterte Youth Party-list, which he chairs.
This was shown in the copy of the notarized Notice of Withdrawal posted by Commission on Elections Commissioner Rowena Guanzon, a vocal critic of Cardema, on her Twitter account.
read Carema's notice of withdrawal under Oath. ako pa rin saw ang dahilan. S T U P I D pic.twitter.com/iAdoeuMU5i

— Rowena V. Guanzon (@commrguanzon) September 16, 2019
This notice was signed by Cardema and was addressed to Duterte Youth Party-list Board Members, Comelec Chair Sheriff Abas and Director Maria Norina Tangaro-Casingal of the Comelec law department.
"I, Ronald Gian Carlo L. Cardema, Filipino, and a resident of Calamba City, hereby present to our party and to the COMELEC my intent to withdraw from my nomination as the First Nominee of the Duterte Youth Party-list," the notice of withdrawal, dated Sept. 13, 2019, read.
Under oath, Cardema lamented that his party-list still hasn't been granted the Certificate of Proclamation that would allow them to take a seat at the Philippine Congress.
For this, Cardema said he is withdrawing his nomination bid.
"Even with our strong faith in the Comelec En Banc that it will side with our Mortion for reconsideration and will protect us now from the harassment of their corrupt colleague, with all humility I withdraw from my nomination to sacrifice myself for our party-list so that the Comelec can immediately release the Certificate of Proclamation of the Comelec-approved succeeding nominee and to give justice to the votes of 350,000 Filipinos whom we desire to immediately serve with their needed medical assistance, requested patriotic projects, and activities for nation-building," Cardema said.
RELATED: Duterte Youth's Cardema: Impeach rap vs Guanzon possible 'if someone will help us'
'Guanzon tricked us, publicly harassed us'
The former NYC chair was referring to Guanzon whom he accused of using her power as poll body commissioner to harass him and his party-list.
He said that "350,000 Filipinos voted and gave their mandate to the Duterte Youth party list last May 2019 elections," but that "we are not able to take our duly-proclaimed sat in the Philippine Congress because of the public harassment towards me of Comelec Commissioner Rowena Guanzon."
Guanzon, a dissenter in Cardema's substitution plea, earlier questioned the former NYC chair's age and intent for substitution as well as the timing of his petition, which was filed a day before the elections.
READ: Comelec exec on Cardema plea: Now that party-list won, he wants to kick out his wife?
Section 9 of the Party-list System Act states that a nominee of the youth sector must not be more than 30 years old.
Cardema, 34, reiterated in his notice of withdrawal that in all the documents he stated that his "party-list is advocating for the youth and professional sectors (meaning no age limit)."
Guanzon also earlier claimed on her Twitter account that he has been receiving threats from Cardema's camp after she opposed the petition.
Cardema, for his part, claimed the commissioner "requested and forced favors" in exchange for her signature on the party-list's applicationfor registration. In television interviews, he said he knew Duterte Youth did not really need Guanzon's signature since enough commissioners had already signed by then.
The Duterte Youth chair lamented how the Comelec commissioner called his petition a "mockery of the law."
He also decried how Guanzon allegedly used her office to attack them
"The said commissioner attacked us….used her office as a commissioner judge to show clear bias and to harass us daily in the media slander and destroy our party's reputation in the public...To call more than 350,000 voters as stupid and to force Comelec office and employees to withhold my already-existing Certificate of Proclamation," Cardema said.
'Cardema's allegations are libelous'
Guanzon responded to this notice of withdrawal in a series of tweets and slammed Cardema anew for blaming her for his disqualification.
"Read Carema's notice of withdrawal under Oath. ako pa rin saw ang dahilan. S T U P I D," Guanzon wrote.
Guanzon said Cardema's extortion claims were "libelous." She also advised the former NYC chair to see a psychiatrist for supposedly being "obsessed" with her.
"hoy Cardamak, ako na naman ?!!! obsessed ka na , mag pa psychiatrist ka na , totoy," the Comelec commissioner wrote.
"Seriously ,Cardema stated under OATH that I extorted favors and money from him .This is LIBELOUS," she also wrote.
The media and online word war between Cardema and Guanzon began in May 2019, after reports of Cardema's substitution plea surfaced.
RELATED: Deferring the filing of charges, Guanzon fights Cardema via memes, Twitter roasts
Duterte Youth party list won a seat in the 2019 midterm election. However, early August, the Comelec's First Division ruled in favor of the petition to disqualify Cardema for his ineligibility as a youth sector representative.