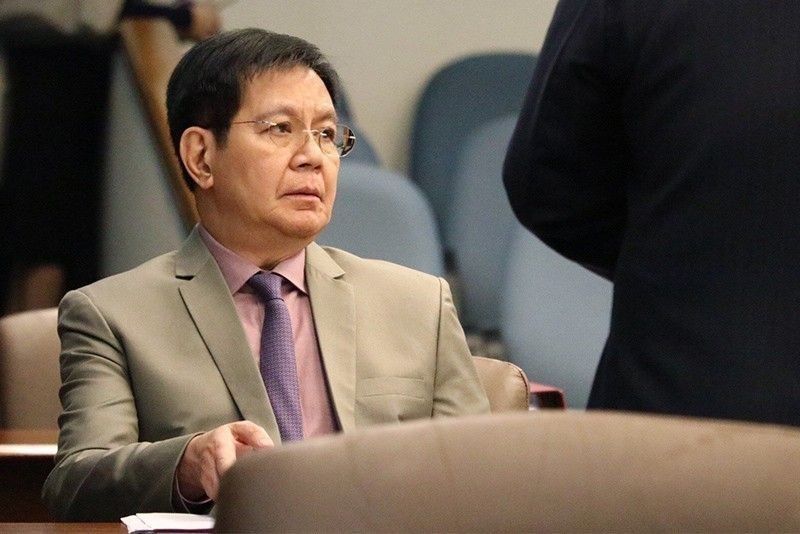 Sen. Panfilo Lacson said some of the "insider" witnesses of corruption at the Bureau of Corrections requested for an executive session.
File photo
More insiders willing to tell all on Corrections corruption, Lacson says
MANILA, Philippines — More "insider" witnesses are willing to testify on corruption at the Bureau of Corrections amid the Senate investigation into good conduct and time allowance, said Sen. Panfilo Lacson.
"There are many 'insiders' who are attempting to speak out. We are just thinking how," Lacson told GMA News' "Unang Hirit" in Filipino on Friday.
He added that there are some who have requested for an executive session—a closed-door meeting where proceedings are confidential unless senators agree to make information discussed there public.
Lacson said that he has yet to determine the motives of the supposed insiders, but said he had been told through conduits that they are willing to have a "tell-all" on the supposed corruption at the BuCor.
During the resumption of Senate inquiry on Thursday, Bureau of Corrections legal chief Frederic Anthony Santos admitted that there is corruption inside the New Bilbid Prison.
Foreign prostitutes, the usage of mobile phones and medical certificates for sale are among the schemes of an entrenched corruption ring of BuCor officials at the national penitentiary, the resource persons said.
With their testimonies, Lacson counted at least seven moneymaking schemes at the NBP: prostitutes for hire, medical passes, proliferation of cell phones, drug trafficking, credit racket, siphoning of prisoners' food allowances and gambling around the clock.
Lacson stressed that the Senate wants to dig deeper into the alleged sale of hospital passes at the national penitentiary.
De Lima: Senate became a 'party' in political persecution
Former BuCor officer-in-charge Rafael Ragos and his deputy Jovencio Ablen, resource persons at the hearing, also told the panel that prostitutes—referred by the code "tilapia"—being brought for inmates at the maximum security compound and Building 14, where high profile inmates are detained.
Ragos and Ablen held positions at the BuCor when the Justice department was headed by Sen. Leila de Lima.
Ablen testified at a 2016 congressional probe into drug trading at the Bilibid, and later at the Muntinlupa court hearing De Lima's drug case.
De Lima, in a dispatch on Friday, slammed her "continuing demonization and persecution" at the Senate hearing on GCTA.
"Certain senators, at yesterday's Blue Ribbon Committee hearing, practically acted as the handlers of these 'resource persons' and showing utter disrespect, if not contempt of, a jailed colleague, succeeded in foisting upon the proceedings the recycled and enhanced lies of Ragos and Ablen about me," she said.
The detained senator also claimed that the Senate has become a "willing party" and complicit to the perpetuation of lies against her by using the "perjured testimonies" of Ragos and Ablen.
De Lima pointed out that Ragos and Ablen were granted immunity for testimonies against her, and that this has emboldened them to "concoct lies and more lies."
"That's what they were told to do in exchange for their exculpation from their self-confessed involvement in various irregular, corrupt and criinal activities within BuCor/New Bilibid Prison," she added.