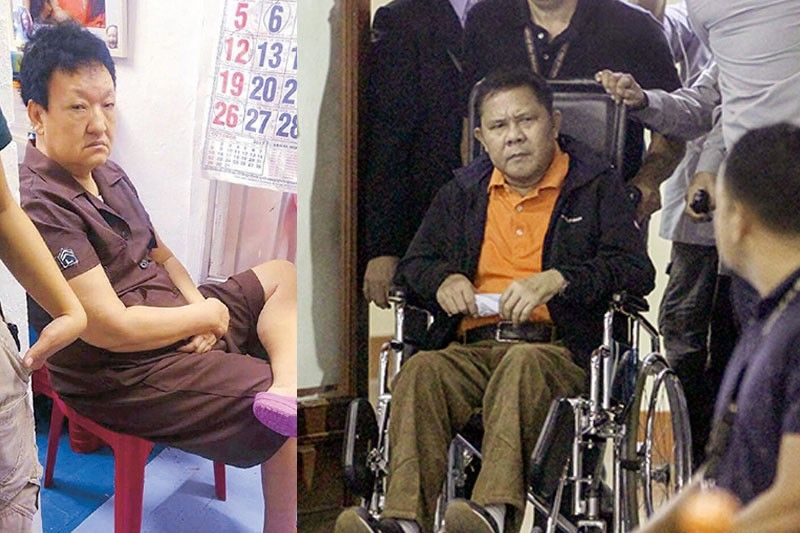 Composite photo shows the entrance to the hospital at the New Bilibid Prison maximum security compound, where illegal drug operations are allegedly being conducted by some inmates. Right photo shows NBP inmate Jose Galario Jr., a former mayor convicted of graft, arriving at the Senate to testify on how prisoners can stay for months in the hospital by paying considerable amounts. At left is file photo of convicted drug dealer Yu Yuk Lai at the Women's Correctional. During the hearing, it was revealed that she had availed herself of the 'hospital pass for sale' scheme, staying for months in a private hospital.
Geremy Pintolo
'7 capital sins' in BuCor bared
Paolo Romero
(The Philippine Star) - September 13, 2019 - 12:00am
P30K tilapia, P.5-M cell phones, prolonged hospital stays among rackets
MANILA, Philippines — At the New Bilibid Prison (NBP), "tilapia" or foreign prostitutes can be had overnight for P30,000, mobile phones for P500,000 and a medical certificate for P1,000, with the help of an entrenched corruption ring allegedly involving jail guards, prison doctors as well as sentries at the gates who also allow convicted drug traffickers to continue their business.
More witnesses testified yesterday on corruption at the 150-year-old state penitentiary during the continuation of the Senate Blue Ribbon committee's inquiry into the wholesale releases of heinous crime convicts by officials of the Bureau of Corrections (BuCor) and other anomalies.
With their testimonies, Sen. Panfilo Lacson counted at least seven moneymaking schemes at the NBP: prostitutes for hire, medical passes, proliferation of cell phones, drug trafficking, credit racket, siphoning of prisoners' food allowances and gambling around the clock.
"It's (corruption) so I think it is logical to think that it has come to a point that it's difficult to reverse. It should take a surgical action to reverse the situation. Their influence not only extends to fellow inmates, (but) even to people outside," Lacson said, referring to VIP convicts.
Sen. Richard Gordon, chairman of the committee, lamented that apparently everything was for sale or should be paid for at the BuCor – from sleeping mats, food and visitations.
"How can we aim to correct and straighten them (convicts) when it's worse inside (NBP)? The prisoners, who may be victims of injustice, and even their families suffer further injustice inside?" Gordon said.
"The rich and poor are not equals inside Bilibid, not just outside," he said.
Tilapia
Former BuCor officer-in-charge Rafael Ragos and his deputy Jovencio Ablen spoke of prostitutes—coded as "tilapia" inside the NBP—being brought in for inmates at the maximum-security compound and the supposedly highly secured Building 14.
Ragos and Ablen, who are still connected with the National Bureau of Investigation, are under the government's witness protection program in connection with the drug cases filed against detained Sen. Leila de Lima.
A single prostitute can be brought in for P30,000 if she were to stay overnight. The rate would be higher if the tilapia was "imported or came from abroad," Ragos said.
He said nearly all the high-profile inmates, including Chinese drug traffickers like Peter Co, in Building 14 regularly get prostitutes.
There are also parties with call girls that occur at NBP that are cleared with the Department of Justice.
Sometimes, things get complicated when visiting wives or girlfriends or other loved ones of inmates from Building 14 or the maximum-security compound are kidnapped by some corrupt police or jail officers in exchange for ransom for hundreds of thousands of pesos, he said.
Ragos said the tipsters are usually fellow inmates.
Another racket include a 24-hour gambling operation held in kubols (huts), and catering where inmates' food allowances are pocketed by officials that Ragos claimed could reach as high as P800,000 a month for top BuCor officials.
Then there is the so-called "SOP" where money is collected from inmates as a welcome gift for the new BuCor chief, he said.
Contraband or prohibited items like mobile phones, cigarettes, liquor and even drugs are allowed in exchange for money.
There is also much money to be made from "special requests" or patawag (summons) whenever a rich inmate wants something or is summoned by top prison officials.
Triad communications center
Former Valencia City mayor and police officer Jose Galario, who is currently an inmate at the NBP, also testified before the committee accompanied by his daughter.
He tagged NBP medical personnel led by Drs. Ernesto Tamayo and Urcisio Cenas as behind the so-called "hospital pass for sale" where rich convicts are passed off as needing hospital confinement for months where their movements are less restricted.
"I observed it (illegal activities) when I was there undergoing close monitoring of my health, I studied it," Galario said.
"The drugs come from the outside, but the instructions of the financiers come from the inside," he said.
Galario mentioned one drug convict he identified as a certain "Boy Buwaya," who allegedly has a relationship with a NBP nurse, Meryl Benitez, who also acts as his assistant.
The inmate often uses a mobile phone to run his syndicate, he alleged.
"The Hong Kong Triad has a presence there (NBP) because of them," Galario said, adding he borrowed a phone once from a fellow convict.
Benitez, Cenas, and Tamayo strongly denied the allegations, saying they rarely have contact with the inmates, who are always accompanied by guards whenever they are moved.
Sen. Christopher Go, who first exposed the "hospital pass for sale" racket, asked the DOJ to provide the committee a list of all those who were confined and their criminal records.
Go told the committee that during an earlier visit to Laguna, a child of an inmate divulged to him that a prominent drug lord availed himself of the "hospital pass for sale" scheme.
He identified the convicted drug lord as Yu Yuk Lai.
Go had sought answers from Galario, as well as the BuCor officials on the "hospital pass for sale" scheme during the hearing.
Go promised Galario protection as long as the former mayor tells the truth about the alleged corruption and abuse of power being committed by prison authorities in the NBP hospital.
Go quizzed Galario on the process inmates go through when requesting for hospital confinement.
Galario replied the duty physician recommends and approves confinement of inmates.
Galario also revealed some drug lords who are admitted to hospital bring other inmates with them under a "package deal."
"I simply tell the doctors there that I am sick and they will provide the admission," he said.
Galario said the higher a patient pays the doctor, the longer the confinement. He identified the doctor as Cenas, the same official who allows inmates in the hospital to use cellphones.