Laguna plane crash: 9 dead
September 2, 2019 | 12:00am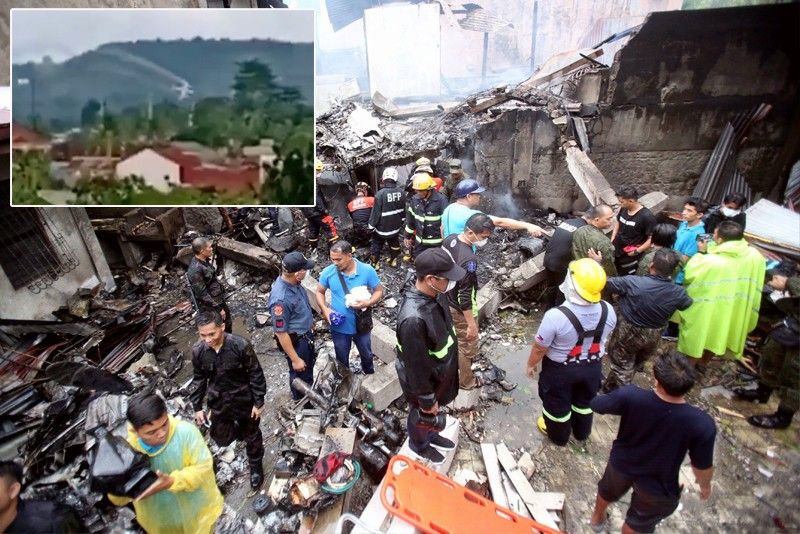 MANILA, Philippines — A light private aircraft crashed in a resort in a subdivision in Calamba City, Laguna yesterday afternoon, killing nine persons and injuring two others.
In Batangas, a small multi-engine plane crashed along a shoreline in a barangay in Nasugbu on Saturday, injuring its two pilots.
The 11-seater light aircraft that crashed in Calamba, a Beechcraft King Air 350 medical evacuation aircraft with registry number RP-C2296, hit the Agojo Resort in Miramonte Subdivision in Barangay Pansol's Purok 6 – about two kilometers from Mount Makiling – at around 3:30 p.m., according to Laguna police director Col. Eleazar Matta.
The crash resulted in a fire that razed a number of residential houses and Agojo Resort.
Nine cadavers that were burned beyond recognition as well as some parts of the plane had been retrieved from the site as of last night, Calamba City Public Order and Safety Office chief Jeffrey Rodriguez, who was present at the crash site, said.
The fatalities were identified as the pilot, Capt. Jesus Hernandez, First Officer Lino Cruz Jr., Dr. Garret Garcia, nurse Kirk Eoin Badilla, nurse Yamato Togawa, Ryx Gil Laput, Raymond Bulacja, patient Tom Carr and his wife Erma, according to Lt. Col. Jacinto Malinao, Calamba City police chief.
Fire protection officials said a pilot, a co-pilot and seven passengers were on the ill-fated aircraft.
Two residents identified as Malou Roca, 49, and her son John Rey, 19, were injured and rushed to the JP Rizal hospital.
Search and rescue operations were hampered by heavy rains, according to Matta.
Office of Civil Defense – Calabarzon (Cavite, Laguna, Batangas, Rizal and Quezon) field office spokesman Alex Masigla said a resident was brought to hospital for medical treatment of burns.
At least three structures were also hit by the aircraft, Masigla told radio station dzBB in an interview.
The Civil Aviation Authority of the Philippines (CAAP) said the flight, which came from Dipolog City airport in Zamboanga del Norte for a medical evacuation operation in Manila, lost radar contact at around 3:10 p.m. while flying 25 nautical miles from Manila.
At 3:14 p.m., the Philippine Aeronautical Rescue Coordination Center received an Emergency Locator Transmitter alert from the satellite-aided search and rescue initiative Corpas-Sarsat near Pansol, Laguna.
As of 4:45 p.m., local authorities at the crash site informed that the fire which resulted from the crash was already under control.
CAAP Aircraft Accident Investigation and Inquiry Board investigators have been dispatched at the crash site to determine the cause of the accident.
Elements of the Bureau of Fire Protection Region 4A, police, military and emergency response team were dispatched to conduct rescue operation and assist the victims.
A witness told police that the plane was flying toward Mt. Makiling when smoke was suddenly seen covering the plane. The witness also said the pilot attempted to maneuver the plane, but it crashed into the subdivision.
In a television interview over CNN Philippines, witness Ahrcee Genil said the plane flew very low before it suddenly crashed to the ground.
"Pinilit pa niya umakyat, then may nagbagsakan na debris. Pagkawala sa ulap, biglang bumagsak," Genil said.
The plane flew erratically for several seconds before it crashed and exploded upon impact to the ground.
Lt. Col. Chitadel Gaoiran, Calabarzon police spokesman, said an investigation is ongoing to determine the cause of the crash.
"As of now, we have yet to determine the (actual) number of the fatalities and injuries," Gaoiran told The STAR.
Gaoiran added that they are also checking a report if the plane was hit by lightning, which reportedly caused the smoke covering the plane seen by some witnesses.
Elements of the Bureau of Fire and Protection 4A, police, military and emergency response team are dispatched to conduct rescue operation and assist the victims.
Batangas crash
Meanwhile, Capt. Eugene Avila, 64, and his co-pilot Armando Ducat, both Metro Manila residents, were injured when their plane crashed along the shoreline of Barangay Papaya in Nasugbu at around 1 p.m. on Saturday.
The pilots were onboard a PA 23-250 Piper Aztec multi-engine plane and were flying from Kuyu, Palawan en route back to Sangley Point in Cavite City.
After incurring fuel system failure, the plane crashed and submerged 17 meters deep below sea level within the jurisdiction of Barangay Papaya, Nasugbu, Batangas.
The pilots sustained minor injuries and were brought to Jabez Medical Center for treatment. – With Rudy Santos, Arnell Ozaeta