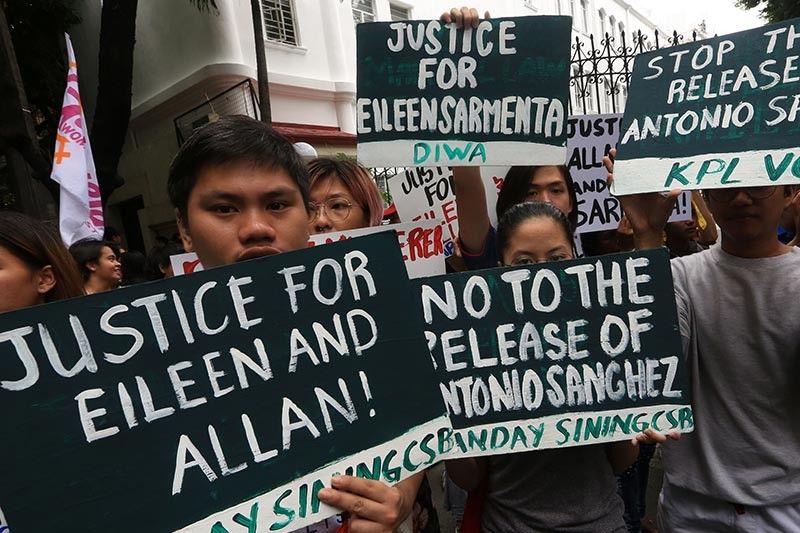 In this Aug. 23, 2019 photo, human rights groups protest the looming release of convicted rapist-murderer Antonio Sanchez.
The STAR/Edd Gumban
Palace: No need to talk about Sanchez as he is unqualified for release
MANILA, Philippines — The recent controversy involving convicted rapist and murderer and former Calauan, Laguna Mayor Antonio Sanchez is no longer an issue because he was already found to be unqualified to be released from prison, Malacañang said Sunday.
Cabinet Secretary Karlo Nograles said claims that Sanchez, who was sentenced to seven life terms of up to 40 years each, might soon walk free should no longer be discussed.
"I think it is clear that he is not qualified under the law that reduces sentences because of good conduct. So that's not an issue anymore," Nograles said in an interview with radio station dzBB.
"Natuldukan na ito. Hindi na dapat pag-usapan pa ito kasi hindi talaga qualified (The issue should be put to rest. It should not be discussed anymore because he is not qualified)," he added.
READ: Panelo denies hand in looming release of Sanchez, his former client convicted of rape and murder
Sanchez was convicted in 1995 for the rape-slay of University of the Philippines Los Baños student Eileen Sarmenta and the murder of her boyfriend Allan Gomez in 1993.
Last week, the Justice department sparked outrage after it announced that Sanchez might be among the 11,000 inmates who may walk free within the next two months because of a new law increasing good conduct time allowance and a Supreme Court ruling applying it retroactively.
Officials later on clarified that Sanchez is not qualified to be released because the law on good conduct time allowance excludes recidivists, habitual delinquents, escapees and persons charged with heinous crimes. President Rodrigo Duterte is reportedly furious at the possibility that Sanchez will be released early from prison.
"The president has spoken. It's over. We have nothing to talk about," Nograles said.
READ: 'Let him serve seven life sentences': DOJ urged to stop release of rapist-murderer Sanchez
The Cabinet secretary said he has not heard about plans to suspend the processing of good conduct time allowance but cited the need to thoroughly assess the candidates for early release.
"What I heard is it will be screened thoroughly. Let's not talk about those who are disqualified. They should be removed from the list," Nograles said.
Nograles also downplayed concerns that Sanchez might go to the Supreme Court to secure his release.
"The law is very clear. Even if you try to turn it inside out, it states that if you commit heinous crimes, you are not qualified," he added.
READ: Good law, bad man: RA 10592 and rape-slay convict Antonio Sanchez