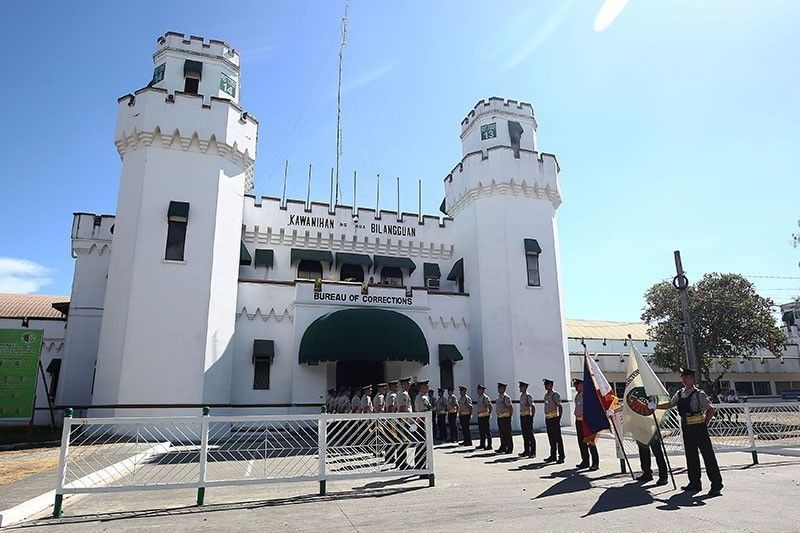 File photo shows New Bilibid Prison.
The STAR/Miguel de Guzman, File
Good behavior? Prison violations, murder convictions mar Sanchez's record
MANILA, Philippines — A former Laguna town mayor convicted for the murder of two college students, one of whom he also raped, more than two decades ago—a crime dubbed as a "plot seemingly hatched in hell"—may soon walk free for his supposedly good behavior.
Convict Antonio Sanchez, former mayor of Calauan in Laguna, is one of the at least 11,000 inmates who may be released from prison in the next two months because of Republic Act 10592, which increases the good conduct time allowance and a Supreme Court ruling applying the same law retroactively.
In 1995, Sanchez and six others were sentenced to seven terms of reclusion perpetua or imprisonment of up to 40 years for the gruesome rape and murder of University of the Philippines Los Baños student Eileen Sarmenta in 1993. Sarmenta's boyfriend Allan Gomez was also killed.
Sarmenta was presented to Sanchez as a "gift." She was raped by Sanchez and his men, while Gomez was tortured and eventually killed.
The decision was affirmed by the Supreme Court in 1999, noting "only the unthinking beasts" can orchestrate this despicable crime.
Sanchez has been in jail for 25 years.
Sen. Roland Dela Rosa, former head of the Bureau of Corrections, said in an interview on the ABS-CBN New Channel that the convicted rapist and murderer has become a "changed man" inside the New Bilibid Prison.
Questions on good conduct
Questions, however, were raised over how Sanchez was entitled to a good behavior allowance when his record while in prison is not spotless.
In 2006, a complaint was filed against Sanchez for allegedly possessing shabu and marijuana inside his jail cell.
Four years later, in 2010, a kilo of shabu worth P1.5 million was discovered in one of the Blessed Virgin Mary statues inside his cell during a random check at the national penitentiary.
A BuCor report also said Sanchez tested positive for drug use.
In 2015, authorities seized an air conditioner, a flat-screen television and a refrigerator from the former mayor's cell during a raid of Bilibid's Maximum Security Compound.
"Paano naman nagkaroon siya ng allowance for conduct of good behavior? Ang balita pa natin ay mayroon siyang aircon sa kanyang kulungan. Paano naman naging good conduct ito?" Senate Minority Leader Franklin Drilon, a former Justice secretary who was instrumental in the prosecution and conviction of Sanchez, said in a radio interview Thursday.
(How did he qualify for allowance for conduct of good behavior? It was reported that an aircon was seized inside his cell? How did it qualify for good conduct?)
Drilon said he plans to file a resolution to look into how the Board of Pardons and Parole computes the good conduct time allowance.
Good behavior is not even defined in RA 10592.
In an interview with News5, Sarmenta's mother, Ma. Clara, challenged the government to prove Sanchez behaved well while during his time in prison.
She said Sanchez did not even give the P5.5 million that the court had ordered as indemnity.
Murder of the Peñalosas
Aside from the case of the UP students, Sanchez was also convicted of two other murders.
In 1991, two years before the UPLB rape-slay case, Sanchez's men gunned down father and son Nelson and Rickson Peñalosa. Nelson was a supporter of Virvilio Velecina, Sanchez's political opponent at the time.
When he was informed of the Peñalosa's presence at Velecina's birthday party, Sanchez said, "Bahala na kayo mga anak. Ayusin lang ninyo ang trabaho."
(It's up to you. Just make sure the job will be done well.)
His men understood it as an order to kill Nelson, court record showed.
In 1996, the trial court convicted Sanchez and three others of double murder. Sanchez was already in jail then for the rape-slay of Sarmenta and the killing of Gomez.
The Supreme Court affirmed that conviction in 1999.
Taken together, his prison sentences could span up to three centuries but Article 70 of the Revised Penal Code states that "the maximum duration of the convict's sentence shall not be more than three-fold the length of time corresponding to the most severe of the penalties imposed upon him."
"No other penalty to which he may be liable shall be inflicted after the sum total of those imposed equals the same maximum period," the RPC also holds.