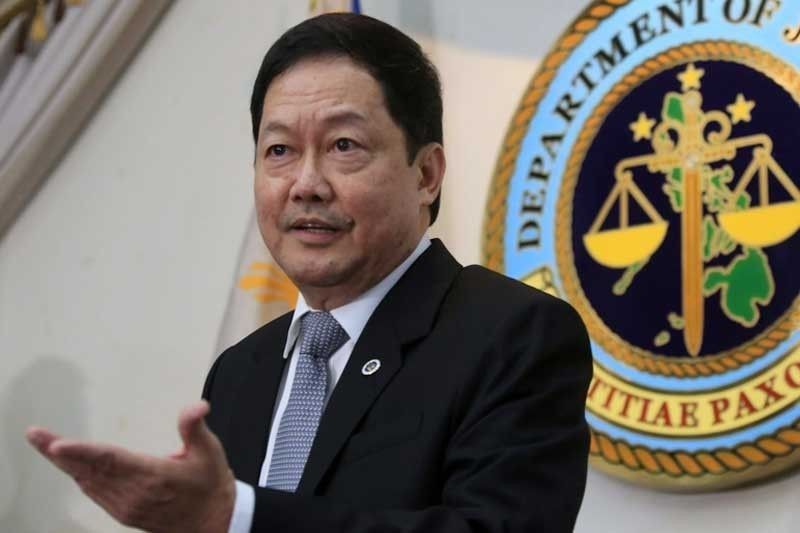 File photo shows Justice Secretary Menardo Guevarra in a press conference at the Department of Justice office in Padre Faura, Manila.
The STAR/Edd Gumban, file
'Being leftist is far from being a terrorist,' Justice secretary stresses
MANILA, Philippines — An amended Human Security Act, which allows a court to declare certain organizations as unlawful, can help curb terrorism, Justice Secretary Menardo Guevarra said Tuesday amid talk of bringing back the Cold War-era anti-subversion law.
The law, which was repealed during the presidency of Fidel Ramos, made membership in the Communist Party of the Philippines and its affiliated organizations a crime.
The STAR reported that Interior Secretary Eduardo Año said the government should consider restoring the old law, amid concerns of parents that their children have allegedly gone missing due to recruitment of left-leaning organizations.
Some of the activists whose parents appeared at a Senate hearing on recruitment by national democratic activist groups have said on social media that they are not missing and are not being held against their will. Anakbayan, a legal organization tagged at the Senate hearing, has said its members are free to join or to leave at any time.
READ: DILG wants to restore law against subversion
Año over the weekend lamented the repeal of the anti-subversion law, saying "leftist groups should be banned for being subversive and illegal."
Guevarra: CPP membership not a crime
But Guevarra stressed that membership in the Communist Party of the Philippines does not constitute a crime.
"With all due respect to Secretary Año, mere membership in the CPP (subversion) is not a crime unless overt criminal acts are committed," he told reporters in a message.
"Being leftist is far from being terrorist. As long as activism remains in the realm of ideology, there is nothing to be alarmed about," he also said.
Guevarra said, however, that when the ideology is translated to overt acts that "threaten the national security or at least cause widespread fear among the people, government has to step in, and step in really hard."
He added that instead of bringing back the anti-subversion law, "amending and giving more teeth to the Human Security Act will suffice, in my opinion."
The Human Security Act—which Congress wants to amend to allow, among other things, longer detention of suspected terrorists—is meant to "secure the State and protect our people from terrorism."
Guevarra said the law has weaknesses "such as very short custodial investigation periods and huge penalties for wrongful prosecution, even if done in good faith," that need to be adapted to the times.
"Remember, we are dealing here with terrorism, including suicide attacks," he said.
READ: Militants dared to answer query of missing students' parents
'Excavating a Jurrasic idea'
The Anti-Subversion Act, or Republic Act 1700, was repealed decades ago due to perceived infringement on the constitutional rights of an individual.
Section 4 of the repealed law punished "whoever knowingly, wilfully and by over acts affiliates himself with, becomes or remains a member of the Communist Party of the Philippines and/or its successor or of any subversive association."
The National Union of Peoples' Lawyers slammed the proposal to revive RA 1700, which it called a "draconian measure."
The lawyers' group added: "It is an excavation of a Jurassic idea which has the effect of curtailing freedom of association and political beliefs which are in fact crucial ingredients for democracy to flourish."
The NUPL also pointed out that restoring the anti-subversion act, coupled with "other repressive laws and policies, and on top of vicious red-tagging of individuals and groups" is "antidemocratic."
The NUPL and several rights groups have run to the courts to seek relief from what they deem is red-tagging, but the two groups lost at the Court of Appeals.
Philippine jurisprudence defines red-tagging as "the act of labelling, branding, naming and accusing individuals and/or organizations of being left-leaning, subversives, communists or terrorists (used as) a strategy... by State agents, particularly law enforcement agencies and the military, against those perceived to be 'threats' or 'enemies of the State.'"