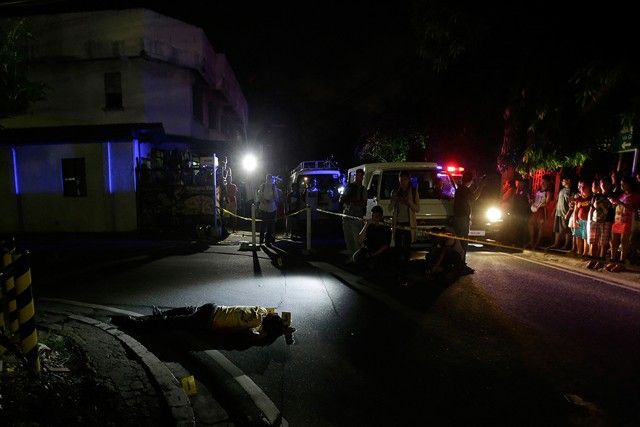 Sen. Leila de Lima reintroduced a measure seeking to define acts that constitute EJKs and ensure accountability over suspicious deaths recorded under the Duterte administration.
File
Senators push measures on EJK, perjury
Paolo Romero
(The Philippine Star) - July 17, 2019 - 12:00am
MANILA, Philippines — Measures seeking to define acts that constitute extrajudicial killings (EJKs), impose heavier penalties for lying under oath and institutionalize biking as an alternative mode of transportation nationwide were filed at the Senate yesterday.
Sen. Leila de Lima reintroduced a measure seeking to define acts that constitute EJKs and ensure accountability over suspicious deaths recorded under the Duterte administration.
In filing Senate Bill 371, De Lima said EJK remains "a grave threat not just in the Philippines, but also across the world, that demands the most certain effort through legislation."
"In light of the thousands of deaths, the Filipino as a nation cannot negate that EJK is a clear and present phenomenon of the times boldly challenging our constitutionally-protected human right against taking of life, transgression of due process and presumption of innocence of criminal suspects," De Lima said.
She said that while the Philippine Drug Enforcement Agency has recorded 5,000 deaths involving "drug personalities" from July 2016 since Duterte launched his drug war to 2018, the Commission on Human Rights (CHR) said the number could be as high as 27,000 owing to lack of information from the government.
Although the number of drug-related deaths has tapered significantly in Metro Manila where the killings were initially most rampant, De Lima said the epicenter of the war on drugs has reportedly moved north, toward neighboring Central Luzon.
The government, she said, must immediately halt the brutal campaign against drugs as the international community now sees the country as a dangerous place.
"Extrajudicial execution includes summary killing perpetrated by private individuals for purposes of carrying out on their own or in the context of vigilantism, campaign or policy of the State," De Lima's bill said.
The measure also seeks to make local chief executives and chiefs of police administratively liable if their communities posted a surge in EJKs, except in areas beset by armed conflict.
Perjury
Senate President Vicente Sotto III is pushing for measures that will penalize people who lie under oath with up to 10 years in prison.
Sotto said the measure would serve as a deterrent for suspects who retract their testimonies to save themselves from sticky situations.
"It is an act that undermines the solemnity of the oath that one has undertook to 'tell the truth, the whole truth and nothing but the truth,'" Sotto said.
"A lot of people change their stories made under oath like it was not a big deal. This may be partly due to the imposable penalty that goes with the crime of perjury," Sotto said in filing Senate Bill No. 8.
The proposal seeks to amend Article 183 of the Revised Penal Code, which imposes six months to two years imprisonment against those who lie under oath.
Sotto said a shorter jail term does not deter suspects from changing their testimonies.
He said the Philippines can take a cue from the state of California, which considers perjury as a capital offense, or from Queensland in Australia, where making false testimony is punishable by life in prison.
"We must not allow anyone to play games with our laws. We must ensure that our laws are respected at all times," Sotto said.
National Bicycle Act
Meanwhile, Sen. Pia Cayetano is pushing for the passage of the National Bicycle Act of 2019, which recognizes bicycles as an alternative and sustainable mode of transportation nationwide.
The measure seeks to develop policies, infrastructure and facilities for the proper integration of bicycles into the country's public transportation system.
"It is time to change our mindset about traffic and find alternative means to move forward from this perennial problem," Cayetano said of the yet unnumbered bill, which she filed among her second batch of measures for the 18th Congress.
She admitted that the major downside of biking is safety.
"News and social media posts regularly report about bikers being sideswiped or run over by undisciplined drivers of motor vehicles. And so this is one reason why we need to enact a national policy to ensure the protection of bikers," she said.
Under her bill, the departments of transportation, and public works and highways in coordination with local government units, should take the lead in designating bicycle lanes which will serve as an exclusive passage for cyclists.
Motor vehicles will be prohibited from using the bike lanes, even as parking space. – With Cecille Suerte Felipe