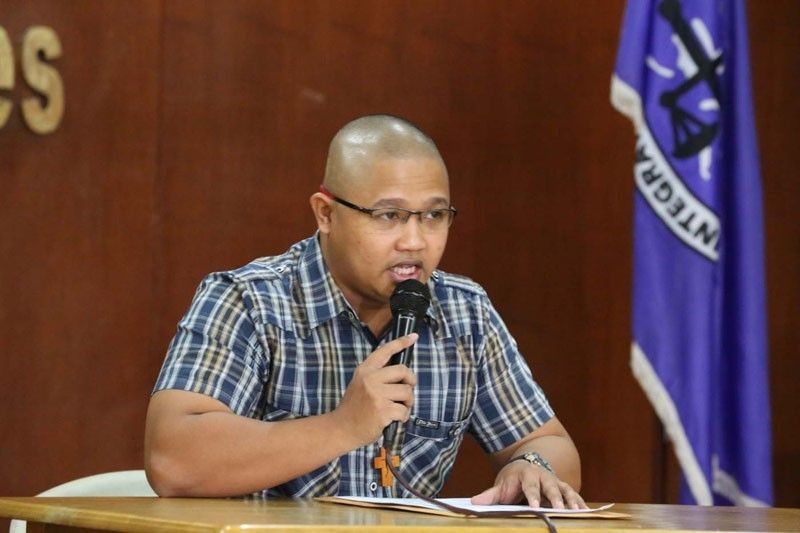 Peter Joemel Advincula claimed that he is "Bikoy," the hooded man in the "Ang Totoong Narcolist" videos.
Handout photo
Estafa complaint filed vs 'Bikoy'
MANILA, Philippines — A businessman filed an estafa complaint against Peter Joemel Advincula, who claimed to be "Bikoy," before the Department of Justice Friday.
Arven Valmores of Ardeur World Marketing filed a complaint-affidavit alleging that, in August 2018, Advincula sponsored a beauty pageant in Albay and used the corporate name and logo of Valmores' business—without his consent—for promotion.
Valmores said that Advincula was merely an independent distributor of the product.
The businessman said that Advincula did not attend the pageant held on Aug. 11, 2018 and he "became unreachable thereby leaving all the members of the production staff unpaid."
Valmores said as the production staff and pageant winners sought redress, he had to shell out P304,422 to cover the expenses of the pageant.
"Through false pretenses and use of the corporate name, complainant was damaged financially in the amount stated above," the complaint-affidavit read.
"Respondent because unreachable and efforts to locate him to answer for his misrepresentation remained until recently where he surfaced at the Integrated Bar of the Philippines," it further read.
READ: 'Bikoy' surfaces, claims threats to life
'No Malacañang order'
Valmores was accompanied by lawyer and former Bureau of Corrections Director General Benjamin delos Santos in filing the complaint.
The STAR reported that Delos Santos clarified that the filing of the complaint is not related to the "Bikoy" videos that alleged ties between the Dutertes and the narcotics trade.
READ: Estafa case filed at the DOJ vs. Peter Joemel Advincula. | @EZMacairan pic.twitter.com/1tGkNwaFfz

— The Philippine Star (@PhilippineStar) May 10, 2019
They also said they were not told by anyone in the Duterte camp to file the case.
Advincula surfaced Monday at the Integrated Bar of the Philippines. He claimed there are threats to his life and was seeking free legal aid to sue the people he named in his videos who were allegedly part of a drug syndicate.
The IBP eventually rejected his application.
Senate President Vicente Sotto III also questioned the credibility of Advincula, as he pointed out that he was the same person who reached out to his office in 2016 accusing former President Benigno Aquino III, former Interior Secretary Mar Roxas and former Justice Secretary Leila De Lima of ties with an alleged drug syndicate "Quadrangle."
READ: Sotto: Man claiming to be 'Bikoy' tagged past admin's execs to drugs