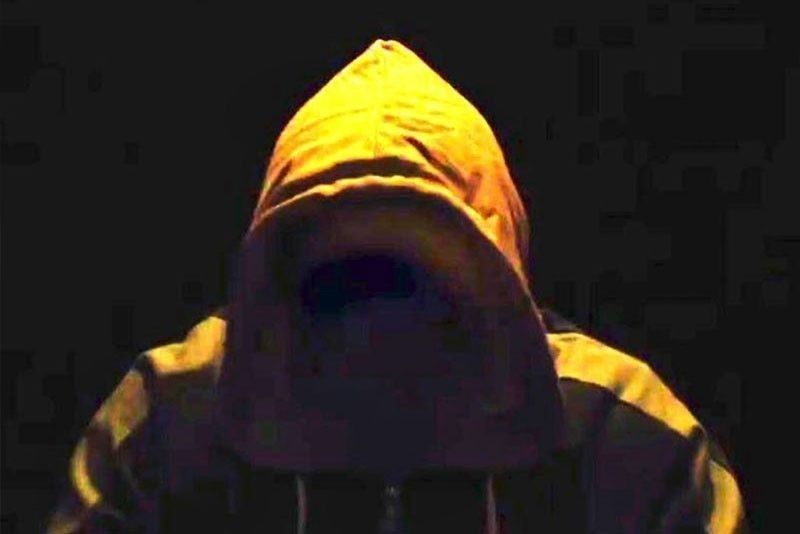 Authorities are already looking into the man who produced and uploaded the "Ang Totoong Narcolist" videos.
File
'Bikoy' surfaces, claims threats to life
(Philstar.com) - May 6, 2019 - 2:45pm
MANILA, Philippines (Update 2, 6:12 p.m.) — The man behind the anonymous video "Ang Totoong Narcolist" surfaced Monday afternoon and claimed that there are threats to his life.
The man who claimed to be "Bikoy" surfaced Monday afternoon at the Integrated Bar of the Philippines where he said he is seeking legal assistance from the group of lawyers.
Peter Joemel Advincula who identified himself as "Bikoy" said he decided to surface due to threats to his life and the call of his conscience.
The videos alleged that the Dutertes and former Special Assistant to the President Christopher "Bong" Go have ties to the illegal narcotics trade — an allegation they denied.
"Nandito ako ngayon sa tanggapan ng IBP upang humingi ng legal assistance. Kailangan ko ng abogado para i-submit ang aking sinumpaang salaysay at tulungan akong magsampa ng kaso laban sa mga miyembro ng sindikato na pinangalanan ko sa video seryeng 'Ang Totoong Narcolist,'" he said.
(I am here at the IBP office to seek legal assistance. I need a lawyer to submit my sworn affidavit and help me to file a case against the members of syndicate I named in the video.)
Advincula read a prepared statement, where he detailed his involvement in an alleged syndicate where one of his duties, he shared, was to scan codes embedded in the tattoos of senior members such as Go and former Davao vice mayor and presidential son Paolo Duterte.
He said that after he was jailed for estafa and was released — after his sentence was reduced — in 2016, he decided to lead an honorable life. But Advincula said he was recognized by Go in one event.
"Bikoy" said he was later told that his life is in danger. He has since been hiding since August 2018.
Go, who is running for administration-backed Hugpong ng Pagbabago slate, earlier denied the allegations thrown by "Bikoy" in the video. He also showed his back to disprove the allegation that he was sporting a tattoo connected to the syndicate.
Advincula added that he is ready to face a Senate probe to prove that the contents of his video series are true.
Go shows back anew to disprove allegations
In a related development, former presidential aide Go bared his back again at a press conference to show that he does not have a tattoo there as claimed.
"May sinabi siya noon na kapag ipinakita ko ang aking likod, ay titigil na siya. Hinubad ko na at ipinakita ang aking likod. Wala kayong nakitang tattoo. Palagay ko, gusto naman nyang makita ang aking bilbil…Kung gusto nyong makita uli, puwede kong namang ipakita muli. Gusto ninyo?" he said.
(He said before that if I show my back, he will stop [with the allegations]. I took off my shirt and showed my back. You did not see any tattoo. I think this time he wants to see my lovehandles. If you want to see it again, I can show it again. Do you want to see?)
Former SAP Christopher "Bong" Go removes shirt in sortie in Laguna to show he has no "dragon tattoo" after "Bikoy" Peter Joemel Advincula surfaced and reiterated his allegations @PhilippineStar pic.twitter.com/AwfLFve30W

— Paolo S. Romero (@PaoloSRomero) May 6, 2019
"Kinukulayan kami ng itim para sila ay pumuti. Black propaganda. Malicious. Panahon ng election. Kanya-kanyang siraan," Go also said.
(They are painting us black so they will seem white. Black propaganda. Malicious. It's election time. They are just slinging mud.)
Senatorial bet Bong Go bares his back again to disprove allegations that he has a tattoo that is linked to a drug syndicate. pic.twitter.com/GV0TsFQ7Og

— The Philippine Star (@PhilippineStar) May 6, 2019
IBP to evaluate
IBP President Abdiel Dan Fajardo explained that they have yet to accept Advincula as a client.
He explained that the National Center for Legal Aid, under the IBP, would still have to evaluate Advincula's application. "We have certain tests before the NCLA and IBP can accept a client," he said.
"The NCLA will evaluate if there is merit and of the guy has no means, then they will decide if they will represent him or not," Fajardo added.
He also clarified that they have yet to read the affidavit or Advincula's complaint if he has any. — Kristine Joy Patag