Comelec issues protocol on SD card replacement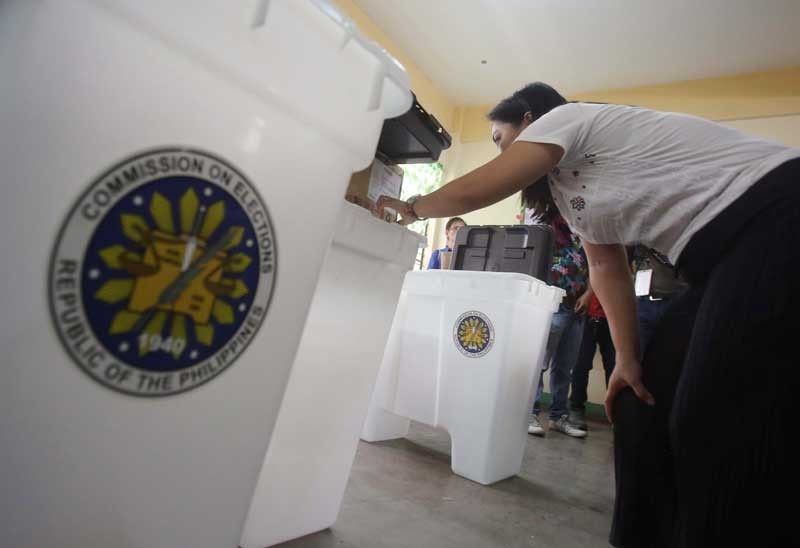 MANILA, Philippines — Five days before the May 13 elections, the Commission on Elections (Comelec) came up with a resolution providing the "protocols" for the replacement of damaged Secure Digital (SD) cards that will be used in the vote counting machines (VCMs).
In Resolution No. 10534 promulgated last Tuesday, the Comelec said technical hubs shall be established per region with the help of the Department of Information and Communications Technology and the Department of Science and Technology.
These two agencies shall assign personnel to the regional technical hubs to help implement contingency measures in case of "defective SD cards," according to Comelec.
SD cards contain the encrypted image of the ballots fed inside the VCMs.
The poll body noted that protocols have been formulated as "there is a possibility that both the main and backup SD cards may be damaged while in transit."
The Comelec has underscored that a VCM cannot operate without SD cards so having protocols to guide concerned personnel are important.
"Stoppage of operation of VCMs during Election Day may have repercussions on the length of the voting hours and the peace and order situation of the affected precinct," the poll body said.
The resolution stated that defective SD cards may have to be reconfigured and replaced "in order to remedy the situation and mitigate the effects."
100% ready
The Philippine National Police (PNP), the Armed Forces of the Philippines (AFP) and other concerned government agencies including the Comelec yesterday announced their full readiness to ensure peaceful and orderly national and local elections on Monday.
Some 149,830 policemen and 98,000 soldiers will be working together to keep all polling places and other areas of concern safe before, during and even after May 13.
"The whole PNP is already on full alert status. We are on full alert and as of this time, we have partial deployment in the different hubs," PNP chief Gen. Oscar Albayalde told reporters yesterday after a send-off ceremony held at Camp Aguinaldo.
The Comelec, represented by Commissioners Luie Tito Guia and Al Parreño, spearheaded the ceremonial deployment exercise participated in by 809 personnel and 28 military vehicles, 778 personnel and 23 police vehicles and representatives from other stakeholders, such as the Department of Education and the Department of Health.
"The send-off ceremony is a fitting testimony of our firm aspiration for a peaceful and successful conduct of the national and local elections next week. This also signifies that we are all prepared and ready to be deployed in the different areas where our services and assistance are very much needed," AFP chief Gen. Benjamin General Madrigal said.
Albayalde noted that there are more than 36,000 polling centers nationwide to be guarded by at least two uniformed police officers, especially in hotspots or critical areas in Mindanao where quick reaction teams will be on standby.
"For polling centers we'll be probably deploying around 100,000 of our personnel, that includes the police assistance desks," he said.
"As of this time, we haven't seen any threat whatsoever, but of course we don't want to put our guard down, and especially so in Mindanao," he added.
Madrigal, for his part, said bulk of the military force will be in Mindanao and the hinterlands of Luzon and the Visayas, particularly in areas where there are communist terrorists, referring to the New People's Army, and local terrorist groups.
PCG aid, coastal patrol
Meanwhile, the Philippine Coast Guard (PCG) yesterday said it would be making its personnel and assets available to assist the Comelec in transporting election paraphernalia to remote islands.
PCG spokesman Capt. Armand Balilo said their Commandant, Admiral Elson Hermogino, had given instruction to make regional coordination "if there is a need for our security personnel to escort and assist in the transport of (election paraphernalia) to remote islands and other far-flung areas."
"We are tasked to support the Comelec, particularly in the transport of personnel and election materials to the inter-islands. Basically, that is where we come in," Hermogino said earlier.
Since the PCG has around 300 aluminum boats and some rubber boats at its disposal, their sea assets could be used to help the Comelec bring election paraphernalia to remote areas with designated polling precincts.
This would be done in coordination with the PNP and AFP, agencies deputized by the Comelec to secure not only the polling places but also election paraphernalia, forms and supplies that would be used for the elections.
Balilo said that starting tomorrow, they would be conducting coastal security patrol to help strengthen the security in the country, in preparation for Monday's elections. – With Michael Punongbayan, Evelyn Macairan