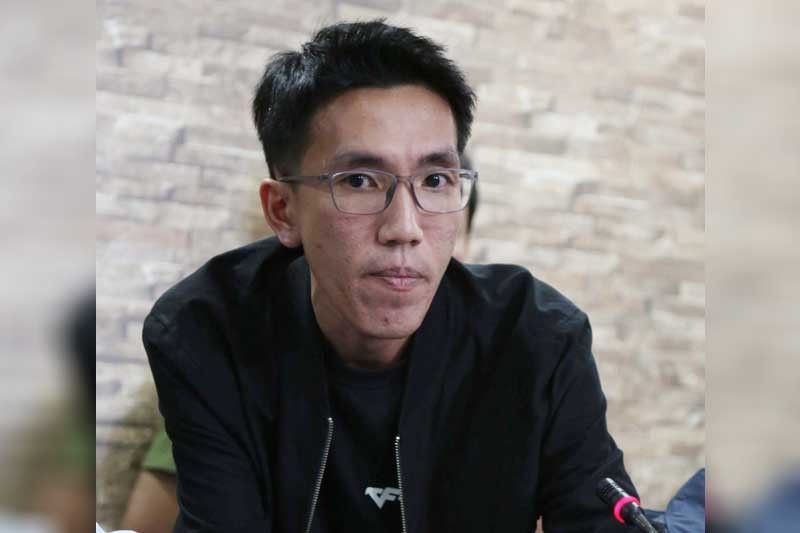 Rodel Jayme answers questions during a press briefi ng at the NBI headquarters in Manila yesterday.
Russel Palma
LP supporters asked me to create website – Jayme
Rey Galupo
(The Philippine Star) - May 4, 2019 - 12:00am
MANILA, Philippines — The website designer who was arrested and charged with inciting to sedition yesterday claimed that supporters of the Liberal Party (LP) were behind the planning and the uploading of the "Ang Totoong Narcolist" videos that implicated President Duterte's relatives in the illegal drug trade.
Rodel Jayme, a high school graduate, said a certain Maru Nguyen, a friend and fellow LP supporter during the last presidential election, gave him P2,500 as payment for web hosting and domain that will be used to launch his metrobalita.net website.
"I never received any money and I was made to understand that the website would be used to post positive campaigns during the election," he said during a press conference at the National Bureau of Investigation (NBI) yesterday afternoon.
NBI deputy director Ferdinand Lavin said the computer and mobile phone that Jayme voluntarily surrendered were subjected to forensic examination, which revealed his conversations on Facebook with Nguyen and a certain Maru Xie, who they believe are the same person.
Lavin said it was clear that some personalities meticulously planned the uploading of the video and it was calculated to deliver "maximum effect."
He said they are also looking at the possibility that some members of the Magdalo are also involved in the plan, "but we can only go after certain individuals if we become certain of their involvement and not a particular group."
Jayme said he felt that Nguyen and her group only used him and left him holding the bag.
"Where are they now? I voluntarily surrendered to the NBI because I have nothing to hide. I am not in any way involved in the Bikoy video, that is why I'm ready to become state witness," he said.
Lavin said they are still trying to determine the extent of Jayme's involvement but believe that the latter only knows so much "because the job could have been compartmentalized."
"It could be that he was tapped to create the website but other people were assigned to create and upload the video," he told The STAR.
Asked if the NBI has already identified Nguyen, Lavin said the name "Teresa Alviosa," a 27-year-old LP supporter, has come up.
Jayme said he met Nguyen during the 2016 presidential election and they were both avid supporters of LP candidate Mar Roxas.
He said they continued to connect with each other even after their candidate lost, but he said he is "not a rabid supporter who can't accept that his candidate has lost."
"I have nothing against President Duterte and his family and I am willing to tell the authorities everything I know," Jayme said, adding that he feels safer now that he is with the NBI.
He said Nguyen told him that he had to hide until such time that the election is over and that a particular group was willing to help him, but did not have an idea who they were "except that they were all supporters."
Jayme clarified that after he created the website he gave Nguyen access and never used it again.
Lavin said it looked from the outset that the motive of the people behind the video was political and it was created to discredit the President and his family.
"We will be going after certain individuals and groups based on Jayme's testimonies. A follow-up operation is ongoing but we will not give details so as not to undermine our moves," he said.
Asked if Jayme could be a credible witness, Lavin said it will all depend on the value of information that he gives and to what extent he knows about the operation.
Lavin, however, admitted that the case is sensational "because it is aimed against a duly constituted President and the end result they wanted was to create hatred and picture him as evil."