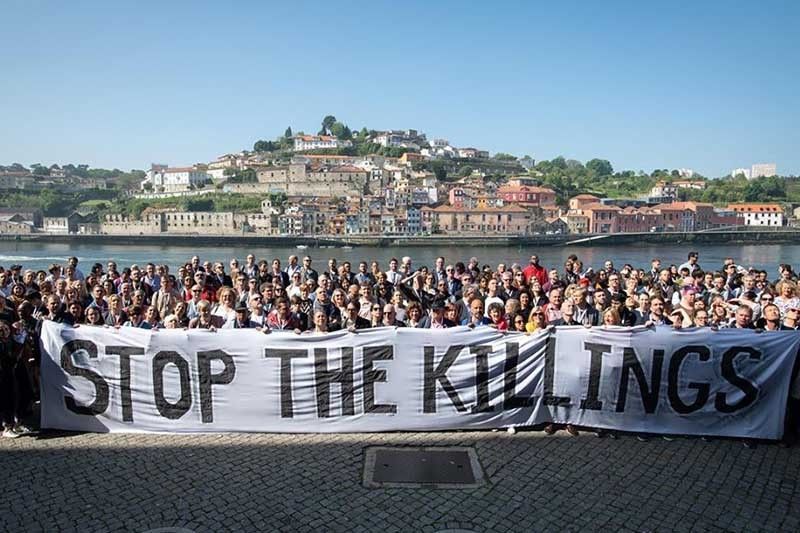 Human rights activists stage a protest in Porto, Portugal to demand an end to the war on drugs in the Philippines.
Steve Forrest/HRI/Workers' Photos
Rights activists protest drug war at Portugal policy conference
(Philstar.com) - May 2, 2019 - 1:39pm
MANILA, Philippines — Human rights defenders from around the world rallied in Porto, Portugal to send a message to the Philippine government: Stop the killings associated with its campaign against illegal drugs.
The protest was staged on the sidelines of the 26th Harm Reduction International Conference (HR19) on May 1, where the participants showed solidarity for the victims of the brutal war on drugs and demanded an end to it.
The global conference, held every two years, tackled the latest research and discussions on best practice in drug use, harm reduction and human rights.
"The Philippine government's barbaric campaign against the drug trade is severely harming the health and security of its communities. The evidence that punitive drug policies don't work is irrefutable. People around the world have sent a clear message to the government today—stop the killings and invest in the health and human rights of your people," Naomi Burke-Shyne, Harm Reduction International executive director, said.
The Philippine government acknowledges 5,375 deaths of "drug personalities" in police operations since July 2016. But human rights groups claim the figures are higher, citing unresolved killings under the administration of President Rodrigo Duterte.
Kristine Mendoza of StreetLawPh earlier in the conference warned that the Philippines' "war on drugs has unravelled into anything but a war on illegal substances," according to an article on TalkingDrugs, a platform that provides news and analysis on drug policy and harm reduction.
StreetLawPh is an organization of lawyers and advocates seeking to provide access to justice and protection for the rights of persons who use drugs.
"[Duterte has created a] long-term, institutionalized and well-funded pseudo-war which centralized all governmental powers into one strongman who—through effective social control—was able to damage our democratic principles, such as checks and balances, accountability and transparency, the civilian nature of our police force, the independence of the judiciary, the rule of law and respect for human rights," Mendoza was quoted as saying.
A study presented by the Ateneo School of Government and the Ateneo Human Rights Center last week showed that the administration's war on drugs, enforced through the police's Oplan Tokhang, risks violation of at least eight citizen's rights enshrined in the 1987 Constitution. — Gaea Katreena Cabico