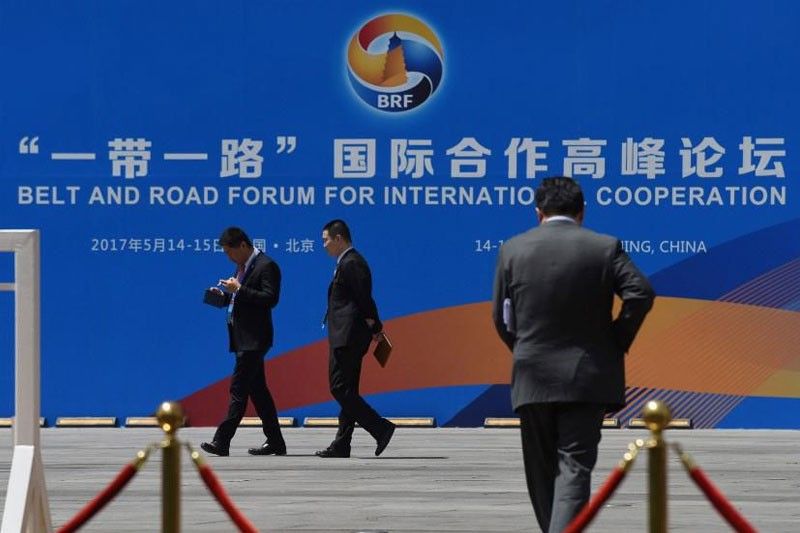 Presidential spokesman Salvador Panelo announced over the weekend that Duterte's latest official visit to China resulted in 19 business agreements with an estimated investment value of $12.165 billion.
Greg Baker/AFP
Duterte flies back home after Belt and Road Forum
MANILA, Philippines — President Duterte was expected to arrive past midnight today after his successful participation at the 2nd Belt and Road Forum in Beijing, highlighted by bilateral talks with Chinese President Xi Jinping and Chinese Premier Le Keqiang.
Presidential spokesman Salvador Panelo announced over the weekend that Duterte's latest official visit to China resulted in 19 business agreements with an estimated investment value of $12.165 billion.
More than 21,000 Filipinos workers are expected to be employed as a result of the agreements, Malacañang said.
The agreements included ventures involving energy, construction of an economic zone, design of a Green Textile Industry Park, airport expansion, tourism related facilities and infrastructure for nationwide WiFi connectivity.
The Philippines and China also signed agreements to train and introduce Filipino domestic helpers in China and supply of agricultural products, such as fresh pineapples and young coconut.
The President's fourth visit to China yielded positive results that would improve the lives of Filipinos, Panelo said.
During his participation at the High-Level Meeting Session 1 of the 2nd Belt and Road Forum for International Cooperation at the China National Convention Center in Beijing, Panelo said the President took the occasion to underscore the fact that the Belt and Road Forum complements the Association of Southeast Asian Nations (ASEAN), as well as the development initiatives of the Philippines.
The President discussed during the meeting the master plan for ASEAN Connectivity.
Duterte underscored that in pursuing connectivity, every nation should not merely build roads and bridges but also create human connections that not only will facilitate exchanges of skills, ideas and experiences but forge and build trust and understanding among citizens of various nations.
According to Panelo, the President stressed that China, which has a soft spot for our overseas Filipino workers (OFWs), had placed importance to migrant workers.
The OFWs serve not only as crucial links to these connections but contribute to the development of both their home and host countries, Panelo added.
Duterte emphasized the protection of Filipino workers abroad, describing it as a shared responsibility between the Philippines and host countries.
Loan conditions
Malacañang was urged yesterday to disclose all the details, including conditions, of loans and other agreements signed by President Duterte and his entourage in Beijing.
In calling for full disclosure, party-list group Bayan Muna said it does not believe the statement of a Chinese official that his country has no hidden agenda in extending loans to the Philippines and that there are no strings attached to such indebtedness.
Bayan Muna Rep. Carlos Zarate said previous loans, including one for the Chico River irrigation project, have already been exposed to be disadvantageous to the country.
Part of the terms is allowing Beijing to take over Philippine "patrimonial assets," he said.
He noted the statement of Senior Associate Justice Antonio Carpio that among such assets that could be seized is the disputed gas and oil-rich Recto Bank, which is within the country's exclusive economic zone.
Bayan Muna chairman Neri Colmenares said the Palace should tell the public if "finder's fees" are paid in connection with the loans and who are sharing from such fees.
He said administration officials were forced to admit the "onerous" terms of the Chico loan deal only after Bayan Muna revealed them.
"The loan agreements with China contain provisions not found in agreements with other countries. The mere fact that China wants the loans to be confidential shows that they want to hide it from the Filipinos who are the ones who will shoulder the loans," he said.
Colmenares also questioned the Duterte administration's preference for Chinese loans.
He said borrowings from other lenders like Japan and Asian Development Bank carry better terms and lower interest.
What is suspicious is that the administration chooses to borrow from Beijing despite China's aggressive actions in the West Philippine Sea, he said.