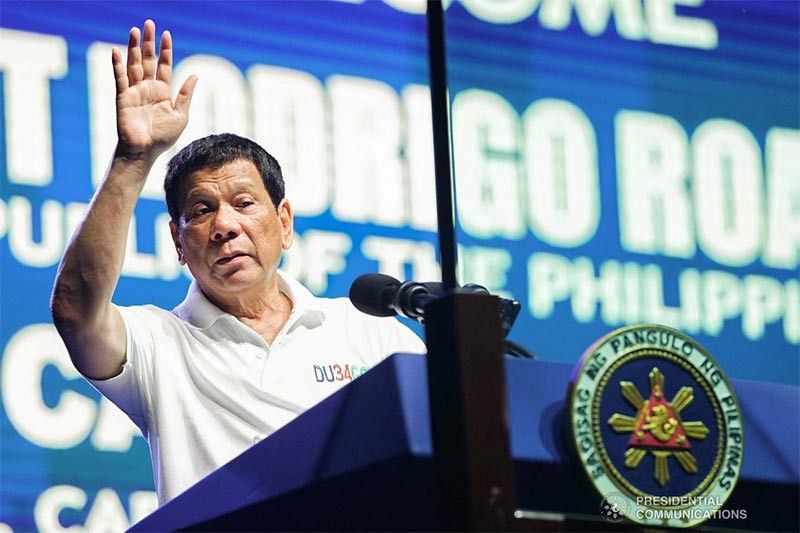 President Rodrigo Duterte gestures to the supporters while delivering his speech during the Partido Demokratiko Pilipino-Lakas ng Bayan (PDP-Laban) campaign rally at the Caraga State University in Cabadbaran City, Agusan del Norte on April 21, 2019.
Presidential Photo/Joey Dalumpines
Fact check: How likely can the Philippines beat Canada in war?
(Philstar.com) - April 25, 2019 - 12:25pm
MANILA, Philippines — President Rodrigo Duterte on Tuesday night launched tirades against Canada for supposedly dumping their trash to the Philippines.
Angry over the containers with trash from Canada dumped in Tarlac, Duterte, in another one of his freestyle speeches, said that if the Philippines would "quarrel" against the Canada, the Philippines can beat them.
"I want a boat prepared. I'll give a warning to Canada maybe next week that they better pull that thing out or I will set sail, there in Canada, I will dump their trash there," he said.
"They have been sending their trash to us. Well, not this time. We will quarrel with each other. So what if we quarrel with Canada? We'll declare war against them, we can beat them," Duterte said during a meeting on the effects of an earthquake in Pampanga.
READ: Duterte: 'Take back garbage or I will sail to Canada and dump trash'
Philippines winning over Canada in war? 'Baseless'
For Jose Custodio, military historian and defense analyst, the president was making "wild, baseless claims," and "making noise for the benefit of his mindless followers."
Custodio said that the North American country would very quickly dispose of Philippine forces should the two militaries face each other in battle.
"The modern Canadian armed forces will make short work of whatever expeditionary force sent by the Philippines to Canada and will have more than enough ammunition to spare to sink the proverbial jet ski Duterte will be riding on," Custodio told Philstar.com in an exchange.
"Granted of course Duterte doesn't call in sick on the day of the attempted invasion of Canada," Custodio added.
RELATED: Duterte 'not feeling well,' skips event in Leyte
Comparing Canada, Philippines' firepower
The website Global Firepower provides analytical display of data of 137 modern military powers. It provides annual ranking of countries "based on each nation's potential war-making capability across land, sea and air fought with conventional weapons."
The website measures a country's firepower through more than 55 individual factors to determine a "PowerIndex" score. The website noted: "Our unique, in-house formula allows for smaller, more technologically-advanced, nations to compete with larger, lesser-developed, ones.
Among the indicators for the rankings are:
Manpower
Airpower
Land Strength, including main battle tanks, light tanks and tank destroyers
Naval Strength
Natural resources
Logistics
Finance
Geography
In the 2019 Global Firepower review list, America takes the top spot, followed by Russia and then China.
For 2019, Canada is listed as 21st out of 137 countries on the list. The Philippines, meanwhile, ranked 64th.
"Key military acquisition decisions await the ruling part for Canada heading into 2019—a key year which will shape the future of its military," it noted.
For the Philippines, the website reported: "Internal unrest is the primary threat to the stability of the Philippines—leadership continues to rule with an iron fist."
An advantage the Philippines can have over Canada, considering the factors of manpower, is its higher population of 105.9 million against Canada's 35.8 million. Potentially, the Philippines would have more military-age citizens to fight in a war.
However, Canada allocates $21.2 billion for defense yearly, while the Philippines only bankrolls the military with $3 billion. The website however listed that Canada has more military equipment then the Philippines.
When it comes to military strength, the Philippines only has a strength of 171 aircraft and 18 tanks—including main battle tanks and light tanks. In a hypothetical war, it will pale in comparison to Canada's 384 aircraft and 80 tank strength.
Canada also has almost four times the Philippines' armored fighting vehicles as the North American country has 2,000. Duterte, if ever, could only deploy 530 armored fighting vehicles.
When it comes to naval power, the Royal Canadian Navy operates 12 frigates, four submarines, 12 coastal-defense vessels and eight patrol vessels. The Philippine Navy, meanwhile, operates three frigates, 10 corvettes, 55 patrol crafts, 16 amphibious landing ships and 10 auxiliary ships. — Kristine Joy Patag