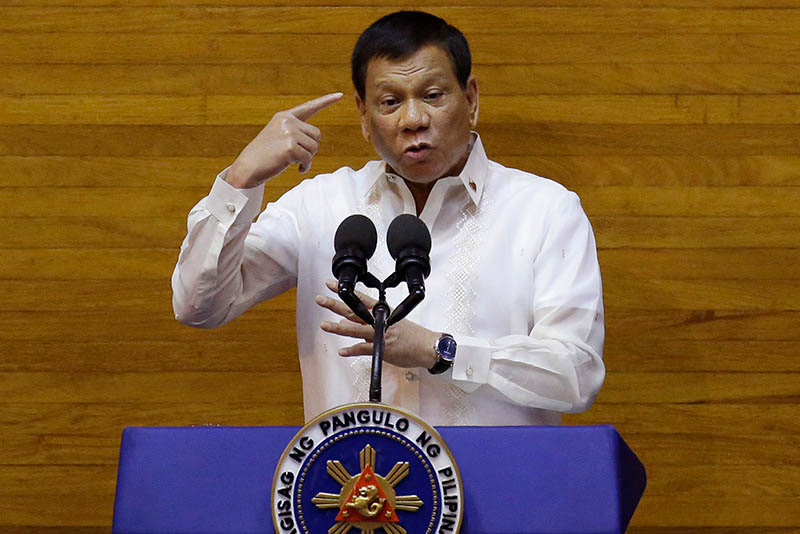 Duterte said he could not understand why Canada is turning the Philippines into a "dump site."
File photo
Duterte: 'Take back garbage or I will sail to Canada and dump trash'
President Duterte ordered the customs bureau to return to Canada the trash it sent to the Philippines a few years ago as he chided the North American country for supposedly turning Manila into a "dump site."
Duterte said Tuesday that Canada should prepare a "grand reception" for its waste, which arrived in the Philippines in 2013.
"I want a boat prepared. I'll give a warning to Canada maybe next week that they better pull that thing out or I will set sail, there in Canada, I will dump their trash there," the president said during a meeting on the effects of an earthquake in Pampanga.
"I will really return (the garbage)...Load the containers to a ship, and I will advise Canada that your garbage is on the way. Prepare a grand reception. Eat it if you want to," he added.
Duterte said he could not understand why Canada is turning the Philippines into a "dump site."
"They have been sending their trash to us. Well, not this time. We will quarrel with each other. So what if we quarrel with Canada? We'll declare war against them, we can beat them," he said.
"Buang ito kinakaya-kaya tayo. Hindi ako papayag ng ganoon (Crazies. They are pushing us around. I won't let that happen)."
Valenzuela-based company Chronic Plastics Inc. imported more than 50 containers with wastes from Canada in 2013. More than half or 29 of the containers with trash were dumped in a landfill in Tarlac.
Environment groups have expressed concern that the shipment might have contained toxic materials that could harm the health of local residents. During his visit to the Philippines in 2015, Canadian Prime Minister Justin Trudeau said a "Canadian process" is being developed to solve the problem but did not provide specifics.
"I have obviously been made aware of the situation and I've also been told that there is a Canadian solution in the process of being developed," Trudeau said on the sidelines of the Asia Pacific Economic Cooperation summit hosted by the Philippines four years ago.
"But, at the same time, I know that this has exposed a problem that needs fixing within our own legislation that we're going to lean into and make sure happens," he added.
Earlier this month, environment groups urged Canada to take back the garbage sent to the Philippines in 2013, noting that the sending of the waste was a violation of the Basel Convention.
Duterte claimed Canada sent the trash to the Philippines after agreeing to extend educational grants.
"We will bring it back to them...Prepare...and celebrate because your garbage is coming home. Other wastes, which can be loaded in five trucks, dump them in the Candian embassy," Duterte said.
He also vowed to fire customs officials if they allow garbage to enter the country.
"The next time they do it I will sack all of them," the president said.