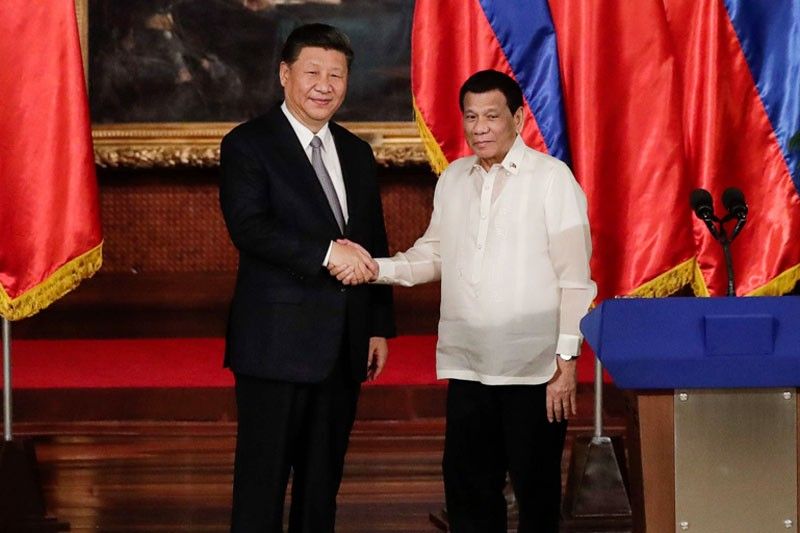 Duterte, who arrived here last night to attend the Second Belt and Road Forum, is meeting separately with Chinese Premier Li Keqiang this afternoon at the Diaoyutai State Guest House.
AFP
Duterte, Xi expected to discuss maritime issues today
BEIJING – President Duterte is expected to discuss bilateral issues, possibly including the South China Sea, with Chinese President Xi Jinping when they meet this morning at the Great Hall of the People.
Duterte, who arrived here last night to attend the Second Belt and Road Forum, is meeting separately with Chinese Premier Li Keqiang this afternoon at the Diaoyutai State Guest House.
Duterte is expected to take up with Li bilateral cooperation between the Philippines and China in different areas such as the economy and defense, as well as regional and international issues.
Duterte and Li are also expected to discuss infrastructure, trade and investment, people-to-people relations and regional cooperation.
The Belt and Road Initiative (BRI) has been a major foreign policy of Xi since its announcement in 2013.
The BRI envisions global connectivity through infrastructure, facilitation of free trade, financial integration and people-to-people exchanges.
Over 200 Filipino businessmen have reportedly signified their intention and registered with the Department of Trade and Industry to join Duterte in the forum that will open here tomorrow.
There are at least 20 agreements worth more than $10 billion that could be signed between the Chinese and Filipino businessmen during the forum.
Philippine Ambassador to China Chito Sta. Romana said the forum is expected to be bigger as Duterte is joining 39 other heads of state and leaders of international organizations.
Sta. Romana also pointed out that the forum is a chance for the Philippines to participate in the broad platform for economic development and regional cooperation.
"It's also an opportunity for the Philippines to seek business, economic opportunities, new outlets for markets for our exports and new sources of foreign investment," the ambassador said.
"We see that there is a convergence in terms of the Philippines' Build Build Build program and the BRI's focus on connectivity and infrastructure cooperation," he added.
Duterte will join the other heads of state tomorrow at the High-Level Meeting in the China National Convention Center.
He will also be with them for another session at Yanqi Lake International Conference Center before returning to the country via Davao City on Saturday night.
Duterte appointed Executive Secretary Salvador Medialdea as officer-in-charge before he left at 3:35 p.m. from Villamor Air Base via a private plane.
Phl's interests
Economic managers should keep in mind the country's interest and future before entering into loan contracts and agreements with other countries and multilateral institutions, Sen. Sherwin Gatchalian said yesterday.
Gatchalian, chairman of the Senate committee on economic affairs, made the call as President Duterte left for Beijing yesterday and is expected to witness the signing of around $10 billion worth of deals between the Philippines and China.
"We have to protect our country's interests. We have to make sure we have enough safeguards – whether it's loans with China, Japan or Europe – we must fully know what we're getting into," Gatchalian told the Kapihan sa Manila Bay forum.
He noted that there are around 75 major infrastructure projects that are funded by China and other countries through long-term contracts.
Gatchalian warned that the negative consequences for the country's future may last long if the loan agreements are onerous or disadvantageous.
He also said one safeguard is to make sure the arbitration body that may resolve possible disputes between the Philippines and creditor-countries must be independent and in a neutral venue.
Senators have been strongly warning against what they view as disadvantageous loan contracts with China that could place the country in a debt trap it could not get out of. – With Christina Mendez, Paolo Romero