Philippines, China eye 5 deals during Belt and Road forum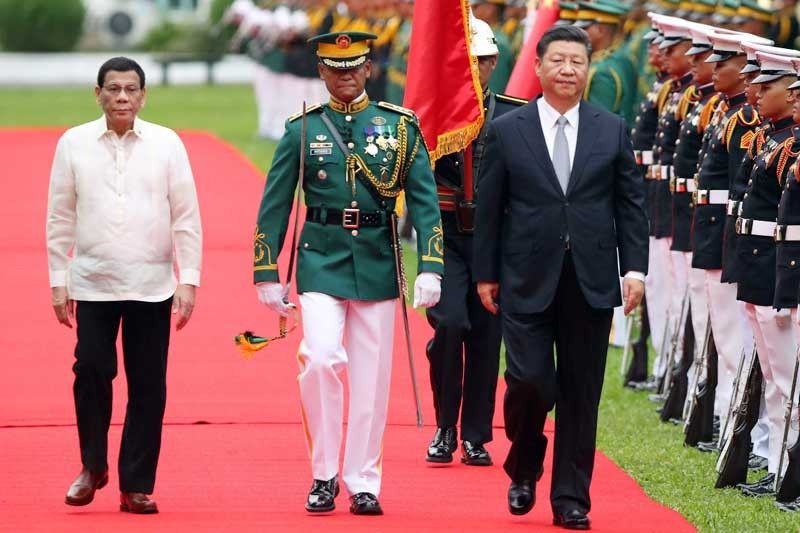 MANILA, Philippines — The Philippines and China may sign about five agreements on the sidelines of the second Belt and Road Forum (BRF) in Beijing, an official said yesterday.
Foreign Affairs Assistant Secretary Meynardo Montealegre said the bilateral agreements that may be signed include deals on education, anti-corruption and drug rehabilitation.
Montealegre added that agreements on official development assistance and infrastructure may also be inked but could not provide specifics.
"We are looking at some possible agreements in the areas of education, anti-corruption, official development assistance, as well as drug rehabilitation. But... it's in the final stages of consultations," Montealegre said at a press briefing in Malacañang.
"We're looking at five probably," he added.
The second BRF, which promotes global connectivity through infrastructure, free trade, financial integration and people-to-people exchanges, will be held in Beijing from April 25 to 27.
Duterte and 39 other leaders and heads of international organizations are expected to attend the event, a major foreign policy of Chinese President Xi Jinping. It will be Duterte's fourth visit to China as President.
"We would like to take advantage of the economic opportunities that the Belt and Road will provide," Montealegre said.
"The President's participation will be a continuity or a continuation of such proposals that he made during the first forum," he added.
The first BRF was held two years ago, also in Beijing.
Montealegre said the main outcome-document of the forum is a joint communiqué of leaders that is still being negotiated among participating countries.
Government and company officials are expected to attend the parallel thematic sub-forums and chief executive officers' conference on April 25.
The 11 sub-forums will discuss policy connectivity, financial connectivity, people-to-people connectivity, think tank exchanges, economic and trade cooperation, zone promotion, infrastructure connectivity, trade connectivity, Green Silk Road, Silk Road of Innovation and subnational cooperation.
The opening session and leaders' high-level meeting will be held on the second day.
On the third day, Duterte will serve as one of the speakers at the Leaders' Roundtable.
Montealegre said the President is also expected to have bilateral meetings with Xi and Chinese Premier Li Keqiang. He could not say whether the South China Sea row will be discussed during the meetings.
"As far as the South China Sea, the Spratlys that you have mentioned, the President has always been saying that we will stick to Philippine interest and positions but as I said, I cannot preempt to what the specific discussion," the foreign affairs official said.
Montealegre said Duterte and Xi are expected to discuss the development of bilateral relations in defense, security, economics and development and "regional and international issues of mutual importance."
Duterte and Li, meanwhile, are expected to discuss "a more detailed cooperation" in infrastructure, trade and investment, people-to-people relations and regional cooperation.
Finance Secretary Carlos Dominguez III is leading the government's economic managers at the BRF as they push the Duterte administration's Build Build Build program.
Private jet
There will be no chartered flight for Duterte when he attends the forum in Beijing.
The President will take a private jet with only his close-in staff.
Duterte has not been taking any chartered flight since attending the Association of Southeast Asian Nations (ASEAN) Leaders Summit in Singapore last April 2018.
The President also took a private jet when he attended the Asia-Pacific Economic Cooperation conference in Papua New Guinea after attending a separate ASEAN Leaders Meeting in Singapore last November.
The officials joining the presidential entourage in Beijing will be taking their own flights and pay for their accommodations in the Chinese capital. – With Edith Regalado