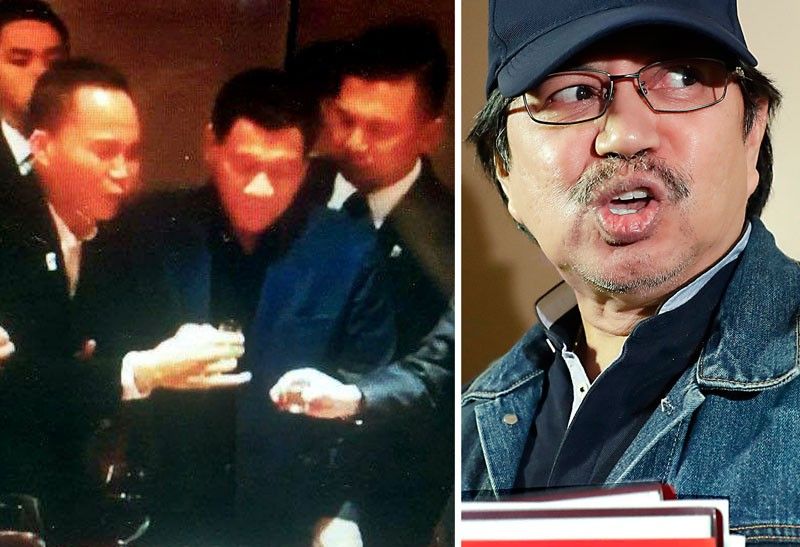 President Duterte is shown with Michael Yang and Allan Lim as former police senior superintendent Eduardo Acierto holds a news conference in Manila on Sunday.
AP
Palace denies adviser involved in drugs
MANILA, Philippines — Malacañang maintained yesterday that presidential economic adviser Michael Yang is not involved in the illegal drug trade amid fresh accusations by a dismissed police official that President Duterte and his top aide could be protecting the Chinese businessman.
"No. It has been clarified… Even the (Chinese) ambassador has cleared Michael Yang. In fact, he was telling me personally… I will never associate myself with one who is involved in drugs," presidential spokesman Salvador Panelo said.
Panelo was asked to react to the claims of former senior superintendent Eduardo Acierto that Yang is involved in the illegal drug trade.
Acierto said that Duterte has been photographed with Yang and Allan Lim who are allegedly involved in illegal drugs, and he had sent a report to the President to warn him about the two Chinese.
He told a news conference late Sunday that he's unaware what government action has been taken after he submitted his report about the Chinese men to top police officials starting in December 2017.
Instead, Acierto said he's now facing illegal drug complaints and has been the target of threats that recently forced him to go into hiding.
Acierto had sought the help of the Catholic Church after he claimed that there is a P15-million bounty on his head.
Duterte had previously denied appointing Yang as one of his economic advisers.
Yang's calling card reportedly had the seal of the Office of the President.
Panelo echoed the statement of Chinese Ambassador Zhao Jianhua last year that he had close dealings with Yang, to a point that the envoy admitted sleeping at the businessman's residence in Makati City.
If Yang was engaged in illegal activities, Panelo said he could have been subject of an investigation or charges would have been leveled against him.
"He said he slept there I think one or twice. I don't think Michael Yang was ever involved, otherwise he should be on the list or be facing a case," he said.
Panelo said he will still inquire with the Philippine National Police (PNP) to check on Acierto's claims that he submitted a derogatory report about Yang during the time of retired PNP chief and now senatorial bet Ronald dela Rosa.
Acierto claimed he has been unfairly included in the drug watch list after he revealed Yang's alleged illicit dealings.
President Duterte had exposed Acierto last year, tagging him in an alleged drug matrix.
Acierto, a former official of the PNP Anti-Illegal Drugs Task Force, had denied the accusations.
PNP chief Oscar Albayalde, on the other hand, said Acierto should have taken action if indeed he had the goods on Yang.
"If it's an intelligence report, normally it goes to Directorate for Intelligence for validation," Albayalde said, and that Acierto should have informed his immediate superior, Chief Supt. Albert Ignatius Ferro. – With Romina Cabrera, Emmanuel Tupas, AP