Authorities intercept P1.8-billion shabu shipment from Vietnam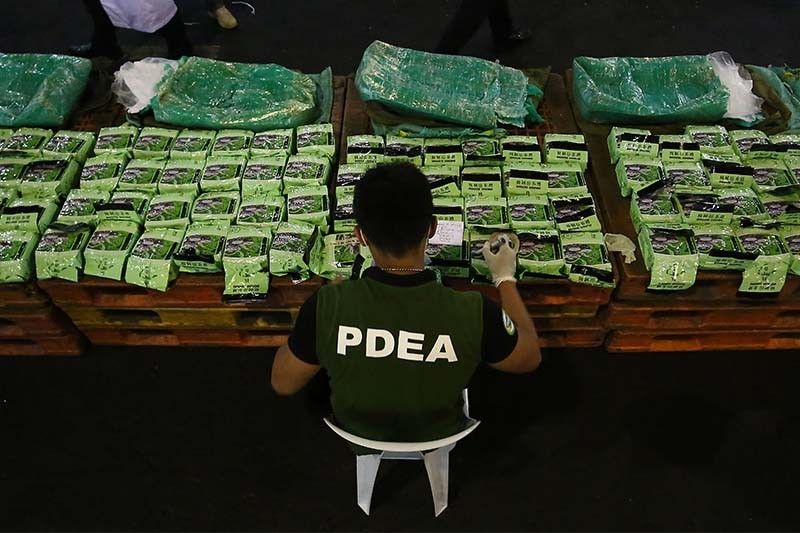 MANILA, Philippines — Authorities have intercepted an estimated worth of P1.8 billion shabu packs in a Manila port.
Agents from the Bureau of Customs-Manila International Container Port (MICP) and the Philippine Drug Enforcement Agency on late Friday night presented to the media the seized shabu packs totalling 276 kilos.
Video taken earlier before the seized packs of shabu was formally presented to the media.?@PhilippineStar? pic.twitter.com/7dlmox78Kg

— evelynzmacairan (@EZMacairan) March 22, 2019
The shabu were found in a container that was declared as plastic resin on March 17 at the Manila North Harbor, according to a statement from the BOC.
"When the container was inspected, Customs and PDEA found 11 sacks containing items wrapped in clear cellophane and sealed in foil packaging designed to look like tea products," said the BOC.
A test on a sample of the subject substance showed that the items were shabu.
PDEA Director General Aaron Aquino said that the agency "received information from our international counterparts from Vietnam that the container aboard a ship name Callao Bridge V145E from Ho Chi Minh City, Vietnam arrived in Manila."
The Customs Intelligence and Investigation Service acted on the report from Vietnam and profiled the container in the vessel.
"The said ship contained huge amounts of illegal drugs," Aquino added.
Lawyer Erastus Sandino Austria, MICP District Collector, ordered x-ray and physical examination of the container with PDEA and Philippine Coast Guard representatives.
The seized shipment will be inventoried, said the BOC, while the illegal drugs were turned over to the PDEA for investigation. — with reports from The STAR/Evelyn Macairan