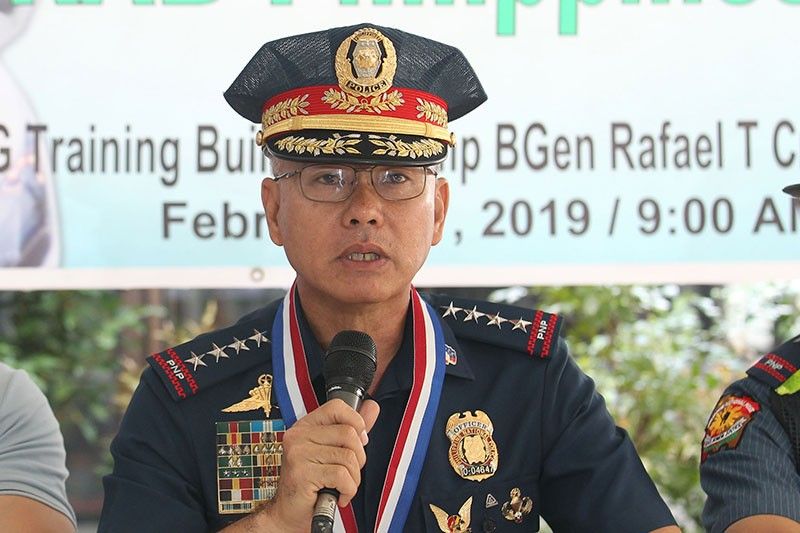 In this Feb. 27, 2019 photo, PNP chief Oscar Albayalde attends the signing of the deed of donation for the Troopers Shooting Simulator held at Camp Crame in Quezon City.
The STAR/Michael Varcas
Albayalde: PNP has no verified number of drug users
MANILA, Philippines — Despite President Rodrigo Duterte's earlier claim that there are now seven to eight million Filipinos involved in drugs, the Philippine National Police said it does not have exact figures on how many citizens actually are.
PNP Director General Oscar Albayalde admitted that the police bases its estimate on a percentage of the population.
"Actually, we don't have verified (figures) that's why I said these are estimates because if these were verified, we could have rehabilitated all these people already," Albayalde said in a televised interview.
"I don't think we have an exact estimate there," he added.
Even the percentage of the population is just an assumption as the police does not have a true identification or true data on who are using illegal drugs in the Philippines.
The police uses names submitted at the community level through the Barangay Anti-Drug Abuse Council.
The PNP chief added that Duterte's declaration that there are at least seven million drug dependents in the country poses a challenge on law enforcement, particularly the police, Philippine Drug Enforcement Agency and National Bureau of Investigation.
PDEA is the lead agency in the government's campaign against drugs.
In 2017, Duterte claimed there were around 4 million drug users in the Philippines, a figure that contradicted data from the policy-making Dangerous Drugs Board that estimated the number at 1.7 million drug users.
Duterte later fired the chairman of the DDB for "contradicting the government."
READ: 4M drug users 'in the realm of possibility,' DDB insists
'The estimate is all an estimate'
Albayalde also mentioned the possibility that the latest figure might have been the number of drug users or peddlers even in the past.
"The estimate is all an estimate... Even the three million that has been declared before, we're not sure if it's really three million. Maybe what the president sees is despite our war on drugs, he has been saying that it is chilling because we still see people using drugs and there are still those who supply even down to the barangay level," Albayalde said.
Duterte's claim of seven to eight million drug dependents might also be an accumulated figure, according to Albayalde.
Albayalde expressed confidence that Filipinos are becoming more educated on the ill effects of using illegal drugs.
"This is the time that the government has given focus and emphasis on illegal drugs that is why our countrymen, I think, are well-educated on the real effects of what drugs do to your body," he said.