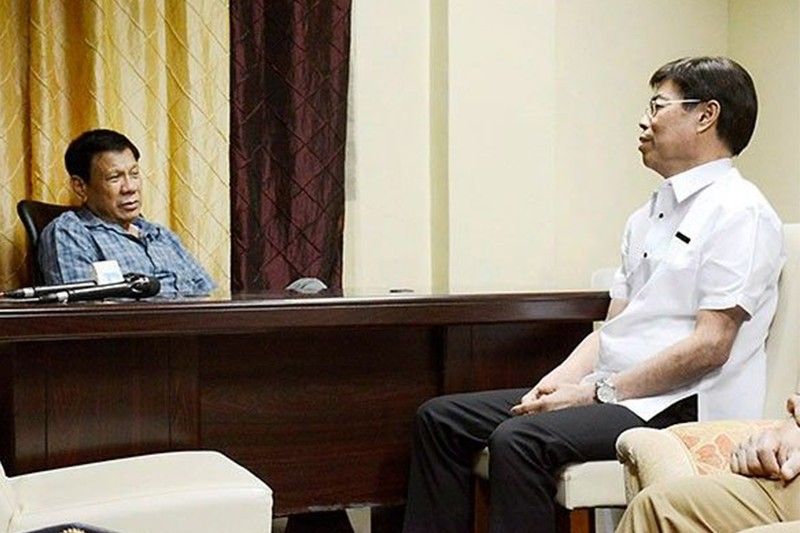 President Rodrigo Duterte and Cebuano businessman Peter Lim meet in 2016
PCOO
Palace on why Duterte told Lim to kill himself: Might be more evidence against him
MANILA, Philippines — After a long silence about alleged drug lord Peter Lim, why did President Rodrigo Duterte speak about him again on Wednesday evening?
Presidential spokesperson Salvador Panelo said during a press briefing on Thursday there might be more evidence against him now than before.
Lim faces charges for conspiracy to commit illegal drug trade under Republic Act 9165 or the Comprehensive Dangerous Drugs Act of 2002.

At an event on Wednesday, a reporter asked why Duterte was willing to meet with Lim before in 2016.
"Peter Lim, if I were you, I would commit suicide. Never ever surrender to me alive… Shorten it. Just tie a rope around your neck," Duterte said after a speech in Malacañan following his signing of the Universal Healthcare Act on Wednesday evening.
An arrest order was issued against Lim last August after a reinvestigation on the Cebuano businessman.

READ: Order out for Peter Lim's arrest
The case is linked to a complaint filed by the Philippine National Police, where Lim was identified as the source of methamphetamine hydrochloride (shabu) allegedly sold by suspected drug lord Kerwin Espinosa in the Central and Western Visayas.

Police were unable to find him in his houses in Cebu when they tried to serve the arrest warrant in August. A hold departure order was issued against Lim shortly after.
Justice Secretary Menardo Gueverra said in September that the government put out a reward of P500,000 to anyone who can give information that would lead to the arrest of Lim.
READ: Cash reward out for info on Peter Lim's location

"The president wants to put him away for 200 years," Panelo said.
Duterte had met Lim on several occasions in the past. They were photographed together as ninongs of a wedding in Cebu previously.
Lim also met with Duterte shortly after the president named him among alleged "big time" drug lords in 2016. The Palace asked Lim to submit himself for investigation and "prove his innocence" then.
The current arrest warrant out against Lim is the result of the reinvestigation.
Initial charges against him were dropped in March 2018, but the reinvestigation was ordered after the Department of Justice was called out for allegedly going easier on high-level drug suspects while street-level peddlers are being arrested or killed in the administration's war on drugs.
Vitaliano Aguirre II resigned as justice secretary shortly after.

The Palace said they still do not know Lim's exact whereabouts.