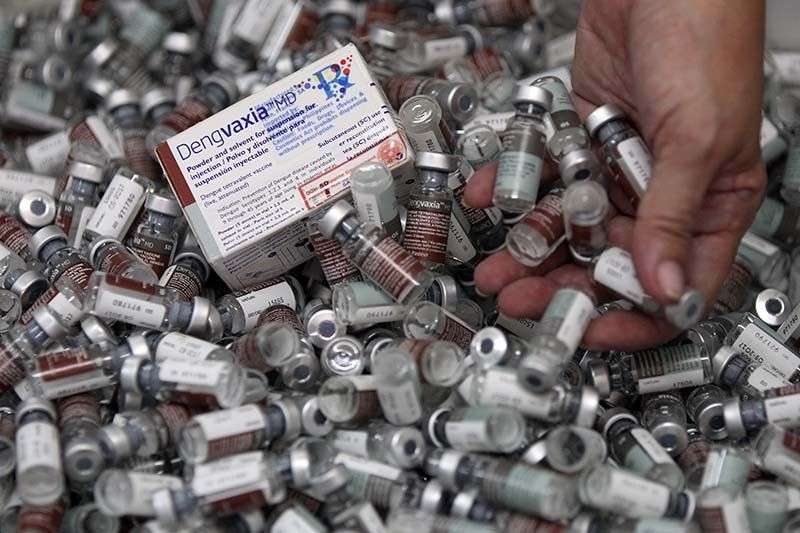 This file photos shows the controversial anti-dengue vaccine Dengvaxia.
The STAR/KJ Rosales, File
Sanofi Pasteur appeals Philippines revocation of Dengvaxia's certificate of product registration
(Philstar.com) - February 19, 2019 - 6:32pm
MANILA, Philippines — Pharmaceutical firm Sanofi Pasteur said it has filed for a motion for reconsideration after the country's Food and Drug Administration permanently revoked the certificates of product registration of dengue vaccine Dengvaxia.
FDA Director General Nela Charade Puno on Tuesday said the pharmaceutical company has shown complete disregard of government rules and regulations.
"Its brazen defiance of FDA's directives and its continued failure to comply leaves us no other recourse but to impose the maximum penalty of revocation of the CPRs covering the Dengvaxia products," Puno said.
With the revocation of Dengvaxia, it is now unlawful to import, sell or distribute the said products.
But Sanofi Pasteur said it "respectfully disagrees" with the conclusions of the FDA order.
"It is unfortunate that the FDA has taken this decision despite our diligence, including the submission of documents from completed post-approval commitments and regular updates on the status of post-marketing studies," Sanofi said in a statement sent to Philstar.com.
The pharmaceutical firm stressed that the country's FDA is not questioning the safety and efficacy of Dengvaxia with the revocation of the product's CPR.
"Dengvaxia clearly has the potential to play a public health role in the global fight against dengue and we will continue to work with health authorities to help secure access to the vaccine in countries where appropriate populations can benefit from vaccination against the disease," it said.
Prior to the revocation of the CPR, the FDA already ordered the market pullout of the controversial vaccine shortly after Sanofi's announcement that Dengvaxia could cause severe dengue if given to those without prior exposure to the disease.
In January last year, the FDA suspended the sale of Dengvaxia for a year and imposed a P100,000-administrative fine on Sanofi for failing to comply with post-marketing authorization requirements for the vaccine. — Gaea Katreena Cabico