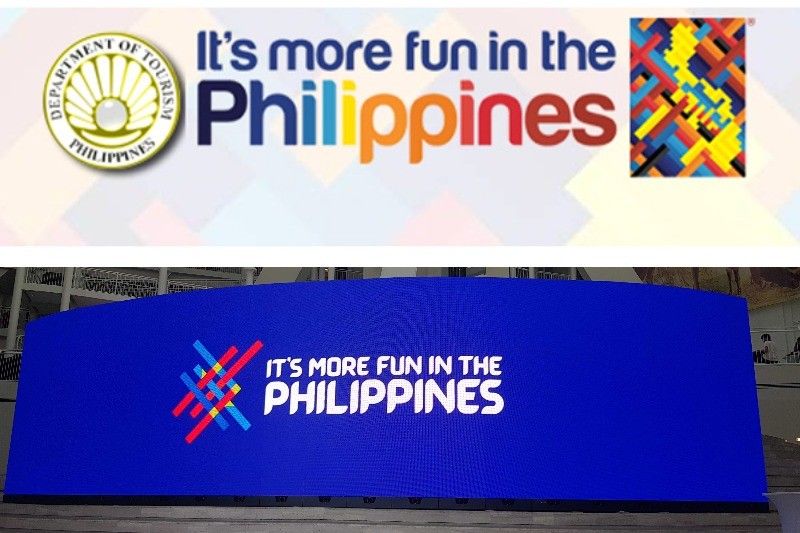 The composite photo shows the old and new "It's More Fun in the Philippines" logo of the Department of Tourism.
Philstar.com/File and Rosette Adel
DOT launches new logo of tourism campaign featuring 'Barabara' font
MANILA, Philippines — The Department of Tourism on Monday unveiled the new logo of its tourism campaign "It's More Fun in the Philippines."
Tourism Secretary Bernadette Romulo-Puyat said the new logo also used the agency's new customized typeface designed to be readable for everyone.
DOT earlier unveiled the new #ItsMoreFunInThePhilippines logo with new typeface | via @rosette_adel pic.twitter.com/iPhxJegWSV

— Philstar.com (@PhilstarNews) February 18, 2019
The new font, inspired by hand-painted street signs is called "Barabara." The past font used by DOT is called "Harabara."
Barabara, now downloadable for public in DOT's campaign website www.itsmorefuninthephilippines.com, has 27 characters and local symbols.
Meanwhile, Puyat earlier said the DOT retained the 7-year-old slogan because "it works."
"Though I'm the third tourism secretary to use the hashtag 'It's more fun in the Philippines,' I actually believe in continuity. First of all, 'It's more fun in the Philippines,' the hashtag works," Puyat said during the launch of the refreshed tourism campaign at the National Museum of Natural History in Manila.
"I believe because it works that Philippines have embraced the hashtag. We made it our own and we already had 4.3 people million using it so why not continue with what's good," she added.
The tourism chief added that other countries also never change their tourism campaign. She cited Malaysia's "Malaysia truly Asia" and India's "Incredible India," as campaigns that worked through the years.
The "It's More Fun in the Philippines" campaign was launched by the DOT in 2012. This was in collaboration with one of the country's most awarded advertising firms, BBDO Guerrero.