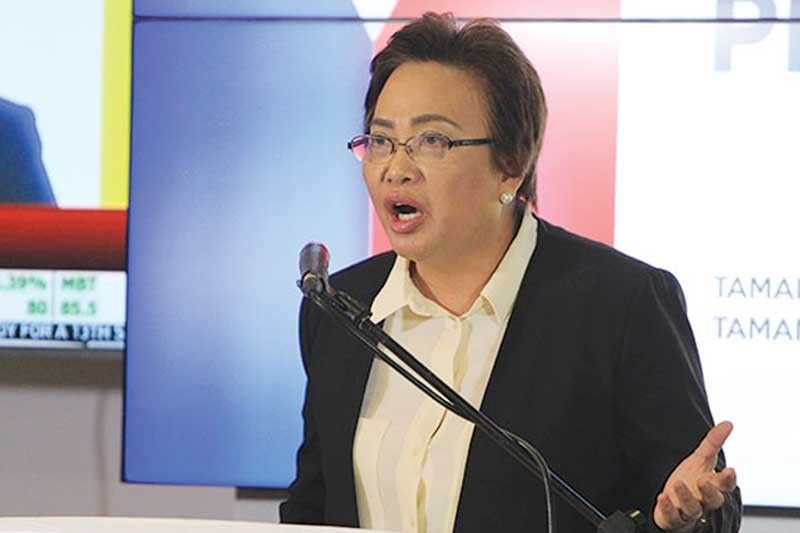 In her Twitter account @commrguanzon, Comelec Commissioner Rowena Guanzon said six more names were added to the original list of 34 senatorial candidates with illegal posters and campaign materials. There are 62 running for senator in the May elections.
File Photo
Comelec: 40 of 62 bets violated poster rules
MANILA, Philippines — More senatorial aspirants have received warning from the Commission on Elections (Comelec) supposedly for using unlawful campaign materials.
In her Twitter account @commrguanzon, Comelec Commissioner Rowena Guanzon said six more names were added to the original list of 34 senatorial candidates with illegal posters and campaign materials. There are 62 running for senator in the May elections.
"Thirty-four plus six senatorial candidates have illegal posters, as of yesterday," she said.
Ordered to remove their unlawful campaign materials were Freddie Aguilar, Ibrahim Albani, Gary Alejano, Richard Alfajora, Raffy Alunan, Sonny Angara, Bam Aquino, Ernesto Arellano, Marcelino Arias, Bernard Austria, Nancy Binay, Edmundo Casiño, Pia Cayetano, Glenn Chong, Neri Colmenares, Chel Diokno, JV Ejercito, Jinggoy Estrada, Larry Gadon and Conrado Generoso.
The others were Florin Hilbay, Leborio Jangao, Rodolfo Javellana, Lito Lapid, Romy Macalintal, Emily Mallillin, Faisal Mangondato, Zajid Mangudadatu, Sonny Matula, Luther Meniano, Allan Montaño, Willie Ong, Serge Osmeña, Koko Pimentel, Grace Poe, Danilo Roleda, Lorenzo Tañada, Francis Tolentino, Antonio Valdes and Cynthia Villar.
Macalintal earlier questioned "where Comelec got information of any violation committed in relation to posting of propaganda campaign materials."
"As early as Feb. 11, I have already advised all my supporters thru my radio interviews that if they have posted any propaganda materials for me in any area not allowed by law to please remove the same immediately on or before Feb. 11," he maintained.
At a forum, Comelec spokesman James Jimenez said candidates found violating the campaign rules would be given the chance to comply.
"We are just informing them of our guidelines and are giving them warnings to comply. After their receipt of the notices, they need to take actions immediately," he said.
Jimenez added appropriate actions would be taken against candidates who fail to remove their illegal campaign materials. He did not elaborate.
He also called on all government agencies and public schools not to invite candidates in the May 13 polls to be their guest speakers.
"If it's private, that's OK. But for those in government, my advice is to avoid it. While there is no prohibition on that act specifically, we need to avoid appearance of impropriety," he said.
Jimenez noted that having candidates as guest speakers could be perceived as partisan political activity.
"If you were to force your staff or members to listen to someone speak and be political at that event, then you might be imposing your political views on them," he added.
Meanwhile, some candidates included in the Comelec list of campaign poster violators denied violating any election rules.
Sen. Sonny Angara, who is seeking reelection, stressed he had been abiding by the Comelec's campaign rules.
"We've been complying on campaign posters but 'unscrupulous people' also put them up," Angara said.
Sen. Joseph Victor Ejercito also said he has instructed his staff to strictly follow Comelec rules.
Sen. Aquilino Pimentel III said he was surprised by the inclusion of his name in the list of alleged violators.
"I have very few posters. Hence, (that's) most unlikely," Pimentel told reporters.
He asked the Comelec to reveal where those illegal posters were so they can be verified and removed.
"We have many supporters, hence, we have not memorized all locations of posters they have put up… Comelec should tell us where," Pimentel said.
'Offensive'
Sen. Nancy Binay said she was surprised and offended by the report of the Comelec.
"I find it very offensive that I'm being tagged as a violator (of) campaign materials. Why's that? When candidates whose faces are plastered all over the country are not in the list," Binay said.
"I find the Comelec's list highly questionable. In fact, I have no tarpaulins. I only have one billboard—and I've not ordered one—but I've requested the one who put up the billboard to remove it," she said.
She explained she was among the first to appeal in social media to her fellow candidates "for them to take down posters that don't conform with the allowed sizes."
She said she plans to request Guanzon to conduct a full information drive with regard to campaign "do's and don'ts." The Comelec, she said, should come up with a list/directory of designated common poster areas in every barangay, municipality, and city as reference and guide for political parties, candidates and their supporters.
Legal Network for Truthful Elections executive director Rona Caritos, meanwhile, lauded the Comelec for its "aggressive" action against illegal posters and campaign materials.
"We are happy over the proactive accountability mechanism of the Comelec... We are happy with this move – due process is observed and they get the side of candidates," she said.
But Comelec, she stressed, should be impartial in enforcing rules.
"They should not be biased. Don't look at partylines or color of the candidates. Otherwise, the credibility of the Comelec will be affected," she added. – With Paolo Romero