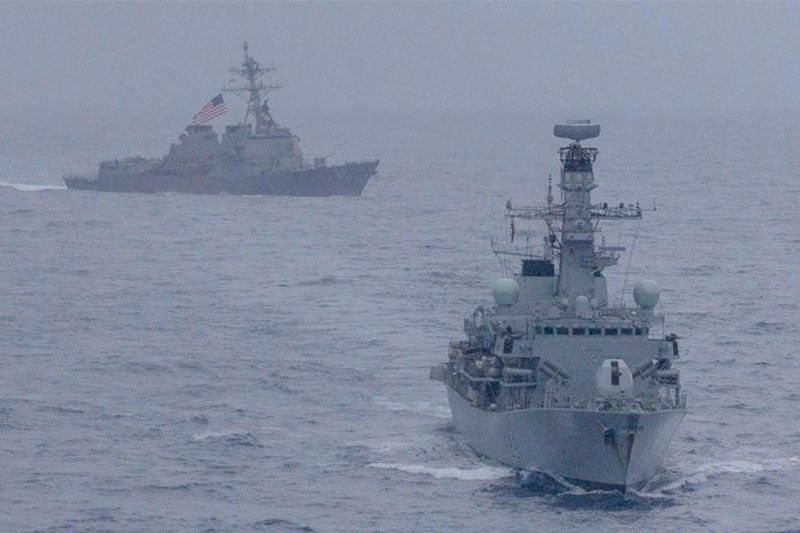 USS McCampbell (DDG 85) and HMS Argyll (F231) maneuver during a divisional tactics exercise in the South China Sea, January 15.
US Navy/MC2 John Harris
UK, US navies hold rare joint drills in South China Sea
MANILA, Philippines — In a rare opportunity, the United States and the United Kingdom recently concluded joint drills in the disputed South China Sea.
The US Navy deployed Arleigh-Burke guided missile destroyer USS McCampbell while the Royal Navy deployed Type 23 frigate HMS Argyll from January 11 to 16.
The two warships conducted communication drills, division tactics and personnel exchange to address common maritime security issues, according to an announcement from the US Pacific Fleet.
USS McCampbell (DDG 85) and HMS Argyll (F231) receive fuel from @MSCSealift's USNS Henry J. Kaiser (T-AO 187) as the #USNavy and @RoyalNavy operate together in the South China Sea: https://t.co/kXxWh0VLPY #NavyPartnerships pic.twitter.com/H0r1TCY7HS

— U.S. Pacific Fleet (@USPacificFleet) January 16, 2019
"Professional engagement with our British counterparts allows us the opportunity to build upon our existing strong relationships and learn from each other," McCampbell commanding officer Cmdr. Allison Christy said.
Christy noted that the US Navy routinely trains with its allies and partners in the region but the recent exercises with its British counterpart was a rare opportunity.
"Following on from our successful time in North East Asia, contributing to promoting regional security and prosperity, we are pleased with the opportunity to train alongside our closest ally," Argyll commanding officer Cmdr. Toby Shaughnessy said.
Both the Argyll and the MacCampbell are deployed in the Indo-Pacific Region. The British frigate is deployed in the region in support of regional security and stability. The McCampbell, on the other hand, is part of the US 7th Fleet.
In December, the Argyll participated in a trilateral anti-submarine warfare exercise with the US Navy and the Japan Maritime Self Defense Force.
The joint exercise between the American and British navies came less than a week after the McCampbell sailed within 12 nautical miles of the Paracel Islands, pushing Beijing to lodge a diplomatic complaint with Washington.
Beijing called the US warship's sail-by a violation of China's sovereignty, damaging "peace, safety and order" in the South China Sea.
"We urge the US to immediately stop such provocative actions," Chinese Foreign Ministry spokesperson Lu Kang earlier said.
China claims sovereignty over the South China Sea, including the West Philippine Sea, which is part of Manila's exclusive economic zone. Beijing continues to ignore a July 2016 arbitral ruling that invalidated its historic claim over the contested waterway.