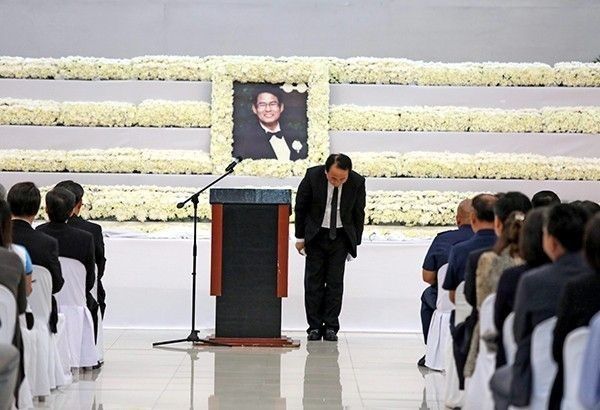 A South Korean pays his last respects to slain businessman Jee Ick Joo during a memorial service attended by PNP officials at Camp Crame.
File photo
Court orders release of cop witness in Jee Ick Joo slay case
MANILA, Philippines — A Pampanga court has ordered the release of SPO4 Roy Villegas, one of the accused in the kidnap-slay of Korean businessman Jee Ick Joo, from police custody after he gave his testimony as state witness.
Angeles City, Pampanga Regional Trial Court Branch 56 granted Villegas' motion to be released from the Philippine National Police's restrictive custody.
"Based on the proceedings held in these cases, it appears that witness Villegas already finished his testimony thus it can be concluded that he already fulfilled his duty as state witness," the two-page order read.
The same court in January 2018 dismissed the charge against Villegas saying that the cop's testimony could qualify as direct evidence in the case, thus turning him into a state witness.
Accused Ricky Sta. Isabel and Jerry Omlang asked the Court of Appeals to oppose the court's use of Villegas' testimony. They also opposed Villegas' appeal to be released from custody, pending their petition before the appellate court.
Villegas, in his affidavit, pointed to Sta. Isabel as the one who strangled Jee to his death. This killing happened inside the police headquarters in Quezon City and prompted a pause in the government's campaign against illegal drugs.
RELATED: CA allows state witness testimony in Jee Ick Joo kidnap-slay case
Angeles City Judge Irin Zenaida Buan asserted that the pendency of the CA plea os Sta. Isabel and Omlang "will not interrupt the course of the main case," except when a temporary restraining order has been issued.
"In view of this injunction, the Court may rule on the motion of witness Villegas notwithstanding the pending petition with the Honorable Court of Appeals," the order read.
DOJ charged Dumlao, Sta. Isabel and Omlang with the complex crime of kidnapping for ransom with homicide in January 2017.
Dumlao, Sta. Isabel and Omlang are currently detained at Angeles City jail.