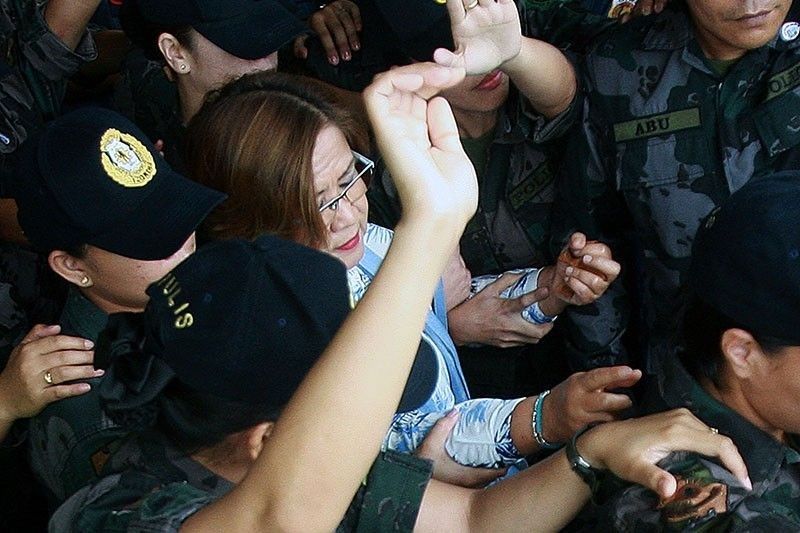 This file photo shows Sen. Leila de Lima upon arrival at Muntinlupa Regional Trail Court to attend her hearing.
The STAR/Joven Cagande, File
CHR tells PNP: Treatment of De Lima goes beyond walls of detention facility
(Philstar.com) - February 11, 2019 - 6:04pm
MANILA, Philippines — The Commission on Human Rights on Monday slammed the Philippine National Police for refuting the agency's observation on the treatment accorded to Sen. Leila De Lima.
In a statement, CHR spokesperson Jacqueline de Guia said the PNP Human Rights Affairs Office missed the point when it detailed the conditions of De Lima while in detention.
The commission earlier called out the PNP for its treatment of the senator.
Last Friday, Chief Supt. Dennis Siervo, PNP HRAO head, was quoted in reports as saying that De Lima is contented "with the present set-up of the custodial facility and treatment of the duty custodial officers."
He also noted that the lawmaker has a mini library, mini garden area, a space for physical exercises and has a personal staff.
Siervo even said that the observations of the CHR were "all false and malicious accusations."
The CHR, however, insisted there is a "sharp contrast" with how the PNP handles De Lima during court attendances compared to other high profile cases, noting that the senator has "consistently been heavily guarded and covered by police escorts with their extended hands in attempt to hide her from the public and media."
"We have called for fairness with respect to how human rights standards are being applied to other persons deprived of liberty compared to Senator De Lima. While conditions may be well in detention, treatment goes beyond the walls of the facility," De Guia said.
She added: "Incarceration limits specific rights but does not dissolve them entirely, especially those fundamental to living a dignified life. Not to mention that, pending a fair and competent trial, accused persons are deemed innocent until proven guilty — a constitutional guarantee that the PNP is equally expected to respect."
The United Nation Basic Principles for the Treatment of Prisoners assert that "except for those limitations that are demonstrably necessitated by the fact of incarceration, all prisoners shall retain the human rights and fundamental freedoms set out in the Universal Declaration of Human Rights."
The Senate minority on Friday, moreover, called on their colleagues to heed the call of the United Nations Working Group on Arbitrary Detention to release De Lima.
The UN body's opinion read: "The working group considers that Ms. De Lima's deprivation of liberty resulted from her personal conviction and public statements regarding extrajudicial killings in the Philippines."
It also held that the senator's detention is "arbitrary" and that "the appropriate remedy would be to release Ms. De Lima immediately and accord her an enforceable right to compensation and other reparations in accordance with international law."
De Lima has been detained at Camp Crame in Quezon City since February 2017 over the government's drug charges against her. She was initially detained on an illegal drug trading charge that has since been amended to charge of conspiracy to commit illegal drug trading.
It took more than a year for De Lima's arraignment — to which she refused to enter a plea on all charges — to happen. She was arraigned on her last drug-related charge on February 1. — Gaea Katreena Cabico