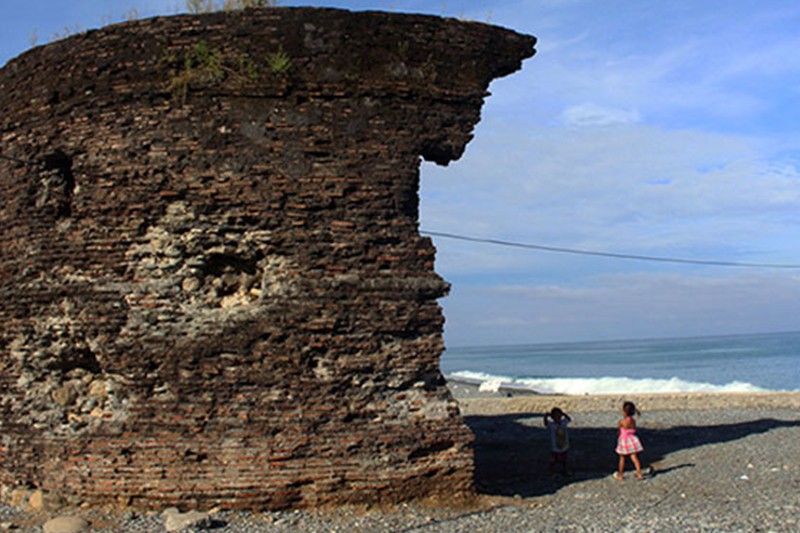 The Catholic Church opposes a coal-fired power plant to be built in Luna town. This file photo is of a restored watchtower in the town
The STAR/File photo
Catholic Church joins opposition to La Union coal power plant
(Philstar.com) - February 11, 2019 - 6:45pm
MANILA, Philippines — Bishop Daniel Presto of San Fernando urged the government on Friday to drop plans to build an P80 billion coal plant in the province.
"We could not in conscience recommend said plan," Presto was quoted in CBCP News.
He distributed a manifesto that was read in all masses in the diocese over the past several weeks.
The project is being developed by the Global Luzon Energy Development Inc.
The church is only the latest of several prominent voices to oppose the project.
In November, actor Jericho Rosales appealed to the public to sign an online petition to stop the project.
INTERAKSYON: Celebrities take on planned 'dirty' coal power plant project in La Union

According to an Interaksyon report, the GLEDC will partner with Manila Electric Company for a supply of 600-MW from the plant after its completion.
Presto said that aside from affecting the health of residents, the project would "further the gap" between the rich and poor.

"The promised benefits are plain deceptions," the bishop said.
As early as 2016, affected residents and advocates formed an alliance called "Koalisyon Isalbar ti Pintas ti La Union" or Coalition to Save the Beauty of La Union to stop the plan.
According to a petition they posted on online campaign platform Bataris, between two and 30 aerial-kilometer radius of the proposed coal plant "will be degraded and eventually destroyed once the CFPP starts spewing toxic chemicals."
Within those areas, the petition said, are "bountiful corn harvests and biodiverse coral gardens; of San Juan and Bacnotan, the main surfing areas; and of San Gabriel, home to Tangadan Falls."
The petition on Bataris is only 120 signatures away from its goal of 6,000 signatures.
In 2017, two additional stakeholders, Global Business Power Corporation and Vivant Integrated Generation Corporation, have joined to participate in creating the infrastructure.
According to a report on The STAR, GBPC is now led by businessman Manuel Pangilinan after Metro Pacific Investment Corp. — which he chairs — acquired a 56 percent stake in the company in May 2016 for P22.06 billion following a strategic alliance with tycoon George Ty's GT Capital Holdings Inc.

The coal plant was issued an environmental compliance certificate (ECC) last year despite protests against the project, according to media reports.
An ECC is necessary for GLEDC to obtain other permits to start the project.
A separate change.org petition has gathered over 13,000 signatures as of this posting.
The project worth P80 billion is expected to be completed in the first quarter of 2021 and operational by 2022. — Ryan Macasero
Editor's Note: Hastings Holdings Inc., a unit under PLDT's media conglomerate MediaQuest Holdings, has a majority stake in Philstar Global Corp., which runs Philstar.com.