ACT wary of continued profiling of teachers
February 10, 2019 | 12:00am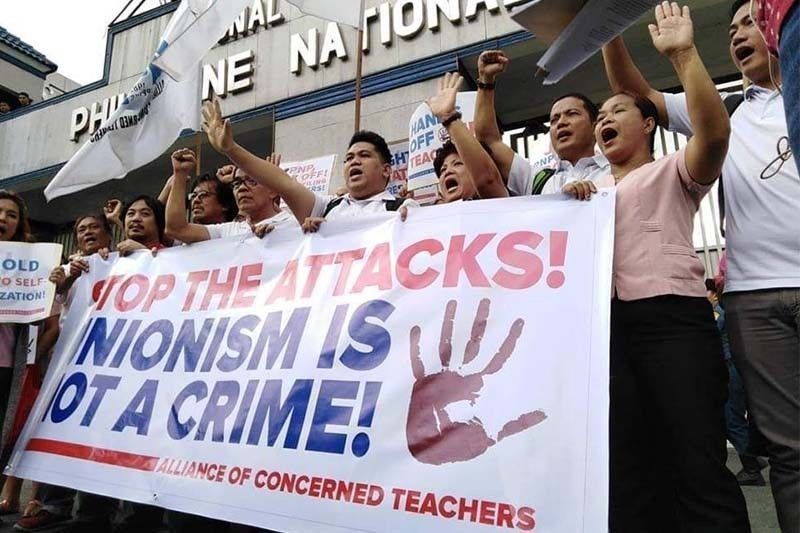 MANILA, Philippines — The Alliance of Concerned Teachers (ACT) yesterday expressed alarm over the reported plan of the Philippine National Police (PNP) to continue its intelligence operations against teachers affiliated with the leftist group.
"This is precisely what we were worried about – the PNP is now taking a Court of Appeals decision as a nod to their illegal operations," ACT secretary general Raymond Basilio said, referring to the appellate court's dismissal of their petition against profiling of its members.
"It has emboldened state forces to continue and intensify their attacks against our organization," he added.
The teacher's group on Friday said they will file a motion for reconsideration on the CA decision, which junked on technical grounds their petition asking the court to stop the PNP's inventory of its members.
Following the release of the ruling, PNP spokesman Senior Supt. Bernard Banac was quoted in a report as saying that they would continue intelligence operations against ACT members and other groups perceived to be enemies of the state.
He clarified that they did not specifically target the teacher's group, noting that it is the responsibility of the PNP to collect information from all threat groups.
Basilio said the PNP statement confirmed the actions that they previously denied.
"They used to have a hard time getting their stories straight when asked about the profiling, but now the truth's out. They consider teachers, as well as anyone else who dare fight for their rights and welfare, as enemies of the state. What they fail to realize, however, is they've also exposed themselves to be the real enemy of the people," he said.
"Democracy puts primacy on civilians and their rights, which the state has an obligation to uphold and protect. Police forces, on the other hand, have a duty to 'serve and protect' the people, not to suspect and make enemies out of them," added the ACT official.
The outgoing director of the DepEd in Central Luzon has claimed that some ACT members in the region are active members of the communist New People's Army (NPA).
In the forum of the Pampanga Press Club (PPC) last Wednesday, DepEd director Beatriz Torno, who is retiring this month, said that almost all provinces in Central Luzon are infiltrated by teachers who belong to ACT and are alleged NPA members.
Torno did not say where she got the information, but noted that DepEd has a current program with law enforcers on anti-terrorism.
She also could not give figures on how many ACT members in her region allegedly belong to the NPA. – With Ding Cervantes