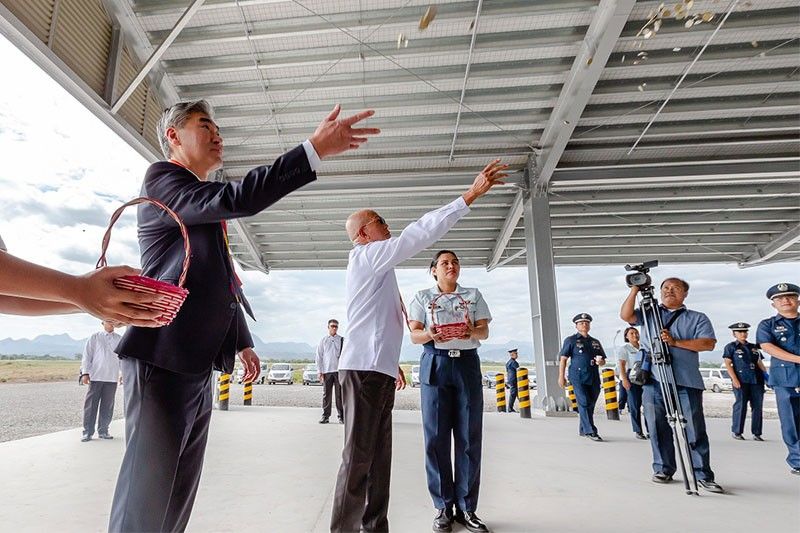 United States Ambassador to the Philippines Sung Kim and Defense Secretary Delfin Lorenzana toss couns at the Basa Air Base warehouse, symbolizing good luck and fortune for the newly-constructed building.
US Embassy/Released
First EDCA facility opens in Pampanga
MANILA, Philippines — The Philippines and the United States officially activated the first major project under the Enhanced Defense Cooperation Agreement between the two countries.
Defense Secretary Delfin Lorenzana and US Ambassador Sung Kim led the ribbon-cutting ceremony of a human assistance and disaster relief warehouse at Cesar Basa Air Base in Pampanga on Tuesday.
"I am delighted that we have finally undertaken the first among the many activities and projects under the EDCA," Lorenzana said.
The facility will house equipment and supplies that the Philippines and the US could use to respond quickly and effectively to humanitarian crises, the US Embassy said.
"This project illustrates not only our commitment to the US-Philippine alliance, but also both of our countries' dedication to peace and stability in the larger Indo-Pacific region," Kim said.
The American envoy noted that the alliance between the two countries has effectively addressed security issues in the region in the past seven decades.
Aside from the warehouse in Pampanga, the Philippines and the US are working on future EDCA facilities at Fort Magsaysay Military Reservation in Nueva Ecija, Lumbia Air Base in Cagayan de Oro, Antonio Bautista Air Base in Palawan and Mactan Benito Ebuen Air Base in Cebu.
Under the EDCA, the Philippines allowed the US to use five military bases in the country. The agreement also granted American troops increased presence in the Philippines through rotation of ships and planes for humanitarian and maritime operations.
Amid several protests, the Supreme Court ruled with finality in July 2016 that the EDCA does not violate the Constitution.
"EDCA did not go beyond the framework. The entry of US troops has long been authorized under a valid and subsisting treaty, which is the Visiting Forces Agreement," the high court said in its ruling.