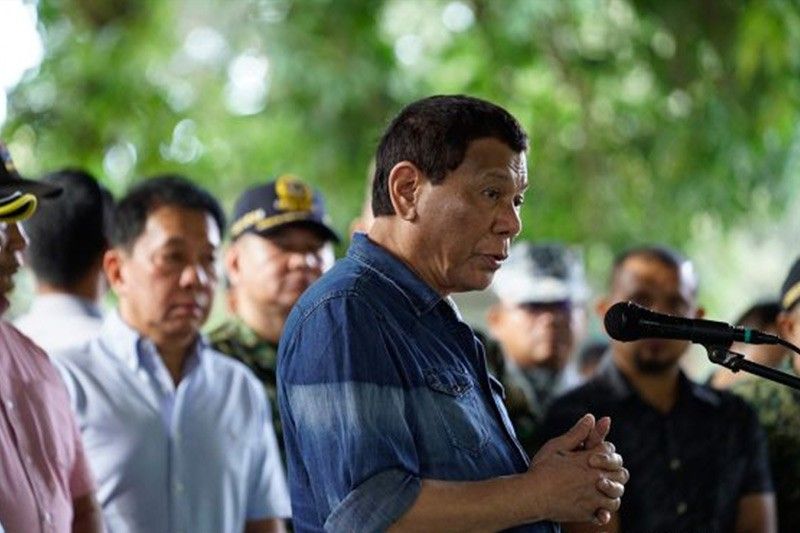 President Rodrigo Duterte orders the Armed Forces of the Philippines to crush the Abu Sayyaf Group after visiting the site of fatal bombings in Jolo on Monday, Jan. 28, 2019.
Presidential Photo
Duterte says he will fire 2 DAR officials
MANILA, Philippines — President Rodrigo Duterte Tuesday asked two agrarian reform officials he accused of corruption to resign or face charges.
Duterte said the officials, whom he did not identify, sat on a land reform application for two years.
"I will fire two (officials) from DAR (Department of Agrarian Reform). The application that was long delayed. It remained in their office for two years. That is corruption to me," the president told reporters during the groundbreaking of a hospital in Malabon.
"They do that to force the applicant to return (to their office). What is that son of a b**** paper doing for two years? You use it to wipe your buttocks?" he added.
Duterte said the officials to be fired might be directors because they have the power to delay the processing of the documents.
"I will ask them to resign or else I will file charges against them and I will see to it they will get their comeuppance," the president said.
"You know, when you are a s*** and you have the power to delay it, you must be something, holding a position there," he added.
Duterte said he does not allow delays in the processing of documents unless officials can justify it.
"Unless you have a good reason, but you have to write me, tell me we cannot finish it. We are asking for an extension," Duterte said.
The president urged the public to report erring and corrupt officials through hotline 8888.