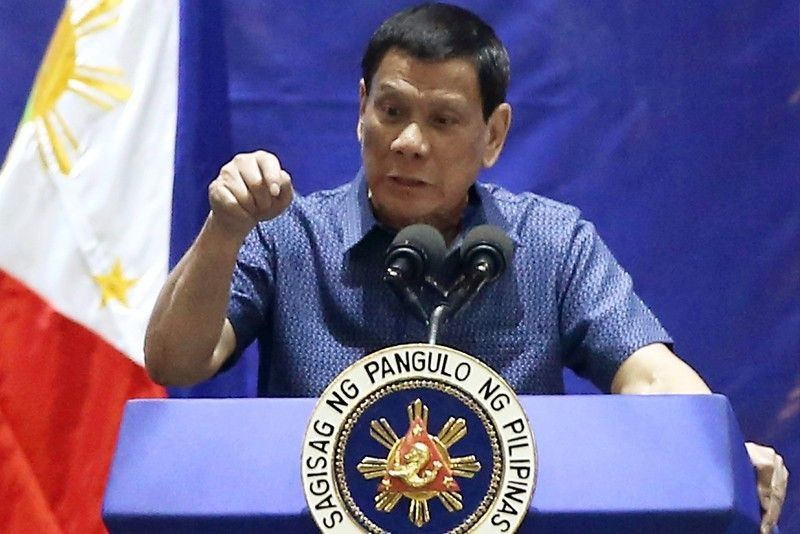 Duterte said curbing corruption remains his "number one" priority, a campaign that he insisted would favor no one.
Miguel De Guzman/File
Duterte to rise, fall on issue of corruption
MANILA, Philippines — After floating the possibility of his resignation because of his frustrations with the country's problems, President Duterte expressed belief that the issue of corruption could make or break his administration.
Duterte, who earlier admitted that he might not succeed in eradicating corruption, warned the police against engaging in illegal activities, saying he was ready to give cash rewards to law enforcers who would kill their erring colleagues.
"You better shape up because I will rise and fall on the issue of corruption," the President said during the Hugpong ng Pagbabago party convention in Davao City last Friday.
"The police are involved in several wrongdoings. Son of a b****. I told you, that's enough," Duterte said in Filipino.
To cleanse the ranks of law enforcers, Duterte raised the reward for every "ninja cop" or erring police officers to P5 million from P2 million.
Duterte said curbing corruption remains his "number one" priority, a campaign that he insisted would favor no one.
"So it's corruption, I cannot help you. I cannot call anybody. I do not do it," he said.
Duterte cited his decision to fire the entire board of the Nayong Pilipino Foundation over a long-term lease contract with a casino investor that he had described as "flawed" and "disadvantageous to the government."
"I was exasperated. I was busy fixing the Nayong Pilipino. And of course, they were all my friends. That's why they were appointed to the office," he said.
Duterte said he has also fired Brig. Gen. Edwin Leo Torrelavega, commander of the Armed Forces of the Philippines (AFP) Health Service Command and Col. Antonio Punzalan, commander of the AFP Medical Center and other military officials over alleged procurement anomalies.
"I can forgive you if you tell me it's overpriced. But when it comes to the medicine of soldiers or any patient, Filipino for that matter, who are waiting for medicines and end up having none, son of a b****, I will really be outraged," Duterte said.
"I was so exasperated. Hanggang kailan ba 'to? P****** i** nakakasuka (Until when will it last? Son of a b****. It's revolting)," he added.
Duterte said he wanted people who are honest and ready to expose anomalies to join his administration even if they do not belong to his party.
"I said if you are available, I'd like you to join the government. I know that I'll be here only once. And I would be hitting the firewall three years from now. I don't expect to live that long," he said.
Duterte has vowed not to allow even a whiff of corruption in his administration and has dismissed several officials, including Cabinet members, tagged in anomalies.
Some critics have expressed doubt on the seriousness of the President's campaign, noting that some of the fired officials have been transferred to other offices or given new posts.
Last week, Duterte said he considered resigning because he was tired and was exasperated by the corruption in government. He also decried what he described as "embedded" and "endemic" graft in government transactions.