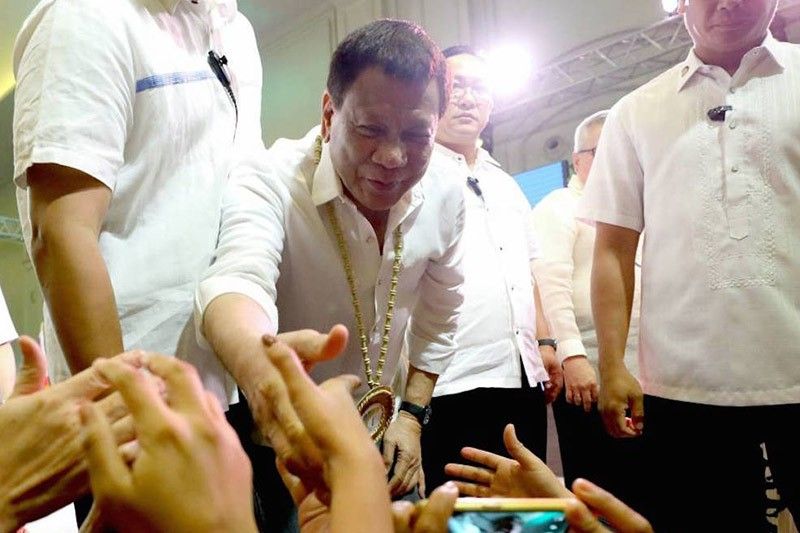 President Rodrigo Duterte interacts with his supporters during the National Micro, Small, and Medium Enterprise Summit 2018 held at the Association of Southeast Asian Nations Convention Center in Clark Freeport Zone, Pampanga on July 10, 2018.
Karl Norman Alonzo/Presidential Photo
Palace spotlights gains in fighting corruption amid shadow cast by 'recycling' fired execs
(philstar.com) - July 12, 2018 - 8:33pm
MANILA, Philippines — First, there's 'Build, Build Build." Then there's 'Jobs, Jobs, Jobs.' Now, there's 'Fire, Fire, Fire.'
Despite criticisms that President Rodrigo Duterte is recycling the officials he fired, Malacañang claimed that the administration has made "significant gains" to stamp out corruption and promote good governance.
"'Sibak, Sibak, Sibak (fire, fire, fire) has been the President's consistent battlecry with officials including those holding Cabinet rank not spared from the Administration's anti-corruption drive," presidential spokesman Harry Roque said in a statement.
Roque said 17 local officials are facing charges in connection with the environmental woes in Boracay, which is now undergoing rehabilitation.
A total of 186 local officials have been stripped of their authority to supervise the police while 57 complaints against local officials were investigated.
Duterte has promised not to tolerate even a whiff of corruption in his administration and has fired several officials, including cabinet members, tagged in irregularities.
However, doubts have been cast on the seriousness of his anti-corruption campaign after some of the officials he dismissed were given new positions.
They include agriculture undersecretary Jose Gabriel "Pompee" La Viña, who was dismissed as Social Security System commissioner over costly project proposals. La Viña has denied abusing state funds.
Also given a new post is Melissa Aradanas, a cousin of Duterte's partner Honeylet Avanceña. Aradanas was dismissed from the service after Duterte revamped the Presidential Commission for the Urban Poor over its officials' unnecessary trips and their supposed failure to conduct meetings.
Former military officer Nicanor Faeldon, who resigned as customs chief while the Senate is probing the smuggling of P6.4 billion worth of shabu or crystal methamphetamine, is now civil defense deputy administrator. Faeldon has denied involvement in smuggling and narcotics trade.
A recent report by the Associated Press said about a quarter of the nearly two dozen officials dismissed by Duterte have been rehired. — Alexis Romero
As It Happens
LATEST UPDATE: May 30, 2018 - 4:16pm
Senior Deputy Executive Secretary Menardo Guevarra says the Office of the President has not received resignation letters from Justice Secretary Vitaliano Aguirre and Labor Secretary Silvestre Bello.
President Rodrigo Duterte will fire Aguirre this week, according to sources, as the chief executive was unhappy with the dismissal of raps against alleged drug lords.
May 30, 2018 - 4:16pm
President Rodrigo Duterte has fired Customs deputy commissioner Noel Patrick Sales Prudente over excessive travels.
Among the destinations that the president said Prudente went are Singapore and Europe.
Prudente was fired the same week as Rudolf Philip Jurado, the former government corporate counsel.
The president has fired officials in the past for taking too many trips abroad.
May 28, 2018 - 6:36pm
President Duterte says Government Corporate Counsel Rudolf Philip Jurado is fired.
Jurado, formerly a lawyer with the Volunteers Against Crime and Corruption, had been facing corruption allegations.
Juradeo last week issued a statement saying the allegations against him were "invented by his subordinates who were affected by reforms he implemented in the office" – especially in relation to excess allowances they received that were earlier flagged by the Commission on Audit.
May 21, 2018 - 12:50pm
Another day, another firing. President Duterte axes Assistant Secretary Mark Tolentino from the Department of Transportation.
Spokesperson Harry Roque says Tolentino talked to Duterte's relatives about a project. "Huwag na po subukan ang pasensya ng president," Roque says at a press briefing.
May 15, 2018 - 5:06pm
Justice Secretary Menardo Guevarra says that Assistant Secretary Moslemen Macarambon Sr. has vacated his position following allegations of corruption.
This was after presidential spokesman Harry Roque said that President Rodrigo Duterte has asked him to tender his resignation after he allegedly intervened "on behalf of suspected smugglers of gold and precious jewelry" at the Ninoy Aquino International Airport.
Guevarra, in a message to reporters, said: "My understanding is, the president appointed someone to replace DOJ Asec Macarambong. So that is effectively a termination. No other acts needed."
April 30, 2018 - 10:00am
Secretary Guevarra says all the undersecretaries and assistant secretaries ordered to step down as a courtesy have all filed their resignation letters. Career officials were exempted from his directive.
There are no replacements yet for the leaving Justice department officials.