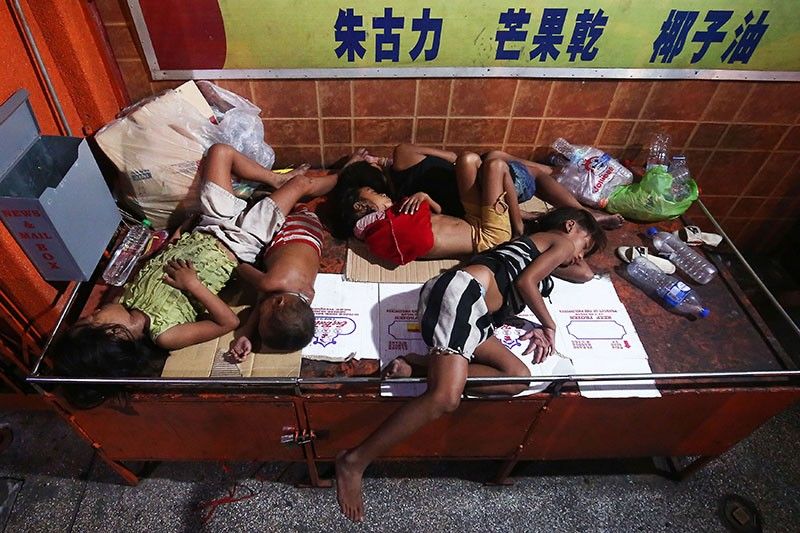 This file photo shows children sleeping outside a closed restaurant in Binondo, Manila.
The STAR/Miguel De Guzman
Council for the Welfare of Children: Jailing kids a 'short-sighted solution'
MANILA, Philippines (Updated 11:03 a.m.) — Lawmakers should focus on strengthening the implementation of the existing law addressing juvenile delinquency instead of lowering the age of criminal liability of children, a government policy-making body stressed over the weekend.
The Council for the Welfare of Children called the lowering of minimum age of criminal responsibility a "short-sighted solution" as it places blame on children rather than addressing the root causes that drive them to engage in criminal activities and working toward eradicating adult-initiated organized crimes.
On Monday morning, the House committee on justice voted to approve a bill lowering the age of criminal responsibility to nine years from 15.
House Committee on Justice approves bill that lowers the age of criminal liability of children from 15 to nine years old. pic.twitter.com/FaSMIxrtsD

— The Philippine Star (@PhilippineStar) January 21, 2019
The panel's committee report will be brought to the House floor for plenary debates and voting.
At the upper chamber, Senate President Vicente "Tito" Sotto III seeks to set the minimum age to 13.
CWC cited the position paper of the Psychological Association of the Philippine that children in conflict with the law typically come from dysfunctional families and are victims of neglect or lack of parental care and that children's cognitive abilities to control impulses, make reasoned decisions and regulate emotions are still under development during the early to middle adolescent stage.
"Children are not little adults. Particularly, children in conflict with the law are victims and not criminals. As victims of circumstances, they should be supported and accorded with appropriate intervention and rehabilitation not only by the government but also with the family and the community as well," CWC said.
It added: "Most importantly, they have the right to grow up in a caring and protective environment and be given a chance to redeem themselves."
Juvenile Justice and Welfare Act
CWC appealed for a stronger implementation of the amended Juvenile Justice and Welfare Act, which it said would ensure "normal growth and development of children in conflict with the law and children at risk through the enforcement of programs and services for prevention, diversion, rehabilitation and re-integration and aftercare."
Under the law, a child between 12 to 15 years old who commits serious crimes will be placed in an Intensive Juvenile Intervention and Support Center.
The same law states that a child who is above 15 years and below 18 years old, if found to have been acting with discernment, can be subjected to a diversion program, which could include fines, counselling and "institutional care and custody."
The law does not absolve children in conflict with the law but mandates government intervention other than putting them in jail.
President Rodrigo Duterte has repeatedly aired his desire to lower the age of minimum age of criminal liability and hit Sen. Francis Pangilinan for authoring the law.
LOOK | House Justice Committee begins inquiry on the proposed bill lowering the age of criminal responsibility from 15 yrs. old to 9 yrs. old. House Speaker Gloria Arroyo attends the hearing. https://t.co/7VxrTUvkzp

— ONE News PH (@onenewsph) January 21, 2019
Further harm to Filipino children
Local rights group Karapatan said the lowering the age of criminal responsbility would inflict further danger on Filipino children.
"The said measure, if enacted into law, will place millions of Filipino children at risk of being criminalized and stigmatized for life. Instead of creating an environment that will provide food, education, health and other services for the children, the Duterte government fosters an increasingly hostile context for children in conflict with the law," Karapatam said.
It added: "Instead of creating substantive programs, the government instead subjects children who have yet to discern what's right and wrong to a lifetime of trauma as this proposed bill places and treats children as young as nine years old at par with adults."
'Criminalize syndicates, not children'
CWC as well as senatorial candidate Samira Gutoc, stressed that the government should punish syndicates, not exploited children.
Both said that the state has the responsibility and accountability to protect children from all forms of neglect, abuse, cruelty, exploitation and other conditions prejudicial to the development of children.
"These House bills are no different from the administration's brutal drug war where the leaders of big drug syndicates remain unscathed and free, while the small-time poor and powerless are punished and mercilessly killed," Gutoc said.