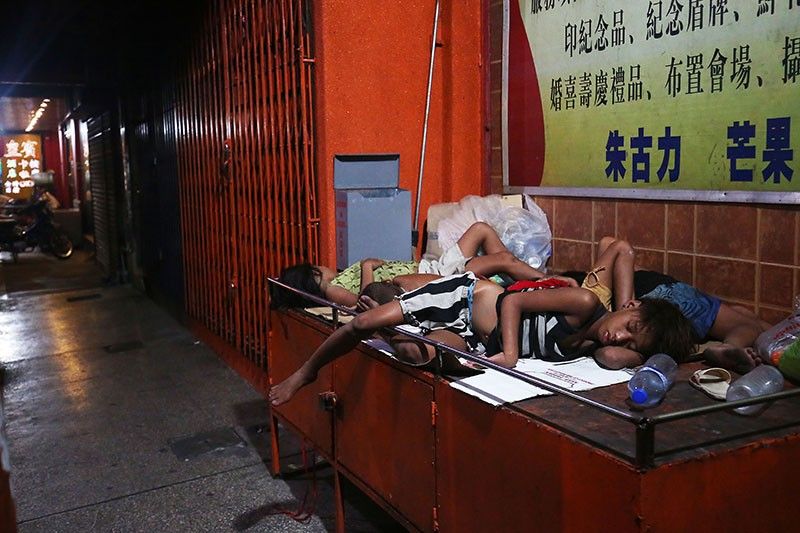 This file photo shows children sleeping outside a closed restaurant in Binondo, Manila.
The STAR/Miguel de Guzman, File
Highlights of the House panel's bill on the age of criminal responsibility
MANILA, Philippines — Despite public opposition, a House panel gave their thumbs up to a controversial bill that seeks to lower the minimum age of criminal responsibility in the country.
The House justice panel led by Rep. Doy Leachon (Oriental Mindoro) approved the substitute bill seeking to lower the age of criminal liability to nine years old from 15 years old. Only Rep. Lawrence Fortun (Agusan del Norte) voted against the bill at the committee level.
Under the bill approved by the committee, children as young as nine years old who commit serious crimes would be mandatorily confined for rehabilitation and reform at "Bahay Pag-asa"—youth care facilities that, under the Juvenile Justice and Welfare Act, are built and run by the local goverment unit.
In a press conference on Tuesday, Human Rights Commissioner Leah Armamento said that the government failed to build enough Bahay Pag-asa—only 58 have been built out of 114 planned. Some of the youth care facilities were also below the standard set by law due to budget constraints.
Under the House panel's proposed bill, the Department of Social Welfare and Development will build, fund and run the Bahay Pag-Asa facilities.
Some lawmakers and groups—especially those advocating a more "restorative" handling of children in conflict with the law—strongly condemned the bill, saying it is an act of violence against children.
They also stressed that children in conflict with the law are not criminals but victims who should be supported and accorded appropriate intervention and rehabilitation.
Here are the highlights of the proposed bill:
Lowering the minimum age of criminal responsibility
The bill instead refers to a "minimum age of responsibility of children in conflict with the law," which it sets at nine years old.
Under the proposed bill, a child at least nine years of age but below 18 would be exempt from criminal liability and be subjected to an intervention program unless they acted with discernment. If found to have acted with discernment, "such child shall be subjected with the subjected to the appropriate procedures."
The Rule on Juveniles in Conflict with the Law defines discernment as the "capacity of the child at the time of the commission of the offense to understand the differences between right and wrong and the consequences of the wrongful act."
It added that discernment is primarily determined by a social worker and finally by the court in the case of a child charged with a non-serious offense.
The determination of discernment "shall take into account the ability of a child to understand the moral and psychological components of criminal responsibility and the consequences of the wrongful act; and whether a child can be held responsible for essentially antisocial behavior."
Under the Juvenile Justice and Welfare Act, children in conflict with the law who acted with discernment can be subject to diversion, which can include restitution of property, reparation of damage caused, indemnification for consequential damages, a written or oral apology, required counseling or training and community service.
A judge may also determine whether institutional care and custody would be appropriate.
In a Facebook post few days before the committee-level approval of the bill, Patty Sison-Arroyo—a legal expert on children's rights and violence against women and children—stressed that a "child's misbehavior will become a misdemeanor."
Under the proposed bill, she said, hurting someone during rough play is equivalent to physical injuries, taking someone's else things without permission is to theft, saying something bad about another kid is to slander, breaking another kid's gadget is to malicious mischief and hurting someone by accident is to reckless imprudence.
Mandatory confinement in youth care facilities
Leachon clarified that children in conflict with the law would not be sent to ordinary prisons but to "reformative institutions."
Under the still unnumbered bill, children as early as nine years old who would commit serious crimes—parricide, murder, infanticide, kidnapping and serious illegal detention where the victim is killed or raped, robbery with homicide or rape, arson, rape, carnapping where the driver or occupant is killed or rape or drug-related offenses—would be "mandatorily placed" in a special facility within the youth care facilities or "Bahay Pag-asa" called the Intensive Juvenile Intervention and Support Center.
But groups warned that children may be detained in a detention cell, possibly with adults, if there is no child-caring institution in a locality.
Lawyer Cristina Sevilla of the Philippine Alliance of Human Rights Advocates also claimed that Bahay Pag-asa is not a child-caring facility as mandated by law but a "kulungan" (jail) that is not conducive even for pets.
On Tuesday, the Psychological Association of the Philippines stressed that children should not receive the same treatment as adults since scientific research has shown they are different in their decision-making, impulse control and identity development.
They added that placing a person who is already a victim in detention "further limits their future prospects" and pushes them to a negative life trajectory.
Sentencing
A new section on reducing the sentence for children in conflict with the law was included in the proposed bill.
The penalty to be imposed on children in conflict with the law would be two degrees lower than that prescribed in the law for adults. In cases where children commit offenses where punishment is equal to life imprisonment, they would only face imprisonment of up to 12 years.
Punishment for exploiters
Children's rights advocates stressed that the government should punish syndicates using minors, not the exploited children.
Under the proposed measure, those who exploit children for crime would face 12 to 20 years if the crime committed is punishable by imprisonment of six years or less. If the child in conflict with the law commits a crime where the punishment is more than six years in prison, his or her exploiter would be jailed from 20 to 40 years.
Malacañang and Rep. Leachon have insisted that lowering the criminal responsibility of children would protect children from abuse and exploitation of criminals and syndicates.
Parental responsibility
The proposed measure states that parents of children who commit serious crimes and of children who are repeat offenders would undergo mandatory intervention programs. These include parenting seminars and counselling.
If the parents fail to undergo mandatory intervention, they would be jailed for at least 30 days but not more than six months.
The parents would be also primarily liable for civil damages arising out of the actions of children in conflict with the law unless they prove that they were exercising reasonable supervision over the child when the offense was committed.
Confinement in agricultural camps, training facilities
Children in conflict with the law, after conviction and upon order of the court, would be made to serve their sentence in an agricultural camp and other training facilities. These camps would be supervised by the Department of Social Welfare and Development in partnership with the Bureau of Corrections and the Technical Education and Skills Development Authority.
Two agricultural camps and two training facilities each in Luzon, Visayas and Mindanao would be established. There would be separate facilities for male and female children in every agricultural training camp.
Bahay Pag-asa
Bahay Pag-asa would house children nine years of age and above but below 18 years old who are committed for rehabilitation or awaiting court disposition of their cases.
The proposed bill wants to transfer the operation and funding of Bahay Pag-asa to the DSWD. Congress will allocate funds for Bahay Pag-asa annually.
Local government units currently operate and maintain the Bahay Pag-asa.