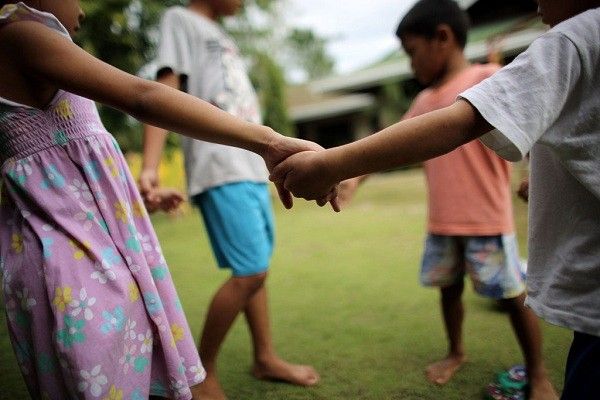 File photo shows children playing. A House of Representatives panel is pushing for lowering the minimum age of criminal responsibility to nine from 15 years old.
UNICEF/Joshua Estey, File
Groups call for more 'restorative' process for children in conflict with law
(Philstar.com) - January 22, 2019 - 12:28pm
MANILA, Philippines — Several groups, including the Commission on Human Rights and a group of psychologists, on Tuesday called on the government to consider a more "restorative" path of justice for children in conflict with the law, instead of treating them as criminals.
In a media forum in Quezon City, the groups voiced their strong opposition to approval by the House committee on justice of a measure to lower the minimum age of criminal responsibility to nine from 15 years old.
Under the Juvenile Justice and Welfare Act, those 15 and below are exempt from criminal liability but not civil liability. Children in conflict with the law are subjected to a government intervention program.
'Build Bahay Pag-asa'
Human Rights Commissioner Leah Armamento said that the government failed to build "Bahay Pag-asa"—youth care facilities—as mandated by the law.
Armamento said that there have only been 58 "Bahay Pag-asa" built out of the 114 required.
The Juvenile Justice Welfare Act defines 'Bahay Pag-asa' as a child-caring institution funded by the local government unit and meant to provide short-term residential care for children in conflict with the law.
WATCH: CHR commissioner Leah Armamento: To lower MACR to nine will be a nightmare not only to the child but to the jail management system.

She says the gov't has failed to build all Bahay Pag-Asa required by the current Juvenile Justice Law. @PhilippineStar pic.twitter.com/VHNP1oumhy

— Janvic Mateo (@jvrmateoSTAR) January 22, 2019
The facilities were either not built or built but were below the standards set by the law due to budget constraints, she said.
Under Republic Act 10630, a multi-disciplinary team of a social worker, a psychologist/mental health professional, a medical doctor, an educational/guidance counsellor and a Barangay Council for the Protection of Children would run the "Bahay Pag-asa" and work on the intervention plan with the children and their families.
Roman Abirtria of Philippine Action for Youth Offenders said that the move to lower the age of criminal responsibility will not protect children as its supporters claim.
"How will you protect children from from syndicates if it is the children you will punish? It's as if you're saying, let us punish the young so the syndicates will not exploit them," he said in Filipino.
Mitzi Cajayon, executive director of the Council for the Welfare of Children, said she was once among the lawmakers pushing for lowering the minimum age of criminal responsibility. Cajayon is a former representative of the 2nd District of Caloocan City.
But she shared that working with the council allowed her to realize how children as a sector are the most neglected by politicians "because they are not voters."
Cajayon, whose stand on lowering the age of criminal responsibility has since changed, lamented that although children who are exploited by criminal syndicates are sometimes caught, the adults get away.
The CWC has called the move to lower the age of criminal responsibility as a "short-sighted" solution that puts children at more risk.
'Treat children differently from adults'
While some expressed support for the measure, saying criminal syndicates use children to commit crimes, the Psychological Association of the Philippines stressed that children should not receive the same treatment as adults.
Senate President Pro Tempore Ralph Recto earlier cautioned that the proposal to lower the minimum age of criminal responsibility should stand on facts and studies "not on whims and unproven theories."
The group of psychologists said that scientific research shows children and adults differ in their decision-making, impulse control and identity development.
They said that they have released their position paper three times calling for better implementation of the laws that prosecute adults while also callig for more "restorative means" of rehabilitation for children.
They added that placing a person who is already a victim in detention "further limits their future prospects" and pushes them to a negative life trajectory.
The United Nations Children's Fund (UNICEF) earlier stressed that "there is lack of evidence and data that children are responsible for the increase in crime rates committed in the Philippines."
Sen. Francis Pangilinan, who has been blamed for passage of a law that was deliberated on by Congress and signed by President Gloria Macapagal-Arroyo, has cited Philippine National Police data from 2013 that less than 2 percent of crimes are committed by minors.
"[I]f this government wishes to end pervasive criminality, it should focus its efforts on going after more than 98 percent rather than the less than two percent but then again it is easier to go after helpless minors than it is to go after powerful criminal syndicates backed by corrupt coddlers in government," he said Monday.
More senators express opposition
At the Senate, which is working on a counterpart bill, more lawmakers have expressed their opposition to the proposal.
READ: Groups, lawmakers hit House panel's approval of bill lowering age of criminal responsibility
Sen. Panfilo Lacson, a former Philippine National Police chief, said on Tuesday nine years old is "too young" for criminal liability.
He, however, said that he would throw his support behind lowering the age of criminal responsibility "to a certain level" with the following conditions:
The youth offender is proven to have acted with discernment when he or she committed the crime, especially serious ones
Sentencing is suspended until the offender reaches the age of majority
There are enough and properly supervised reformative facilities to rehabilitate the youth offenders
Sen. Antonio Trillanes IV said that should the bill reach the senate floor, he would oppose it as those below 15 years old have yet to fully develop discernment and could still be recover from their mistakes through rehabilitation and counselling.
A 2009 Supreme Court en banc resolution on Revised Rule on Children in Conflict with the Law on Family Courts defines discernment as "the capacity of the child at the time of the commission of the offense to understand the differences between right and wrong and the consequences of the wrongful act."
The lawmaker, who was detained for his participation in mutinies against the Arroyo administration, said that being behind bars would "severely traumatize those children and would lead them further to a life of crime once they have served their sentence."
The minority Liberal Party also said punishing children with criminalization "could be ruinous to their future—a point of no return."
"At this young age, the child offender will already have a criminal record—a mark that he will carry when he returns to his family, when he goes back to school, when he finds employment and tries to turn over a new leaf," LP added.
The House of Representatives Committee on Justice on Monday voted 9-1 to approve a bill lowering the minimum age of criminal responsibility. The panel's committee report would be brought to the House floor for plenary debates and voting. — Kristine Joy Patag with reports from The STAR/Janvic Mateo