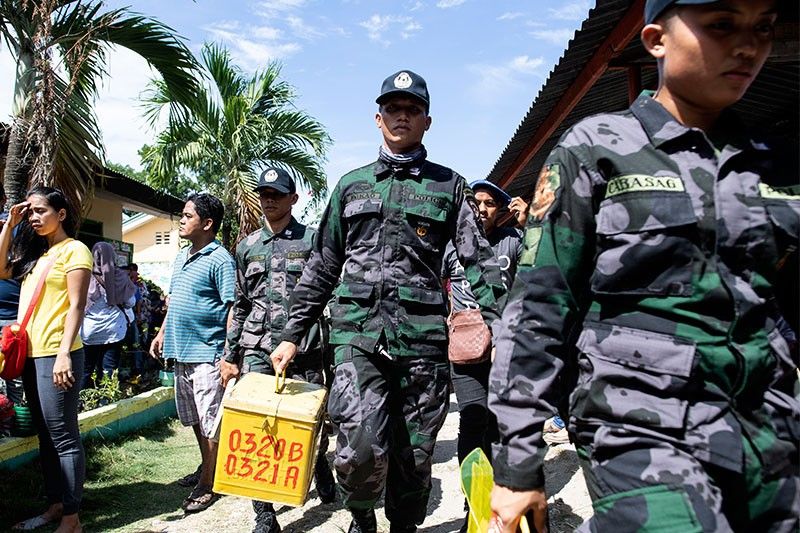 A policeman carries a ballot box at a voting precinct in Cotabato on the southern Philippine island of Mindanao on January 21, 2019, during a vote on giving the nation's Muslim minority greater control over the region. A decades-long push to halt the violence that has claimed some 150,000 lives in the southern Philippines culminated on January 21 with a vote on giving the nation's Muslim minority greater control over the region.
AFP/Noel Celis
79% of Muslims in favor of Bangsamoro Organic Law — SWS
MANILA, Philippines — Majority of Muslims nationwide are in favor of the approval of the proposed Bangsamoro Organic Law (BOL), according to the latest Social Weather Stations survey.
The poll released Monday night found that 79 percent of Muslims in the Philippines are in favor of the BOL, with 67 percent saying they definitely want it while 12 percent said they somewhat want it.
Among the Muslim respondents, 14 percent were undecided, 4 percent said they don't want the proposal while 3 percent said they definitely don't want it. This garners a net approval score of +72 among Filipino Muslims.
In other religions, the net approval of the BOL was +15 among Iglesia ni Cristos, +10 among Catholics and +9 among other Christians.
The survey also found that 78 percent of Muslims know about the BOL, with 10 percent having extensive knowledge, 35 percent have partial but sufficient knowledge and 33 percent have only a little knowledge.
Among other religions, 65 percent of Catholics, 61 percent of Iglesia ni Cristos and 61 percent of other Christians said they have a little knowledge about the proposal.
Those who have partial but sufficient knowledge about the BOL were highest among Muslims with 45 percent.
Majority of Muslims also believe that the Moro Islamic Liberation Front (MILF) is capable of governing the proposed Bangsamoro Autonomous Region in Muslim Mindanao (BARMM). About 76 percent of Muslims said the MILF is capable of governing the BARMM, consisting of 56 percent saying they are definitely capable and 21 percent said somewhat capable.
Mindanao as a whole
In Mindanao alone, 27 percent of adults said they definitely want the BOL, 14 percent somewhat want it, 9 percent somewhat don't want it and 22 percent definitely don't want it.
A plurality of 28 percent remain undecided on the BOL, the balance of opinion leaning towards approval with a +9 net approval.
In Visayas, net approval was at +17 while it was +16 and + 13 in balance Luzon and Metro Manila, respectively.
Among adults in Mindanao, 63 percent have knowledge about the BOL while the remaining 22 percent said they have almost none or no knowledge about it.
The poll also showed that net approval was higher among those who have sufficient about the BOL with a rating of +43 compared to those with only a little knowledge at +17 and -9 among those with almost no knowledge about the proposal.
The survey was released after the plebiscite Mindanao but it was conducted from December 16 to 19, 2018 with separate samples from Metro Manila, balance Luzon, Visayas and Mindanao. The poll was conducted among 1,440 adults using face-to-face interviews with sampling error margins of ±2.6 percent for national percentages, and ±5 percent each for regional percentages.
For centuries, the Bangsamoro people have been fighting for their right to self-determination. The right to self-determination means the collective right of people to determine its own future, including the right to determine their political status and to freely pursue its economic, social, spiritual and cultural development.
As It Happens
LATEST UPDATE: October 16, 2019 - 6:01pm
The last Plebiscite Committee leaves the distribution center in Buluan, Maguindanao for Tamontaka in Cotabato City a little past 6 a.m. on Monday as the first day of the plebiscite on the Bangsamoro Organic Law starts on Monday, January 21.
Today is #BangsamoroPlebiscite Day. Big day for everyone. Good luck to all. https://t.co/lBdPD90Ehb pic.twitter.com/0LQltCm1Ze

— COMELEC (@COMELEC) January 20, 2019
Commission on Elections spokesman James Jimenez said over the weekend that as high as 75 percent of the more than two million voters from Autonomous Region in Muslim Mindanao (ARMM), as well as the cities of Isabela in Basilan and Cotabato in Maguindanao are expected to go out and cast their votes.
A second plebiscite day is set for February 6 for areas in North Cotabato and Lanao del Norte.
October 16, 2019 - 6:01pm
More than 500 permanent employees of the defunct Autonomous Region in Muslim Mindanao will be "phased out" starting November as part of the transition to the Bangsamoro Autonomous Region in Muslim Mind
"Ang first batch, ang last day of service nila would be October 31st, second batch is November 30th, and the third and last batch is on December 31st," BARMM Attorney General Sha Elijah Alba says in a release.
Around 6,000 personnel of the ARMM will be "phased out" before the end of the year. Only those in the sectors of education, health, and social services are exempted in the phasing out.
Under Article XVI Section 10 of the Bangsamoro Organic Law affected personnel who opt to retire or be separated shall be entitled to separation benefits.
October 14, 2019 - 1:23pm
Tension between a local terror group and the Moro Islamic Liberation Front has escalated after a video showing a terrorist executing an MILF member wounded in a clash spread on Sundat.
The mobile phone footage showed how a member of the Bangsamoro Islamic Freedom Fighters, operating in the fashion of the Islamic State of Iraq and Syria, repeatedly shot in the head an MILF fighter hurt in an encounter last week in Shariff Saidona Mustapha town in Maguindanao.
Seven MILF members were killed in last week's incident in Shariff Saidona Mustapha.
The gunfight erupted when BIFF gunmen attacked a group of MILF members in a riverside farming enclave in an isolated barangay in the municipality, sparking an hour-long running gunfight that dislocated hundreds of villagers.
There is a deep-seated animosity between one of three factions in the BIFF, the one led by radical cleric Abu Toraife, and the MILF due to its overt support to efforts of the police and the military to neutralize Toraife and his followers. -- The STAR/John Unson
October 10, 2019 - 2:38pm
Officials in Basilan on Wednesday report their accomplishments in the past 100 days but also say that rebuilding the province from armed conflicts will take a long time.
The newcomers Isabela City Mayor Sitti Djalia Turabin-Hataman and Vice Mayor Kifli Salliman together established during the period via the Sanguniang Panglunsod three outfits — the Culture and Arts Board (Ordinance 19-533), the City Information Office (Ordinance 19-534), and the City Legal Office (Ordinance 19-535) — to boost the city government's public service thrusts.
The SP, chaired by the first-termer Salliman, also passed last month the city's Freedom of Information Ordinance, more known as Isabela City's Ordinance 19-536, the first ever in Southern Philippines.
The FOI bill is meant to ensure transparency and accountability in the city government's handling of fiscal resources and its implementation of local and state-funded socio-economic, security and infrastructure programs. — The STAR/John Unson
October 9, 2019 - 2:26pm
Law enforcement agents arrest five people, among them the wife of a wanted drug dealer, and dismantle their shabu distribution hub in an operationon Wednesday.
Lanie Datumanong Ali of Barangay Kabuntalan in Sultan Kudarat town in Maguindanao is now in the custody of the Philippine Drug Enforcement Agency-Bangsamoro Autonomous Region in Muslim Mindanao.
Her husband, Banoh, the target of the joint police-PDEA operation, managed to escape bringing with him a blue bag that neighbors said contained pistols and fragmentation grenades.
Juvenal Azurin, director of PDEA-BARMM, said Wednesday they immediately dismantled the couple's drug den, located in Barangay Kabuntalan.
Azurin said agents confiscated from the spouse of Banoh P170,000 worth of shabu and two fragmentation grenades.
Besides Ali, four men, whose exact identities are still being validated, were also caught sniffing shabu together in the drug den that Banoh operated.
"The wife of Banoh shall be prosecuted separately for violation of Republic Act 9165 and illegal possession of explosives," Azurin said.
The four men now clamped down in the detention facility of PDEA-BARMM in Cotabato City shall also be charged accordingly, according to Azurin.
RA 9165, also known as the Dangerous Drugs Act of 2002, outlawed sale and possession of narcotics, such as shabu (methamphetamine hydrochloride) and marijuana and other regulated substances. -- The STAR/John Unson
October 7, 2019 - 12:02pm
Presidential peace adviser Carlito Galvez Jr. says the national government recognizes the gallantry of seven members of the Moro Islamic Liberation Front who were killed in a clash with Islamic State-linked terrorist group in Maguindanao province over the weekend.
"For us, they are heroes who made the ultimate sacrifice so that their people can live in peace," Galvez says in a statement from his office.
"In solidarity with the leadership of the MILF, the government will assist in every way possible the families of these slain MILF fighters. We will exert all efforts to make sure that justice will be served to the perpetrators of this dastardly act."
Rep. Esmael Mangudadatu (Maguindanao), a former provincial governor, is meanwhile calling for a de-escalation of tension in the area as the fighting has forced hundreds from Barangay Dasawao in Shariff Saidona town have fled the fighting.
"I am calling on the BIFF to consider the continuing appeals by different sectors for its forces to stand down, to reintegrate into mainstream communities and support the peace process between the government and the MILF," Mangudadatu says Monday in comments addressed to the Bangsamoro Islamic Freedom Fighters, the group believed behind the attack.
The Office of the Presidential Adviser on Peace, Reconciliation and Unity referred to the group as the "Turaype-Dawla group." —with The STAR/John Unson