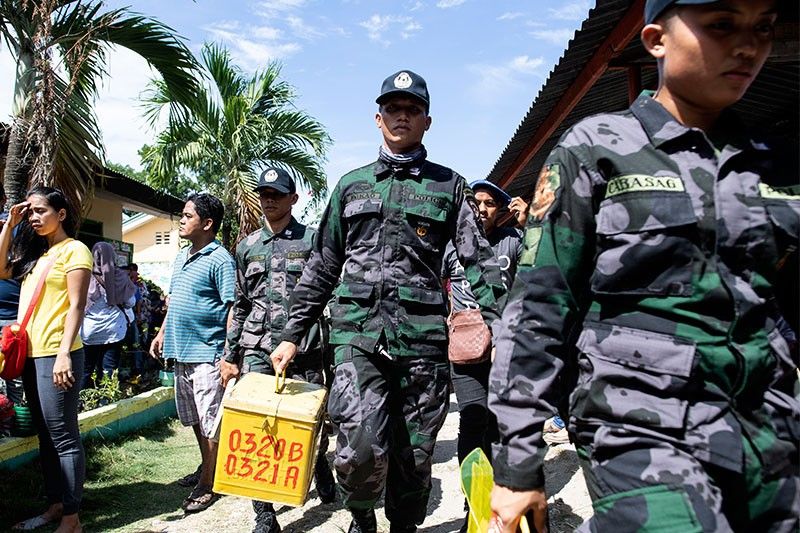 A policeman carries a ballot box at a voting precinct in Cotabato on the southern Philippine island of Mindanao on January 21, 2019, during a vote on giving the nation's Muslim minority greater control over the region. A decades-long push to halt the violence that has claimed some 150,000 lives in the southern Philippines culminated on January 21 with a vote on giving the nation's Muslim minority greater control over the region.
AFP/Noel Celis
79% of Muslims in favor of Bangsamoro Organic Law — SWS
MANILA, Philippines — Majority of Muslims nationwide are in favor of the approval of the proposed Bangsamoro Organic Law (BOL), according to the latest Social Weather Stations survey.
The poll released Monday night found that 79 percent of Muslims in the Philippines are in favor of the BOL, with 67 percent saying they definitely want it while 12 percent said they somewhat want it.
Among the Muslim respondents, 14 percent were undecided, 4 percent said they don't want the proposal while 3 percent said they definitely don't want it. This garners a net approval score of +72 among Filipino Muslims.
In other religions, the net approval of the BOL was +15 among Iglesia ni Cristos, +10 among Catholics and +9 among other Christians.
The survey also found that 78 percent of Muslims know about the BOL, with 10 percent having extensive knowledge, 35 percent have partial but sufficient knowledge and 33 percent have only a little knowledge.
Among other religions, 65 percent of Catholics, 61 percent of Iglesia ni Cristos and 61 percent of other Christians said they have a little knowledge about the proposal.
Those who have partial but sufficient knowledge about the BOL were highest among Muslims with 45 percent.
Majority of Muslims also believe that the Moro Islamic Liberation Front (MILF) is capable of governing the proposed Bangsamoro Autonomous Region in Muslim Mindanao (BARMM). About 76 percent of Muslims said the MILF is capable of governing the BARMM, consisting of 56 percent saying they are definitely capable and 21 percent said somewhat capable.
Mindanao as a whole
In Mindanao alone, 27 percent of adults said they definitely want the BOL, 14 percent somewhat want it, 9 percent somewhat don't want it and 22 percent definitely don't want it.
A plurality of 28 percent remain undecided on the BOL, the balance of opinion leaning towards approval with a +9 net approval.
In Visayas, net approval was at +17 while it was +16 and + 13 in balance Luzon and Metro Manila, respectively.
Among adults in Mindanao, 63 percent have knowledge about the BOL while the remaining 22 percent said they have almost none or no knowledge about it.
The poll also showed that net approval was higher among those who have sufficient about the BOL with a rating of +43 compared to those with only a little knowledge at +17 and -9 among those with almost no knowledge about the proposal.
The survey was released after the plebiscite Mindanao but it was conducted from December 16 to 19, 2018 with separate samples from Metro Manila, balance Luzon, Visayas and Mindanao. The poll was conducted among 1,440 adults using face-to-face interviews with sampling error margins of ±2.6 percent for national percentages, and ±5 percent each for regional percentages.
For centuries, the Bangsamoro people have been fighting for their right to self-determination. The right to self-determination means the collective right of people to determine its own future, including the right to determine their political status and to freely pursue its economic, social, spiritual and cultural development.
As It Happens
LATEST UPDATE: February 18, 2019 - 7:51am
The last Plebiscite Committee leaves the distribution center in Buluan, Maguindanao for Tamontaka in Cotabato City a little past 6 a.m. on Monday as the first day of the plebiscite on the Bangsamoro Organic Law starts on Monday, January 21.
Today is #BangsamoroPlebiscite Day. Big day for everyone. Good luck to all. https://t.co/lBdPD90Ehb pic.twitter.com/0LQltCm1Ze

— COMELEC (@COMELEC) January 20, 2019
Commission on Elections spokesman James Jimenez said over the weekend that as high as 75 percent of the more than two million voters from Autonomous Region in Muslim Mindanao (ARMM), as well as the cities of Isabela in Basilan and Cotabato in Maguindanao are expected to go out and cast their votes.
A second plebiscite day is set for February 6 for areas in North Cotabato and Lanao del Norte.
February 18, 2019 - 7:51am
The government and the Moro Islamic Liberation Front have prepared socio-economic packages for combatants who will be decommissioned following the ratification of the Bangsamoro Organic Law last month, a senior deputy peace adviser says.
Deputy Presidential Peace Adviser Nabil Tan says ratification will lead to the implementation of the normalization track of the GPH-MILF peace agreement, where 30 percent of all MILF combatants and firearms will be decommissioned.
Tan says the first batch of MILF fighters will turnover an estimated 9,000 to 12,000 firearms as part of the decommissioning process that will be overseen by a Turkey-led International Decommissioning Body.
February 15, 2019 - 8:05am
The Office of the Presidential Adviser on the Peace Process welcomes the inclusion of 63 barangays of North Cotabato in the Bangsamoro Autonomous Region in Muslim Mindanao, calling it "another milestone in the Mindanao peace process."
In a statement, peace adviser Carlito Galvez Jr. says the February 6 plebiscite is an example for elections that should be emulated across the country. "The entire community of the province showed us how to assert our rights peacefully."
He adds: "North Cotabato is a highly diverse province and yet they showed us how people in a multicultural community can coexist harmoniously and act in unity."
February 11, 2019 - 9:39am
Any lists of supposed members of the Bangsamoro Transition Authority are unofficial and fake, the Office of the Presidential Adviser on the Peace Process says.
"To date, OPAPP has transmitted the list of nominees to the Office of the President for review," the office says, adding only President Rodrigo Duterte, who will appoint the members of the BTA, can release an official list.
"OPAPP advises the public to be prudent and judicious about what they see and share on social media."
February 7, 2019 - 8:56am
The Plebiscite Provincial Board of Canvassers is Lanao del Norte is gathering Certificates of Canvass for the plebiscite held on Wednesday.
As of 8:30AM today, 13 out of 22 Certificates of Canvass have been submitted to the PPBOC of Lanao Del Norte for the #BangsamoroPlebiscite. All 22 COCs of all municipalities have to be canvassed to get the majority vote of the province as to the inclusion of the 6 municipalities. pic.twitter.com/x6DuvDS3GX

— COMELEC (@COMELEC) February 7, 2019
February 6, 2019 - 8:32am
Residents of some villages in the provinces of Lanao del Norte and North Cotabato participate in a plebiscite for inclusion in the Bangsamoro Autonomous Region in Muslim Mindanao on Wednesday, February 6.
Voters are reminded to write either "Yes" or "No" or any equivalent in their local language/dialect in Dilangalen Central Elementary School, Midsayap, North Cotabato. They are voting for the inclusion of their area in the BARMM in the #BangsamoroPlebiscite. pic.twitter.com/YoJHnMpJfd

— COMELEC (@COMELEC) February 5, 2019
The Autonomous Region in Muslim Mindanao and Cotabato City had voted to ratify the Bangsamoro Organic Law in a plebiscite last month.
There were reports of explosions in Lala and Kauswagan in Lanao del Norte on Tuesday afternoon, but authorities could not say whether these were related to the scheduled plebiscite.