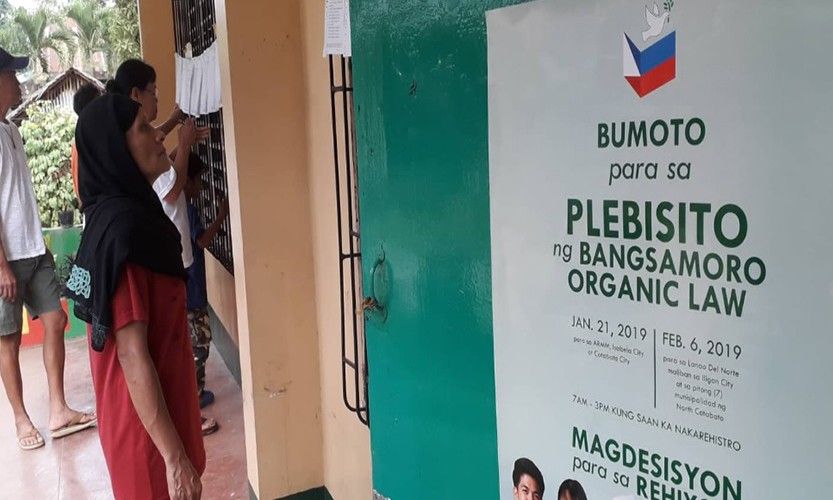 Voters line up to participate in the historic Bangsamoro Organic Law plebiscite
Roel Pareño/The STAR
Intimidation, weather delay voting in BOL plebiscite
(Philstar.com) - January 21, 2019 - 3:58pm
MANILA, Philippines — About 24 precincts, with around 8,000 registered voters in the Autonomous Region of Muslim Mindanao, were affected by delays in opening of voting in the plebiscite on the Bangsamoro Organic Law on Monday morning.
Commission on Elections-ARMM Regional Director Rey Sumalipao told reporters in a press conference in Cotabato City that 72 teachers, who were supposed to help administer the plebiscite, did not show up at precincts due to intimidation.
"Allegedy, there were threats addressed to them, mostly through text messages," said Sumalipao.
Another instance of intimidation was reported at the Central Pilot School in Cotabato City — an area where there is strong opposition to the BOL — where voters had to pass through a "cordoned area."
Sumalipao said it was as if voters "have to pass through [a] help desk." He said Comelec had the cordon removed.
He added that he believes instances of intimidation were "pacified."

"If they see the need to, it [voting] may be extended," Sumilapao said, saying that the office has requested to extend voting hours due to the number of voters affected by the delays but haven't received word from Comelec en banc yet.
Sumalipao said that based on an initial tour of polling centers, "we could conclude there is a high turnout." He said canvassers will commence counting and recording of votes at around 6 p.m. Final results are expected within four days of today's plebiscite.
Another plebiscite will be held on February 6 in parts of North Cotabato and Lanao del Norte.
Weather also caused delays
Most delays were logistical. According to media reports, some polling centers reported receiving materials at 8 a.m., an hour after polls were scheduled to begin.
Chief Superintendent Graciano Mijares, director of the ARMM regional police office, also blamed poor weather for delaying the delivery of voting materials in some areas.
By Monday afternoon, all 24 polls had opened.

About 2.1 million people are registered to vote in the plebescite that will determine if the Bangsamoro Organic Law, which replaces the ARMM with the Bangsamoro Autonomous Region in Muslim Mindanao, will be ratified, and if they want their area to be a part of the region.
Sumalipao said that voters still in line by the time polls are scheduled to close at 3 p.m. will not be turned away.
About 6,700 police officers were deployed to secure citizense participating in the historic plebiscite.
READ: PNP on guard but sees peaceful BOL plebiscite

Cotabato City is under Comelec control following the bombing of the South Seas mall on December 31 that killed two people and injured 20 others. Police also announced the arrest of an IS-linked terrorist in Cotabato City last week. — Ryan Macasero